Shakeology is a high nutrient protein shake, and eating a diet of mostly high-nutrient shakes has both positive and negative consequences. Before investing in Shakeology, you must be aware of any possible side effects of drinking Shakeology on a daily basis.
Shakeology side effects include: gas, stomach aches, bloating, and diarrhea. These side effects are caused by the shake's high fiber content and possible food allergies brought on by the superfood ingredients. It's best to half your Shakeology serving to decrease the risk of negative reactions.
This article will detail the side effects of a Shakeology; including gas, bloating, diarrhea, and gastrointestinal damage from overconsumption, as well as other downsides like bad taste and overpricing. Read on to learn more about why Shakeology is not the best dietary supplement for everyone and what alternatives might be better.
Shakeology Bad Side Effects
Shakeology involves consuming large amounts of exotic ingredients in liquid form, and some consumers have reported negative side effects because of that, often due to underlying allergic reactions.
Some people also have the mistaken impression that Shakeology doesn't go bad, and they forget to check the expiration date before consuming.
Let's dig deeper into the negative side effects that come with consuming Shakeology.
Shakeology Gas and Bloating
Most of the stomach issues reported with Shakeology are due to a heavy concentration of fiber.
These issues are often temporary and will go away after your body adjusts in one or two weeks. But you can act to reduce these negative side effects immediately by decreasing your intake of Shakeology by half.
Gas and bloating are two of the most common side effects caused by Shakeology.
This is because Shakeology includes so much fiber in the diet, which increases the number of fiber-digesting bacteria in the gut. These bacteria release gas as a byproduct, which builds up in the gastrointestinal system and causes bloating.
Gastrointestinal Damage
Because Shakeology contains such high concentrations of superfoods, drinking a Shakeology-ONLY diet can increase the risk that you'll severely damage your digestive system.
The risk is especially high if you take nutritional supplements in addition to your Shakeology diet.
To be safe, consider cutting your Shakeology servings and mixing in whole foods, creating a varied diet of unprocessed and concentrated foods.
Beachbody recommends only replacing two meals with Shakeology a day. However, most Shakeology users only use it once a day.
Too Much Shakeology Can Cause Headaches
Drinking too much Shakeology without other foods in your diet to balance it can also cause headaches due to the high concentration of adaptogens. Some people who have consumed too many adaptogens have reported not only headaches but also trouble sleeping.
Make sure that you don't take adaptogen supplements in addition to Shakeology if you want to reduce the risk of these negative reactions.
Does Shakeology Give You Diarrhea?
Some users have reported instant diarrhea after drinking Shakeology, although they are in the minority. When people experience diarrhea after drinking Shakeology, it's most likely because one of the ingredients is unknown to their body and causes an allergic reaction.
You should always check the ingredients in a new shake before consumption.
However, doing this can be difficult for a beverage containing so many different ingredients, especially when they're blends of ingredients. For this reason, it's always safer to mix your shake with whole foods.
That way, you'll know which ingredients you're using.
That said, diarrhea with Shakeology is rare, and more common issues associated with Shakeology are issues like gas, bloating, and stomach aches, rather than diarrhea.
Check Out the Shakeology Ingredients Here
What Are the Downsides of Shakeology?
Besides its negative health effects, Shakeology is said to have an unpleasant taste for a few customers. Some customers also complained about the product's high price. Other nutritional shakes on the market are reportedly better tasting and more cost-effective than Shakeology.
Keep reading as I discuss why some people aren't happy with Shakeology.
Unpalatable Taste
One reviewer stated that Shakeology had a "highly unpleasant texture and flavor," saying that the drink feels like sand and tastes like gasoline.
Although the drink purports to contain all superfoods and healthy ingredients, the taste is far from fresh, says this reviewer; rather, it tastes artificial and lab-concocted, and the taste is so strong that additives can't overpower it.
However, this is only person's Shakeology taste review. Personally, I have tasted several meal replacements with far less nutrition and much worse taste.
It is true, when Shakeology was first introduced in 2009, Greenberry and the first Vegan flavors were grainy.
Since 2009, Beachbody has greatly advanced in how they create Shakeology without the use of artificial ingredients.
While I personally don't like every Shakeology flavor, I have tried them all and never thought any of them to taste so bad that I wouldn't drink it again.
Check out my review here: The Best Tasting Shakeology Flavors Ranked
The Price of Shakeology is High
Due to Shakeology using so many different super food ingredients that are sourced from around the world, Shakeology has a higher premium price.
Here is just short list of where some of the Shakeology ingredients come from:
Asia – Cordyceps, Hydrilla, Schisandra
Bolivia – Quinoa Seed
China – Astragalus root, Gingko, Schisandra, Barley Grass, Reishi, Goji Berries
Costa Rica – Papain
Madagascar – Vanilla Beans
Mexico – Chia Seed, Moringa
Northeastern Brazil – Acerola
Peru – Yacon Root, Sacha inchi, Maca root
Peruvian Andes – Maca
South America and Central America – Stevia
South American rainforest – Camu-Camu
South America and Canada – Wild Grasses
Additionally, Beachbody uses strict quality control to ensure that all ingredients can be maintained for the long term and are the most potent possible to create the best shake possible.
Learn more about how Shakeology is vigorously tested for potency from the video below:
Thus, yes, Shakeology costs more. However, if you're looking for a high quality shake, you will be hard pressed to find anything better.
Click Here to Learn How To Save Money on Shakeology
Shakeology Lacks Calories
Some reviewers have noted that Shakeology makes for a poor meal replacement because it contains too few calories.
It can be used as a supplement, but at 160 calories a serving, some will find it hard to feel full with Shakeology alone.
Shakeology can work as a snack or other healthy whole food ingredients can be blended into your shake to add more calories.
What Does Shakeology Contain?
Shakeology contains more than 70 different whole-food ingredients. The key nutrient groups in Shakeology include: Protein, Superfruits & Antioxidants, Adaptogens, Digestive Enzymes, Supergreens & Phytonutrients.
Protein Blend
The protein blend in Shakeology is made from the following ingredients:
Quinoa
Sacha inchi
Pea
Flax
Whey
Chia
These contain a wide range of amino acids and high amounts of fiber, believed to reduce sugar cravings and help support normal blood sugar levels and healthy skin and hair.
However, they can also cause gas due to their high, concentrated quantities.
Superfruits & Antioxidants
The superfruits and antioxidants in Shakeology came from:
Bilberry
Green tea
Camu-camu
Luo han guo
Acerola cherry
Lyceum berry
Rose hips
Pomegranate
Vitamin A (pure)
Vitamin C (pure)
Vitamin E (pure)
Antioxidants are necessary to the body, and they protect against diabetes and cancer.
Adaptogens
Adaptogens in Shakeology include:
Maca
Astragalus
Maitake
Ashwagandha
Schisandra
Cordyceps
Reihst
These substances come from Indian and Chinese medicine and are meant to counteract stress on mental and physical wellness.
They can reduce blood pressure and cholesterol levels, promoting the healthy function of the heart, lungs, liver, and kidneys.
Adaptogens carry little risk, but there's a chance that taking too much can cause side effects like headaches or an inability to sleep.
Digestive Enzymes
Digestive enzymes in Shakeology are:
Chicory root
Amylase
Yacon root
Cellulose
Invertase
Lactase
Alpha-galactosidase
Bacillus Coagulans
Glucoamylase
These digestive enzymes help break down food in the digestive tract to make it easier for the body to process the shake.
Supergreens & Phytonutrients
The following plants provide phytonutrients in Shakeology:
Kale
Chlorella
Spinach
Moringa
Spirulina
These nutrients are anti-inflammatories that help the body by stabilizing blood pressure. These ingredients also contain vitamins C and A and calcium, all essential nutrients for the body's growth and development.
Here's what people are really saying about Shakeology…
Alternatives to Shakeology
The best alternative to Shakeology is a richly varied diet full of whole foods, including superfoods.
However, if you're looking for a meal replacement
Ample Meal Replacement comes in three options: Ample Original, Ample Vegan, and Ample Keto. Ample has similar ingredients to Shakeology and can also be considered a premium shake that is a great alternative to Shakeology.
Check out this Ample Meal Replacement Review
The Garden of Life Meal Replacement is often the #1 recommended Shakeology alternative for many people because of the many organic vegetables that it uses.
It is a good basic meal replacement shake if that is what you are looking. It's also cheaper since it uses less diverse ingredients.
However, I personally found the Garden of Life taste horrible and it gave me a lot of gas. Yet, people are still enjoying this meal replacement shake.
Check Out My Garden of Life Review Here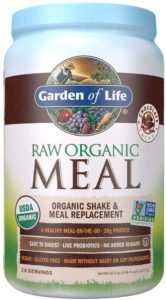 A less commonly known meal replacement shake is MacroMeal The Ultimate Superfood Meal. Although not as recommended as the two above as good Shakeology alternatives, MacorMeal has some interesting superfoods that have been shown to be very beneficial to people's health.
Check Out My MacroMeal Review Here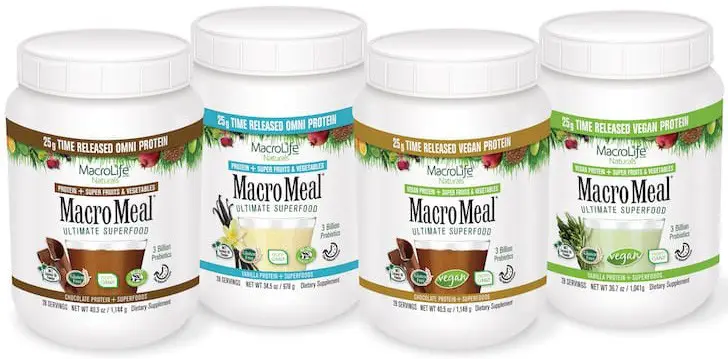 Additional Resources
Are you only looking for a powerful supergreens powder that help you with:
Energy
Better Focus and Concentration
Anxiety
Sleep
Health
Immunity
Check out SuperGreen Tonik. It's a great product that clearly states what you are getting, which is rare in the supplement industry. You can also SAVE 10% with Coupon Code: ESR10
Best Tasting Meal Replacement Shakes
Interested in only tasting the best meal replacement shakes on the market? Check out my list above to see which will satisfy your taste buds.
Trust me, there's a lot of horrible tasting shakes on the market. You don't want to waste your money on something you can't drink.
Best Meal Replacement Shakes for Gastroparesis
Are you having stomach issues? Check out the best shakes for Gastroparesis. Also ready how one person was able to overcome her gastroparesis.
Sources