Gastroparesis patients are always met with the dilemma, to eat or not to eat, and either decision comes with a consequence.
When you eat, you become nauseated, have abdominal pain, bloating, and vomiting, and when you don't, you lose excess weight and don't get enough nutrients. Luckily, nutritionists are coming up with ways to solve this with replacement shakes.
The best meal replacement shakes for gastroparesis patients should be easy to digest. It should also have low fiber content. The fat available in meal replacement shakes must be in liquid form, for instance, whole milk or supplements. This is because solid fats slow down digestion.
This guide will help you know the best meal replacement shakes for gastroparesis patients. Read on.
1. Beachbody Vegan Shakeology Shake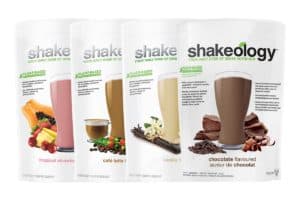 When you have gastroparesis one of your main concerns is ensuring that your body continues to get the most nutrients possible. However, as you know, this can be very challenging.
Fortunately, it has been found that nutritional drinks such as yogurt smoothies, fruit and vegetable smoothies, liquid meal replacement shakes, and protein shakes can greatly help people with gastroparesis.
One amazing nutrient dense shake is the Beachbody Vegan Shakeology. Shakeology is a powerful superfood shake that was created to help your body perform at its best.
Shakeology is not just protein, vitamins, and minerals, but antioxidants, phytonutrients, enzymes, fiber, adaptogens, and more.
It is important to note that Shakeology does contain 6g of fiber. However, Shakeology has been shown to help people with gastroparesis.
In one News Report (How Shannon lost 50 pounds and got off 5 prescription drugs), Shannon Reid, shared her experience with Shakeology and the 21 Day Fix workout. Shannon stated the following:
I started my journey in March 2015 as my last hope in surviving my chronic illness Gastroparesis.

For years I struggled with testing, flare ups, weekly hospital visits, and several medications thrown at me as "maintenance" to the condition.

I got to my breaking point, where I was ready to end my life and just let the illness kill me by starvation.

I was part of the many Gastroparesis support groups, which looking back, only added to my depression.

We would share, but I also watched as many people passed away, starving to death, or ultimately suicide.

I met my upline coach at my church and found out we shared the same disease.

I purchased my first challenge pack when I weigh 200 pounds. I was a size 16. I was depressed and on anti-depressants. I was anxious from stress and on meds. I was a single mom with a chronic illness that has no cure and three medications that exchanged one symptom for another.

After my 1st round of 21 Day Fix [and Shakeology]… I lost 10 pounds.

I started to get some energy back and my will to do things with my kids again.

It was not until my 2nd round of 21 Day fix that I really focused in on my nutrition and seeing what foods caused my flare ups and what was safe to eat without causing a flare up.

After about 60 days I quit all five of my prescribed medications and decided I was going to fight back this illness and do it naturally.

Today I have reached my goal weight of 150 pounds. I am a size 7 and I am on no medications.

I want to share with the world that your LIFE circumstances or Illnesses do not have to CONTROL YOU or DEFINE YOU.

Take the leap of faith and invest in yourself, you are worth it!
It's amazing how getting the right nutrition and exercise can do to help improve your life. Check out the same program that Shannon used to turn her life around here:
21 Day Fix Challenge Pack with Shakeology
The Vegan Shakeology flavors include:
Chocolate
Vanilla
Café Latte
Tropical Strawberry
Additionally, Vegan Shakeology contains:
NO Artificial Sweetners
NO Artifical Colors
NO Artificial Flavors
NO Artifical Perservatives
Dairy Free
Low Glycemic Index
Check out our FULL Shakeology Review here
No doubt Shannon Reid had to go through her struggles with gastroparesis, however, you can see she was able to adapt so that she can get off her medications, lose weight, and have more energy for her family.
While there is no magic bullet to help with gastroparesis, it can be controlled with a proper diet and as Shannon found, exercise.
Try Shakeology out for yourself.
ORDER THE BEACHBODY VEGAN SHAKEOLOGY SHAKE HERE
2. Orgain Organic Meal Replacement Powder
Orgain Organic meal replacement powder is an all-in-one nutritional powder for men, women, and kids. The meal includes organic fruit and vegetable blends making it a great choice on-the-go snack for gastroparesis patients with a busy lifestyle.
What and how you eat can flare up gastroparesis symptoms. Solid food stays in your stomach for longer than it should.
Ordinarily, strong muscular contractions propel food into the digestive tract. However, gastroparesis prevents your stomach from emptying the food properly.
When the contractions of the stomach's muscles weaken, food may sit in the upper gut for hours, causing nausea, vomiting, bloating, and abdominal pains.
Orgain Organic Meal Replacement Powder can help manage your symptoms and ensure that you receive all the nutrients your body needs.
A serving of Orgain's meal replacement shake comprises:
Food-based vitamins and minerals
20gm organic plant-based protein
8gm natural fiber
220kcal per serving.
Organic meal replacement powder is gluten-free, soy-free, non-GMO, and contains no sugar. Additionally, the blend contains no artificial colors, flavors, or preservatives.
Since gastroparesis interferes with the healthy digestion of solid food resulting in poor grinding and slow emptying, Orgain replacement offers a smooth digestible consistency.
The shake is easy to make as it requires you to mix with water for a naturally smooth, creamy, and delicious chocolate fudge taste. The powder dissolves in water quickly for a consistency that is easy to digest for people suffering from acute gastroparesis.
If you're traveling and can't find something to eat, this meal replacement shake comes in handy to ensure you don't skip meals or eat unhealthy food choices. It also makes an excellent choice to help with weight loss since you can regulate calorie intake.
Dr. Andrew Abraham, a cancer survivor, and a medical doctor developed this organic nourishment to support the body in stressful times. The Organic meal replacement powder meets all aspects of a nutritional meal.
ORDER Orgain Organic Meal Replacement Powder HERE
3. Orgain Clean Protein Grass Fed Protein Shake
The cause of gastroparesis remains unknown. But in many cases, the condition may result from damaged nerves that control the stomach muscles.
A compromised digestive system can result from diabetes, a virus infection, or certain medications that slow down stomach emptying like narcotic pain medications.
Orgain Clean Protein Shake is a convenient and nutritional shake that packs 20gms of grass-fed protein milk, 3gms of dietary fiber, and 140 calories. The meal replacement is an excellent diet supplement for gastroparesis patients that reduces food cravings and the constant battle of "to eat or not to eat."
Gastroparesis demonstrates a more significant gender bias affecting more women than men. Approximately 80 percent of young females are vulnerable to the condition.
No matter the cause or duration of gastroparesis, different people seem to tolerate certain foods better than others.
Unfortunately, due to complexities and misunderstanding of the condition, teenage girls are accused of eating disorders. Still, other people accuse them of having an irritable bowel system or a psychological problem.
Orgain Clean Protein replacement shake is an excellent option for teenagers and kids over six years as a quick breakfast or nutritional snack.
The protein shake is easily digestible and will not make you feel bloated. It packs nutritious and high-quality ingredients for lasting energy throughout the day.
It also contains immune-supporting nutrients that help curb malnutrition from poor appetite, vomiting of undigested food coupled with a slow emptying stomach that cannot absorb enough nutrients.
Orgain Clean Protein Grass Fed protein shake is doctor-developed and contains no artificial color, sweeteners, or preservatives. Conversely, it's Non-GMO, gluten, and soy-free for healthy muscles, joints, skin, hair, and nails.
The product is also a healthy and nutritional snack for vegans with gastroparesis conditions and offers 21 vitamins and minerals.
The shake is delicious and available in creamy chocolate flavor. You can mix it with water, milk, or milk substitutes to ensure smooth consistency that will allow the stomach to empty correctly.
ORDER Orgain Clean Protein Grass Fed Protein Shake HERE
4. Ensure High Protein Nutritional Shake
Patients with gastroparesis need all the calories they can take. Based on your proportion sizes and calorie needs, you may need to eat 4-6 smaller meals every day.
Dieticians tend to prescribe liquid meals that are more effective than solid foods. Additionally, low-residue meals, low-fat broths, and juices are easier to digest.
Weight loss and malnutrition are the biggest concern for patients recovering from gastroparesis. Ensure High Protein Nutritional Shake includes 160 calories in every serving to guarantee strength and energy.
People with gastroparesis have a reduced appetite, and their stomachs cannot absorb enough nutrients leading to malnutrition. Ensure High Protein Nutritional shake is high in proteins and contains 23 vitamins and minerals to meet your nutritional needs.
Proteins play a critical role in the functioning of the human body. When your body is recovering from gastroparesis, an injury, or any other chronic health condition, your body's protein needs increase.
During this time, you must get enough protein to give you strength and energy. Ensure High Protein shake includes 16 grams of high-quality protein to support your muscles, bones, and immune system.
Your food options may feel limited when you have gastroparesis. However, you can still enjoy meals that won't flare up the stomach. The shake is an ideal choice for gastroparesis patients with lactose intolerance. Unlike beverages and foods that contain sugars to fill you up with "empty calories," the shake offers balanced nutrition to keep you healthy and active.
High-fat meals take longer to empty from the stomach than low-fat meals. However, a lower-fat diet doesn't mean that you need to eat fat-free food. 30g -50g is the most recommended diet intake, although it could go lower depending on the degree of flare-ups.
Ensure High Protein shake includes low-fat nutrition at 2gms per serving for patients who need more protein but not more calories. It is also more comfortable to tolerate than fats found in solid foods like bacon, salami, hot dogs, sausage, and bologna.
Conversely, gastroparesis can lead to severe complications such as unpredictable blood sugar changes that lead to the variation and poor control of blood sugar levels.
Ensure High Protein shake will keep your blood sugar under control, especially if you suffer gastroparesis and diabetes. However, patients with galactosemia should not take the product since it affects the body's process to produce energy.
ORDER Ensure High Protein Nutritional Shake HERE
5. Herbalife Protein Drink Mix PDM – Vanilla
Gastroparesis leads to a decreased quality of life as the stomach's acute flare-up can make it challenging to work or keep up with other responsibilities.
Herbalife Protein Drink Mix is an excellent substitute for milk in a healthy meal replacement shake that will give you energy and strength. It packs 15g of heart-healthy soy protein and a blend of 24 vitamins and minerals for balanced nutrition and energy.
Individuals with gastroparesis should avoid foods with high fiber to prevent Bezoars. Bezoar is a condition that leads to the hardening of undigested food in the stomach. It can collect in the stomach and cause severe pain. Also, high fiber meals increase the time it takes to empty the stomach.
The tolerance of fiber varies from person to person. However, 10g-15g fiber intake in a day is an excellent place to start. Herbalife Protein meal replacement shake contains 10g fiber along with essential nutrients that help curb hunger and cravings.
Conversely, this nutritional shake is easy to make as it requires mixing two tablespoons of the powder with eight fl.oz cold water for a smooth consistency. It also contains 110 calories per serving to give you the energy and strength you need to perform your daily tasks.
Depending on the severity of the condition, dieticians offer different nutritional measures to observe while treating gastroparesis. Most restrict meal volumes to five to eight small meals in a day.
Decreasing the meal size and increasing the frequency of meals in a day doesn't always work well for all patients suffering from gastroparesis. Herbal Protein Mix shake is often well-tolerated, pleasurable, and provides a great source of calories in small amounts.
Patients with gastroparesis should have most food early in the day and avoid lying down 4-5 hours after their last meal.
Herbal Protein Mix meal replacement shake takes care of hunger and cravings that you can have later in the day. The shake is available in a tasty vanilla flavor.
ORDER Herbalife Protein Drink Mix PDM – Vanilla HERE
6. Nautricia Fortisip Compact
Chewing your food well before swallowing and ensuring that your meals' particle size is small is essential. It helps to ensure that you don't flare up gastroparesis symptoms.
Fortisip therapeutic meal replacement shake offers a smooth consistency that makes it easy for your stomach to digest. It is an excellent option for people with severe symptoms who cannot consume solid food at all.
Additionally, Patients with gastroparesis-related malnutrition need to maintain a balanced diet. Fortisip contains proteins, minerals, vitamins, and trace minerals to offer proper nutrition.
Fortisip meal replacement shake is also suitable for children over six years of age and teens with eating disorders. It supplements nutritional needs that the body needs for a balanced diet and a healthy lifestyle.
Studies indicate that proteins are the most filling macronutrient. Food rich in proteins help you feel full for longer and score high on the satiety index.
Fortisip protein shake offers the portion size that allows you not to fill up your stomach too quickly. Each Fortisip bottle is high in energy and packs 300Kcal to curb cravings and promote fullness between meals.
Fortisip makes a quick and convenient alternative to other breakfast types, as it takes little or no time to prepare. It's an excellent meal on-the-go and a tasty snack option for kids to give them energy throughout the day.
Fortisip protein shake is lactose and gluten-free, making it a suitable option for gastroparesis patients with lactose intolerance or coeliac disease.
Fortisip meal replacement shake is available in eight delicious flavors; vanilla, chocolate, neutral, banana, strawberry, orange, caramel, and strawberry.
7. Glucerna Regular Shake
Protein shakes are highly versatile and can help you squeeze more nutrients into your diet to boost your energy and increase your protein intake. Glucerna Regular Shake packs a unique blend of slow-release carbohydrates to help you manage your blood sugar.
Digestion starts in the mouth. Any food you swallow should contain no visible pieces. Glucerna Regular meal replacement shake offers "baby-food consistency" to reduce the amount of work your stomach has to do.
Protein supports tissue repair, muscle growth, and recovery. Glucerna Regular shake includes 4g of fiber and 10g of protein to enhance muscle growth, making it ideal for patients with gastroparesis and children with malnutrition needs. The meal replacement shake also ensures that you have all the nutrients you need around the clock.
Low sugar, clear juices, and sugar-containing beverages may be acceptable in a gastroparesis diet patient.
However, you need to consult your dietician if you are not sure. Conversely, if you've had bariatric surgery, you should avoid all forms of sugar and sugar-containing beverages.
Glucerna shake contains high-glycemic carbs that minimize blood sugar levels keeping it under control in gastroparesis patients with diabetes. Gastroparesis individuals with diabetes should ensure that their blood sugar runs 200mg/dl regularly.
Glucerna Shake is an excellent on-the-go meal or snack replacement with essential vitamins and minerals. It's also gluten-free and suitable for people with lactose intolerance.
It comes in various flavors that include rich chocolate, creamy strawberry, homemade vanilla, chocolate caramel, and butter pecan.
ORDER Glucerna Regular Shake HERE
8. Ensure Enlive Advanced Nutrition Shake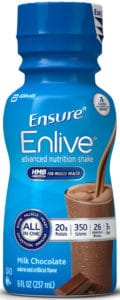 Foods with high-fat content such as cheese, butter, bacon, fatty cuts of meat, slow the stomach from emptying.
Protein drink shakes are known and recommended by most dieticians since they contain low fats. Ensure Enlive Advanced Nutrition Shake helps you to consume enough nutrients throughout the day.
One of the symptoms that a gastroparesis patient may experience is severe dehydration because of frequent vomiting. Dieticians recommend including supplementary nutrition in your diet, which should be in liquid form.
Ensure Enlive Advanced Nutrition Shake is an all-inclusive blend for strength and energy. The protein shake includes 20g of high-quality protein and 350 calories that allow you to manage your symptoms and ensure that you're receiving all the nutrients your body needs.
The protein shake includes other vital nutrients and oxidants such as Vitamins C, E, and Selenium. Each bottle provides 120 percent daily value of Vitamin D and 50 percent daily value of calcium for healthy bones.
Most registered dieticians recommend a limit of fiber intake to no more than 10gms per day. You should avoid foods with excess amounts of fiber as it could lead to a slow emptying stomach and complicate the symptoms further.
Ensure Enlive Advanced Nutrition Shake contains 3g of fiber that can easily digest and allow the stomach to empty well.
Lactose intolerance is common in gastroparesis. Therefore, avoidance of dairy is helpful, but fermented milk and nutritional shakes are fine.
The advanced dietary shake is a suitable choice for individuals with lactose intolerance. Conversely, this meal replacement contains no artificial colors and is also gluten-free.
Loss of appetite, conscious avoidance of food in an attempt to moderate digestive symptoms, and food cravings are frequent manifestations in gastroparesis.
Ensure Enlive Advanced Nutrition shake is delicious and available in milk chocolate flavor and helps improve appetite. To get the best taste, take it out from the fridge and drink it at room temperature.
ORDER Ensure Enlive Advanced Nutrition Shake HERE
Lifestyle Tips for Gastroparesis Patients
Drink adequate fluids during the day to hydrate properly
Limit drinking when eating to 4oz of fluids
Avoid lying down 3 hours after eating
Walk lightly after a meal for 15-30 minutes to stimulate the stomach
Chew foods thoroughly
A well-balanced meal includes carbohydrates, proteins, vitamins and a small amount of healthy fat
Avoid excess fat by decreasing fatty meals by 30 percent
Avoid excess dietary fiber
Conclusion
Each patient experiences varying degrees of severity of gastroparesis. The most severe symptom is intense nausea and frequent vomiting, which could lead to dehydration. There are many causes of gastroparesis, but in some cases, the reason may be unknown.
Nutritional intervention is necessary for the management of the symptoms to ensure appropriate dietary intake. Meal replacement shakes contain proteins and healthy nutrients that will give you energy.
However, the nutritional considerations we have discussed here are only a guideline, and you should consult a registered dietician to tailor the diet to address your own needs.
Sources