Here are some interesting examples you can use to create a Shakeology alternative.
Personally, I believe buying Shakeology is better than trying to make something similar to Shakeology because creating something that's equivalent to Shakeology would take a lot of work, cost more, and not even come close to tasting as good as Shakeology.
Below are a few ways you can create a Shakeology substitute in order to get close to the same nutritional value of Shakeology.
The Shakeology Ingredients:
When looking for a Shakeology alternative, it's important to first take into account the core ingredients. Shakeology contains the following:
Protein & Amino Acids – Protein helps curb cravings by helping you feel fuller longer, reducing the urge to snack. Protein can also promote muscle protein synthesis and help maintain lean muscle mass as you lose weight.
Antioxidants & Super-fruits – The superfoods and vitamins in Shakeology have antioxidant properties that help fight free radical damage. (Free radical damage has been linked to degenerative (aging) conditions such as heart disease, high blood pressure (which can lead to stroke), dementia, and arthritis.)
Phytonutrients & Super-greens – Phytonutrients help support health and vitality.
Adaptogens Herbs –Have been traditionally used to help the body adapt and respond to the effects of stress.
Prebiotics & Probiotics –Help support regularity and healthy digestion.Probiotics and prebiotics help support good bacteria in the gut. Good bacteria helps you properly digest food and absorb nutrients.Shakeology is formulated with insoluble and soluble fiber that helps keep waste moving through the body, which may help reduce bloating. As many as 97% of Americans are not meeting their fiber needs!
Digestive Enzymes – Digestive enzymes also help the body break down food into nutrients so it can be absorbed properly.
Vitamins and Minerals– Shakeology delivers key vitamins and minerals that support many key body functions.
With this in mind, lets look at what options we have…
Shakeology Alternative 1: Buy All the Shakeology Ingredients Separately
Beachbody went out to see how much it would cost you to buy the Shakeology ingredients separately…
And then had Tony Horton reveal the cost of buying all the ingredients in Shakeology separately… Check out the video below:
You can see from the video above that you can easily spend $783.20 on several different supplements to create Shakeology.
Shakeology is looking to be pretty tough to duplicate. Let's see what else we can do….
Shakeology Alternative 2: Eat more Fruits & Vegetables!
Another Shakeology option is to eat a large amount of fruits and vegetables… This shouldn't be too hard to accomplish, right?
Check out what you would have to eat below in order to get the same nutrition as ONE serving of Shakeology:
A bowel of Exotic Food (including: Golgi & Acai): $4.40
10 cups Raw Cauliflower: $4.30
4 cups Raw Broccoli: $3.94
4 cups Uncooked Mushrooms: $8.97
4 cups Non-fat Yogurt: $3.49
4 cups Red Radishes: $5.16
3 cups Romaine Lettuce: $2.99
1 cup Peas: $1.09
7 Whole Carrots: $ 1.99
3 Raw Onions: $2.91
1 Shot of wheat Grass: $1.95
Total: $41.19
While I believe in eating healthy, I would find it difficult to eat all of the above to get the same nutrition as one Shakeology shake.
Would you rather spend $1,235.70 a month on the above ingredients or purchase the tasty Shakeology shake?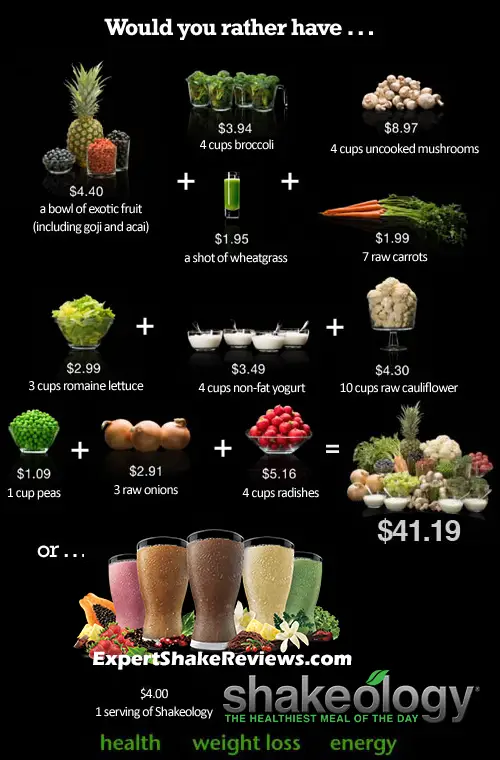 Shakeology Substitute 3: Forget the Fruits and Vegetables, How about some Supplements?
A fellow Beachbody Coach, Blake Warrington, did an experiment.
Blake wanted to see if he could create a homemade version of Shakeology by going to the grocery store and buying some ingredients. This is the Shakeology equivalent he came up with…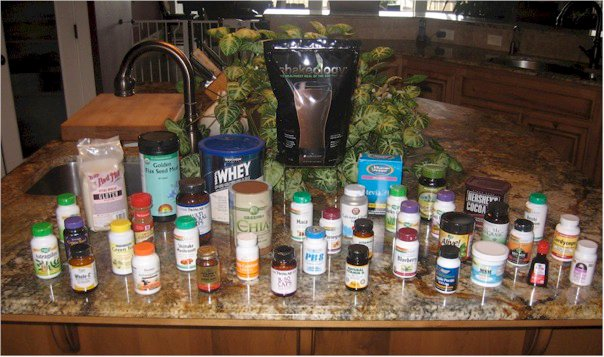 Look at all those ingredients!!!
Below is a picture of Blake's receipts totaling $483.12! Looks like a Shakeology shake is not only cheaper but much more convenient…
This is what Beachbody CEO Carl Daikeler had so say about this experiment- "Awesome demonstration Blake. And even if someone did assemble all that, I am willing to bet that most if not all of those ingredients are not sourced at the same high standards as we use, and they are likely processed so they can stay on the shelf longer.

That means the potent properties are cooked and killed before they ever get into the bottle. Not Shakeology – as close to fresh as it comes without picking it off the tree! And do you know how hard it would be to make that $481 concoction taste good? You would throw it all away after one sip. Not Shakeology. I am so proud of this product!"
What would you rather do? Take tons of supplements everyday that will cost you over $483.12 per month, or buy Shakeology?
Final Thoughts about Making a Alternative to Shakeology:
Creating a Shakeology alternative is not impossible as we can see above.
However, creating a Shakeology alternative is costly and often you will need to purchase low quality supplements or digest a lot of fruits and vegetables to get the same benefits from one serving of Shakeology.
The examples are also a little dated. If the same experiments were done today in 2022, I would expect to pay much more to create something equivalent to Shakeology.
How would you like to save money on your Shakeology order today?

Rather you live in the United States, Canada, or United Kingdom; you can save BIG on Shipping/Handling by:
Buying your Shakeology with Monthly Autoship
And make full use of the Beachbody 30 Day Money Back Guarantee if you're not happy with your order…
Here are the Top 3 Benefits of ordering Shakeology on Monthly Auto-ship:
1. $3 Shipping Every Month! – Saving you $9 to $18 every month.
2. 30 Day Money Back Guarantee! – If you don't feel the health benefits from drinking the Shakeology meal replacement shake every day, then send it back for a refund.
3. Have Shakeology Your Way! – You can do any of the items below with one simple call to Beachbody… Here's the number for A+ Customer Satisfaction according to the Better Business Bureau: 1-800-470-7870. Or by logging into your Team Beachbody and going to "Your Orders" section. Once there, you can manage your Memberships and Subscriptions. You'll have the following options:

Change your Shakeology flavor
Switch between 30 Day Serving bag or the 24 Individual Packet Servings
Pause your monthly auto-ship
Change your monthly auto-ship to bi-monthly
Or cancel your monthly auto-ship at any time….
BONUS – Shakeology brings together nature's natural health benefits in a simple and tasty shake for you! Here's just a small list of what the majority of Shakeology users have experienced:
Help With Continuous Weight Loss Over Time (Clinically proven)
Lower Cholesterol (Clinically proven)
Lower Blood Sugar (Clinically proven)
Reduced Hunger & Food Cravings
Promote Healthier Skin, Hair, and Nails
Increase Energy
Boost Immune System
Lower Blood Pressure
Improve Digestion & Regularity
In case you're unsure… Here's what Shakeology users normally experience when taking Shakeology:
Other Shakeology Alternatives
We have taken the opportunity to compare Shakeology to other popular meal replacement and health shakes. However, many have been found lacking due to lack of ingredients or use of low quality ingredients. Check out these review below:
Shakeology vs. Idealshape (Exante): WHICH IS BETTER? Pros/Cons
Shakeology vs. Herbalife – WHICH SHAKE REALLY WORKS?
Which Is Better: Shakeology or Vega One | THE BEST OPTION