Finding a healthy meal replacement shake that keeps you full for a substantial amount of time can be difficult. However, Ample Meal Replacement is the perfect solution, providing you with all of the nutrients you need for a healthy and filling meal.
Ample meal replacement includes high-quality ingredients that have proven health benefits. It has protein, fat, and fiber to keep you full for up to four hours. Plus, you have the option of original, vegan, and keto formula. Allowing people with different dietary preferences to enjoy these shakes.
Below, we will go over what Ample Meal Replacement is, its pros and cons, and whether or not Ample Meal Replacement is right for you.
What Is Ample Meal Replacement?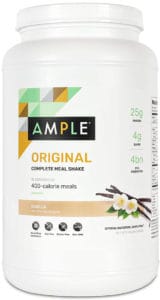 Ample is a healthy meal replacement drink formulated with high-quality ingredients. It is designed to benefit the body by providing it with all of the nutrients it needs, including healthy fat, protein, fiber, and more.
Ample has teamed up with nutrition and food specialists to make sure that all of the ingredients they include in their formulas have scientifically-proven benefits for your health.
An Ample shake can be made in 30 seconds or less. All you have to do is get some ample powder, mix it with your liquid of choice, and you are good to go. This convenient and nutritious meal provides your body with all of the energy it needs to remain satisfied while you are on the go.
To learn more about Ample, check out this overview video they posted on their website. This goes over the many benefits of Ample and its advantage over its competitors:
What Are the Different Ample Options?
Ample offers three different types of shakes for people with different dietary preferences. They have the following Ample meal replacement options:
Original shake, called Ample, that is formulated for the average eater.
Vegan shake called Ample V, which doesn't contain any animal products or lactose.
Keto shake called Ample K, which contains a limited number of carbs to keep you in ketosis.
All of these shakes can be bought as single serving bottles or in bulk canisters. The single serving bottles come in either 400 or 600 calorie servings, and you have to purchase at least one case per order, which is 12 bottles.
You can add on as many cases as you want, meaning you can get 24, 36, 48, etc. meals (or more depending on your needs). The bulk canisters contain 15 servings each.
Below, we will go over Amples three different formulas in detail.
Ample Original
The original Ample shake contains a plethora of healthy yet filling ingredients, including grass-fed whey and collagen protein. This formula is 25% protein and 56% fat, which will keep you full for approximately four hours.
Ample Original comes in a delicious Vanilla flavor that you'll enjoy consuming on a daily basis.
Ample V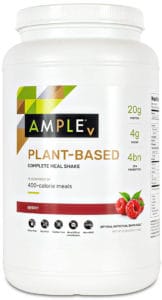 Ample V is fully vegan, meaning it comes with no animal products. So, this formula is perfect for vegans and people who are lactose intolerant.
If you are a vegan, you likely have experienced how difficult it can be to find convenient foods that also fit your dietary needs. Ample V may be the solution to your problem. This formula is also very filling, consisting of 20% protein and 56% fat. This nutritious meal will keep you full and energized for hours on end.
Ample V comes in a delicious Berry flavor. It can be mixed with greens, berries, or even just water to create a satisfying meal.
Ample K
Ample K is a shake formulated for people who are on the keto diet. If you are trying to stay in ketosis, this is the perfect shake for you.
This tasty formula contains 74% fat and 13% protein. According to lead ketosis researcher Dom D'Agostino, keto dieters should only consume a moderate amount of protein; hence, the lower percentage of protein in Ample K compared to the other formulas.
There are a lot of keto shakes, snacks, and other products on the market, but many of these won't satisfy you for long and can harm your diet since they contain sugars, carbs, and other ingredients that will kick you out of ketosis.
Ample K, on the other hand, only contains 3 net carbs and no artificial sweeteners, so you'll be able to maintain your diet with ease.
Ample's keto formula comes in two delicious flavors: Chocolate and Vanilla Cinnamon.
Ample Meal Replacement Pros
Ample is an all-around amazing meal replacement option. Listed below are all of the amazing benefits you'll receive if you choose to try this great product:
It contains a lot of protein, fat, and fiber to leave you feeling satisfied.
Ample offers original, ketogenic, or vegan formulas, making this meal replacement shake suitable for people with different dietary preferences.
All of their products are soy-free, gluten-free, non-GMO, and they don't contain artificial sweeteners or flavors.
Offer a lot of benefits to monthly subscribers, who are able to cancel, modify, and postpone their orders at any time.
It has an amazing taste and texture.
Ample Meal Replacement Cons
Although Ample is pretty darn amazing, it does have a few downsides.
It Is Very Pricey
Ample meal replacement is a high quality product, but it isn't cheap.
One 400 calorie serving of Ample costs $7.60 per meal. This price goes down slightly for subscribers, costing $6.35 per meal. If you buy a bulk canister, the price per meal is $5.27 or $4.48 for subscribers.
The price goes up for 600-calorie single meals, which cost $9 per meal for a one-time purchase or $7.65 per meal for subscribers.
So, if you are looking for a super inexpensive meal replacement option, this isn't it. However, with the greater price comes greater quality. All of the ingredients in Ample are top-notch and have proven health benefits.
Plus, Ample shakes are generally cheaper than eating fast food every day. So, wouldn't you rather invest your money in something that is convenient and healthy, as opposed to something that is convenient but unhealthy and potentially more expensive? I know I would!
Additionally, one bulk canister comes with 15 servings of 400 calorie meals. If you want to stretch out your order, one option would be to cut your serving in half and thus have a 30 serving container at a cost of $3.80 per meal or $3.18 for subscribers.
You could even add a few healthy fruits or vegetables to bulk up your smoothie from 200 calories to whatever you need.
ORDER AMPLE MEAL REPLACEMENT HERE
Low in Supplemental Vitamins and Minerals
Although all of the ingredients in Ample are incredibly healthy, they are lacking in one area: vitamins and minerals. Although some of the ingredients in Ample, such as sweet potato and wheatgrass, have vitamins in them, there are only a few additional vitamins added to their formulas.
Ample Original
Ample V
Ample K
●     Vitamin D

●     Magnesium

●     Potassium

●     Calcium

●     Vitamin A

●     Vitamin C

●     Calcium

●     Iron

●     Vitamin B12

●     Magnesium

●     Calcium

●     Iron

●     Vitamin D

●     Magnesium
While this may sound like a lot of vitamins, they are far behind their competitors. On average, meal replacement shakes put at least 26 vitamins and minerals into their formulas.
However, if you eat enough whole foods on a regular basis, you'll likely get the vitamins and minerals Ample doesn't include in their shakes through your diet. The select vitamins and minerals they do include are the ones that most people are deficient in.
One example of this is Vitamin D. Vitamin D deficiency is the number one most prevalent condition experienced by people all over the world. It is estimated that at least 1 billion people have a Vitamin D deficiency or an insufficient amount of Vitamin D in their bodies. Ample chose their vitamins wisely and picked vitamin D because they know it's something people are often deficient in.
Similarly, low calcium levels are also very common for certain groups, especially postmenopausal women, people who are lactose intolerant, vegetarians, and vegans. So, Ample added calcium to their shakes to help these groups get the calcium they need to remain healthy.
Vegans and Vegetarians are also commonly deficient in Vitamin B12, hence why they included this vitamin in their Ample V formula.
So, while Ample doesn't include tons of supplemental vitamins and minerals in their shakes, the ones they do include are essential for survival, yet many people don't get enough of them. So, if you want a shake that is truly good for you without any unnecessary fluff, Ample may be the perfect meal replacement option for you.
Check out the following Nutrition Facts for Ample Vanilla Original:
There is a Lack of Ample Flavors
If you are the kind of person that likes to try a ton of different flavors, Ample may not be ideal. They only offer four flavor options that are pretty basic.
In fact, the original Ample shake only comes in vanilla, which may taste boring after a while for people who enjoy switching things up.
However, all of their shakes taste amazing, so you won't get sick of them too easily. Plus, you can add different liquids, fruits, and other items to the shakes to spice things up if you start getting a little bored.
Should You Get Ample Meal Replacement?
Ample meal replacement is suitable for people with a variety of dietary preferences. Whether you have no dietary restrictions, you're vegan, or you're following a keto diet, Ample has you covered.
Although Ample is suitable for most people, always talk to your doctor to determine if this meal replacement option is right for you. Ample posts all of the ingredients that are in each of their formulas on their website, so you can find out if they include anything you are allergic to or intolerant of.
Each of their shakes includes slightly different ingredients, so if one of their formulas has something in it that you don't like or can't eat, make sure to check the ingredients in their other formulas to determine if they are more suitable for your dietary needs.
Why Ample Meal Replacement Is Worth It
For most people, Ample Meal Replacement is a great option. It's nutritious, offers its subscribers awesome benefits, and has an amazing texture and taste. Let's take a closer look at these incredible benefits.
Ample Contains Wholesome Ingredients
Ample Meal Replacement is a great source of fat, protein, fiber, probiotics, and more. This shake contains all of the nutrients your body needs for a healthful meal. Every ingredient included in their formula has health benefits that are backed by science.
Below, we will go over the Ample ingredients and their amazing benefits in detail!
Includes Healthy Fats
Ample contains four healthy sources of fat, including coconut oil, high-oleic sunflower oil, macadamia nut oil, and sunflower lecithin.
Coconut oil contains fatty acids that are amazing for your health, called medium-chain triglycerides (MCTs). MCTs are often converted into ketones, which are beneficial for your brain. They are even being investigated as possible treatments for brain-related disorders such as epilepsy, Alzheimer's disease, and more.
Coconut oil also benefits the rest of your body. Some studies show that it may improve your heart health, help you lose weight, and ward off sickness and infection with its antimicrobial effects.
High-oleic sunflower oil is also great for you. It may help lower your bad cholesterol levels and increase your good cholesterol levels, reducing the possibilities of you getting a heart disease.
Macadamia nut oil is another oil that may benefit the heart. It contains high levels of monounsaturated fat, which is known to lower "bad" cholesterol levels, which reduces your risk of having a stroke or heart attack. This oil is also a rich source of Vitamin E and antioxidants.
Another great fat source found in Ample are lecithins. Lecithins are found in a number of foods, including eggs, soy, and sunflower seeds.
Sunflower lecithin is great for reducing cholesterol levels, enhancing immune function, and aiding in digestion. It also influences the brain by improving memory and enhancing the cognitive functioning of individuals with neurological disorders.
So, as you can see, all of the sources of fat included in Ample have scientifically-proven health benefits that can help keep your body and mind healthy.
A High Source of Protein
Eating enough protein is essential for making you feel satisfied after each meal. It is also important for exercise as it helps to build up your muscles.
One serving of the Original Ample formula contains 20-25 grams (0.71-0.88 oz) of protein, which is high compared to other meal replacement options on the market.
Ample K contains 13 grams (0.46 oz) of protein, which is a sizable amount that won't kick dieters out of ketosis.
One serving of Ample V contains 20 grams of vegan protein.
In the original formula, the main sources of protein are grass-fed whey, grass-fed collagen, and pea protein.
The vegan formula contains pea and organic rice protein, and the keto formula has grass-fed whey, egg white, and pea protein.
Contains Fiber and Prebiotics
All three formulas of Ample contain acacia fiber and organic guar gum, which both contain fiber. Fiber is very filling, so it keeps you full and helps to prevent overeating. Guar gum also contains prebiotics, which allows you to maintain a healthy gut. Let's go over the other benefits of these two fiber sources in detail.
Acacia fiber is a great addition to your diet. It helps to keep your blood sugar at a healthy level, and it promotes oral health. It has also been shown to reduce overall body fat, so if you are looking to shed a few pounds, this is a helpful ingredient.
Organic guar gum is also beneficial for your body. It is a wonderful source of fiber made from guar beans, which are a type of legume. Like acacia fiber, guar gum promotes weight loss to help obese individuals achieve a healthy weight. It also lowers blood sugar and supports the digestive system.
Includes Organic Greens and Fruits
Everyone knows it's important to eat your fruits and veggies. Ample realizes this as well, so they include healthy greens and fruits in their shakes.
All three formulas include wheatgrass, barley grass, and lemon, which have been shown to positively influence people's health.
Wheatgrass – If you are looking for a plant with tons of nutrients, this is it. It contains amino acids, chlorophyll, vitamins, enzymes, and minerals. It is also filled with antioxidants, such as glutathione, which may help prevent certain diseases, like cancer, heart disease, arthritis, and a number of neurodegenerative conditions.
Barley grass – A type of grain with numerous health benefits. Evidence suggests it may help improve heart health, lower blood sugar levels, and aid with weight loss. It also includes healthful micronutrients, such as vitamin K and potassium.
Lemons – All-around amazing, they make things taste great, and they are great for your body. In fact, lemons are able to lower your risk of having a stroke, decrease blood pressure, and they may even help prevent cancer! If that isn't enough, lemons are also high in Vitamin C, which helps boost your immune system and prevents you from developing scurvy.
While all of the formulas include the ingredients mentioned above, Ample V includes additional fruits and vegetables, such as organic kale, raspberries, and carrots. These are all high in antioxidants and contain vitamins that promote healthy functioning in the body.
Offers Healthful Antioxidants
All of Ample's formulas contain ingredients that are high in antioxidants. Antioxidants may reduce the aging process and could also decrease your chances of developing a number of diseases, including cancer.
The chocolate Ample K formula is especially high in antioxidants since it contains cocoa. Cocoa contains specific antioxidants called flavonols, which are known for improving blood flow and the amount of blood going to your brain. This amazing food also has impressive anti-inflammatory effects on the body.
Has Six Types of Probiotics
All three Ample formulas contain six different probiotics. Drinking Ample provides you with 4x the amount of probiotics that you'd receive from eating yogurt. That's a lot of probiotics!
Probiotics are incredibly useful for maintaining good gut health since they contain "good" bacteria, which helps to keep your digestive system in check. This is important because without good gut health, you may experience allergies, digestive problems, obesity, mental health issues, and more.
Probiotics also help to prevent diarrhea, keep your heart healthy, and they may improve certain mental health conditions, such as depression, anxiety, and autism.
Limited Amount of Carbs
Ample has a limited amount of carbs since too many carbs have been found to have a negative impact on people's health. Their original Ample formula contains two healthy carb sources, including whole grain oats and organic sweet potato.
Whole grain oats are incredibly nutritious and contain antioxidants, which help reduce inflammation and itchiness. Studies have shown that they also may lower "bad" cholesterol levels and blood sugar levels. Even more, oats are incredibly filling, which is important for people with obesity who are trying to lose weight.
Sweet potatoes are also really good for you. They keep your eyes healthy, improve your cognitive functioning, and enhance your immune system. Some studies have shown that they may even be able to fight cancer by slowing the growth of cancer cells in the body.
Great Subscription Benefits
Ample's subscription option will save you money. They will give you a 15% discount on every order you place if you become a subscriber. They'll also allow you to cancel your subscription at any time, skip deliveries, or change delivery dates for added convenience. You can even swap out products if you'd like to try something new.
Additionally, if Ample is ever back-ordered, you will get your order faster if you are a subscriber than if you aren't. Subscribers also get VIP access to any new products Ample comes out with.
Their subscription option is incredibly convenient, saves you money, and allows you to get the types and amount of meals you want exactly when you want them.
Has an Amazing Taste and Texture
One common complaint regarding meal replacement shakes is their taste and texture. Some shakes have artificial flavors or a chalky texture that make them incredibly unappetizing and difficult to drink.
Ample does not have this problem. All of their shakes are great tasting and have an amazing, creamy texture. They have a natural sweetness that makes them taste great without having to add any artificial sweeteners. All of their shakes have a rich flavor that isn't overbearing.
Whether you mix your shake with water, milk, coffee, or any other liquids, it will taste amazing and maintain its awesome flavor and texture.
ORDER AMPLE MEAL REPLACEMENT SHAKE HERE
Frequently Asked Questions
Listed below are four of the most common questions potential Ample buyers have about the product.
How Frequently Can I Drink Ample?
Ample recommends drinking their meal replacement shake one to two times per day for the best results, depending on your goals.
When Should I Drink Ample?
You can drink Ample whenever you want.
Ample's website provides some suggestions for ideal times to drink their shakes, such as post-workout, for breakfast, while commuting or traveling, and while adventuring outdoors.
It's the perfect meal to have while you are on the go since it is so convenient!
However, if you'd prefer to have Ample for lunch or dinner, that's also a great option. Whenever you need a quick and easy meal, Ample has you covered. Just don't exceed the recommended number of servings per day!
Can I Get My Money Back?
Yes. Ample has a 30-day money-back guarantee, so if you don't love their product, you'll get a full refund. All you need to do is email help@amplemeal.com to start the refund process.
What Should I Add to Ample?
To make a delicious Ample shake, add 6 to 8 oz (170.0-226.8 g) of your favorite liquid to the powder. Some popular choices are water, milk, or coffee. Then, blend the shake in a shaker bottle till the power is fully combined with the liquid.
Another great option is to add 1-2 scoops of Ample to smoothies. Include ice, berries, greens, and your liquid of choice for a nutritious meal.
How Long Does a Container of Ample Last?
Every container of Ample contains 15 meals that are 400 calories each. If you consume Ample daily, one container should last you approximately two weeks. If you prefer to eat smaller or bigger meals, the amount of time the container lasts will vary.
This product can last for up to 11 months from the day it was first manufactured. Make sure to store it in a cool yet dry area of your home to keep it in good shape.
Final Thoughts
Ample meal replacement offers amazing shakes that are suitable for a wide variety of people. If you are an average eater, a vegan, or into keto, Ample has a shake for you.
Their awesome shakes are delicious and nutritious, providing you with a healthy meal you will actually enjoy consuming.
Although Ample is a little pricey and doesn't include very many supplemental vitamins, it is cheaper than buying fast food every day and includes the essential vitamins your body needs the most, like calcium and Vitamin D.
ORDER YOUR AMPLE MEAL REPLACEMENT HERE
Ample Meal Replacement Alternative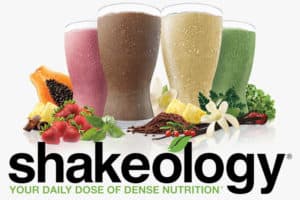 If you're looking for an amazing Ample alternative, you should consider the Beachbody Shakeology shake as it has more nutrition and costs less than Ample. However, Shakeology does not offer a Keto option.
Shakeology offers the following formulas and flavors:
Whey Based Shakeology Flavors:
Chocolate
Vanilla
Café Latte
Strawberry
Plant Based Vegan Shakeology Flavors:
Chocolate
Vanilla
Café Latte
Tropical Strawberry
Besides offering several more flavors, Shakeology also offers the following nutrients:
Protein
Superfruits & Antioxidants
Prebiotics & Probiotics
Adaptogens
Supergreens & Phytonutrients
Vitamins & Minerals
Best of all, Shakeology is made from whole food ingredients from around the world, with the goal of providing you the most nutrient dense superfoods possible.
Shakeology is what I enjoy drinking every day and is my #1 recommended meal replacement.
LEARN MORE ABOUT SHAKEOLOGY HERE
… OR …
READ MY SHAKEOLOGY REVIEW HERE
Sources