What is Shakeology? What are the Shakeology ingredients? While Shakeology is a shake, there is a lot of confusion of how to classify Shakeology and what really are the ingredients in Shakeology. Many claim one thing about Shakeology and then others claim something totally different. In this article you'll learn exactly what is Shakeology and what really is in Shakeology…
What is Shakeology?
People often ask, "What is Shakeology comparable to?"… As a result, people often say that Shakeology is like a meal replacement shake or protein shake… However, by making this comparison it's like comparing a high performance running shoe to a sandal. Yes, they both go on your feet… Yet, they both serve a very different purpose.
So, what is Shakeology?… Due to the Beachbody Shakeology 70+ ingredients list, it's a total health shake… Shakeology is similar to not just a multivitamin but several different supplements coming together to benefit your health. While most supplements focus on giving one or two nutrients groups, Shakeology gives you seven complete nutrient groups:
Premium Protein and Amino Acids
Probiotics, Prebiotics, and Fiber
Phytonutrients and Super-Greens
Digestive Enzymes

Antioxidants and Super-Fruits
Adaptogenic Herbs and Botanicals
Vitamins and Minerals
Best of all, in these ultra-high-quality ingredients in Shakeology, you'll find absolutely:
No Refined Sugars
No Artificial Flavors
No Artificial Colors

No Artificial Stimulants
No Artificial Sweeteners
No Soy
Next we'll cover each Shakeology nutrition group so that you better understand what Shakeology has to offer you… Before that, feel free to check out the "What is Shakeology Video" below on the ingredients in Shakeology and what makes it different from protein and meal replacement shakes…

Beachbody Shakeology Ingredients: Nutrition Groups
What is in Shakeology?… All this good stuff! The Beachbody Shakeology shakes offer so many different ingredients that we need to break it up into nutrient groups in order to understand what Shakeology can do for you.
Below are the Shakeology nutrition groups with their benefits to follow…
Premium Protein and Amino Acids
Probiotics, Prebiotics, and Fiber
Phytonutrients and Super-Greens
Digestive Enzymes
Antioxidants and Super-Fruits
Adaptogenic Herbs and Botanicals
Vitamins and Minerals
Premium Protein and Amino Acids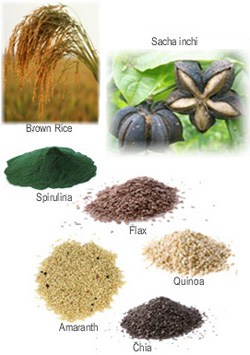 Protein helps curb cravings by helping you feel fuller longer, reducing the urge to snack. Protein can also promote muscle protein synthesis and help maintain lean muscle mass as you lose weight.
Example Shakeology ingredients: Whey, Pea, Chia, Quinoa, Flax, Sacha Inchi, Rice, and Oat Protein.
Vegan Shakeology Note: The protein blend in the Vegan Shakeology flavors do not contain whey protein or any other animal products. Instead, the Vegan Shakeology flavors include high-quality plant proteins from brown rice, pea protein and other sources.
Probiotics, Prebiotics, and Fiber
Help support regularity and healthy digestion. Probiotics and prebiotics help support good bacteria in the gut. Good bacteria helps you properly digest food and absorb nutrients.
Shakeology is formulated with insoluble and soluble fiber that helps keep waste moving through the body, which may help reduce bloating. As many as 97% of Americans are not meeting their fiber needs!
Example ingredients of prebiotics and probiotics: Yacon Root, Chicory Root, Bacillus Coagulans
Phytonutrients and Super-Greens
Phytonutrients help support health and vitality.
Example phytonutrients in the Shakeology shake ingredients include: Moringa, Matcha, Chlorella, Spinach, Kale
Digestive Enzymes
Digestive enzymes are necessary to your health because they help your body break down food into its individual components, making the nutrients easier to absorb. Often the heat from cooking foods destroy naturally occurring digestive enzymes… there's a good chance that you don't get enough of them in your diet.
Example Digestive Enzymes: Amylase, Cellulase, Lactase, Glucoamylase, Alpha-Galactosidase, Invertase
Antioxidants and Super-Fruits
The superfoods and vitamins in Shakeology have antioxidant properties that help fight free radical damage.
Free radical damage has been linked to degenerative (aging) conditions such as heart disease, high blood pressure (which can lead to stroke), dementia, and arthritis.
Example antioxidants in Shakeology: Cacao, Whole Coffee Fruit, Camu-Camu, Acerola Cherry, Bilberry, Lycium Berry (Goji Berry), Green Tea, Luo Han Guo, Pomegranate, Rose Hips, Vitamins A, C, and E
Adaptogenic Herbs and Botanicals
Have been traditionally used to help the body adapt and respond to the effects of stress.
Adaptogens Herbs and Botanicals ingredients found in Shakeology are Ashwagandha, Astragalus, Cordyceps, Maca, Maitake, Reishi, Schisandra, Chaga
Vitamins and Minerals
Shakeology delivers key vitamins and minerals that support many key body functions.
Non-Vegan Shakeology flavors have vitamins and minerals listed on the Nutritional Label because they use high quality vitamin and mineral isolates to guarantee consistency.
Vegan Shakeology flavors do not list vitamins and minerals because all the nutrition in the Vegan flavors are based solely on the plant ingredients.
And… since the soil quality can vary by season, the Shakeology Vegan flavors cannot guarantee a consistent amount of vitamins and minerals…
But yes, all Shakeology flavors have vitamins and minerals.
Example of vitamins and minerals you can expect from Shakeology: Vitamins: A, B6, B12, C, D, E, K2; Biotin, Calcium, Magnesium, Zinc, Selenium, Sodium, Thiamine, Riboflavin, Folate, Chromium, Phosphorus, Iodine, Iron
Shakeology Nutrition Facts (Ingredient Label)
There are 9 Shakeology flavors as of July 2022. Every year, Beachbody updates their Shakeology flavors with new and updates superfoods from around the world. Below are the updated Shakeology nutrition facts for every Shakeology flavor to date (includes year of release):
Regular Shakeology Flavors:
Café Latte Shakeology – 2016 – GLUTEN FREE
Vegan Shakeology Flavors ***:
Cookies & Creamy Plant-Based Vegan Shakeology – 2021 – GLUTEN FREE
Café Latte Vegan Shakeology – 2017 – GLUTEN FREE
Vanilla Vegan Shakeology – 2017 – GLUTEN FREE
Chocolate Vegan Shakeology – 2010 -GLUTEN FREE
Tropical Strawberry Vegan Shakeology – 2010 – GLUTEN FREE
Don't worry about which Shakeology flavor you buy, all Shakeology flavors are updated with the new superfood ingredients so that you can get the most health benefits possible!
CLICK HERE TO GET YOUR OWN SHAKEOLOGY SAMPLES TO TRY OUT
***The Shakeology Vegan flavors are NOT fortified with added vitamins and mineral isolates like the non-Vegan flavors and therefore are not listed on the Nutrition Facts because the vitamin and mineral profile varies from the ingredient sourcing. This is expected because even oranges from the same tree will have different levels of vitamin C. The nutrition in the Vegan Shakeology flavors, truly, only comes from the Shakeology Vegan formula ingredients.
Where Do the Ingredients in Shakeology Come From?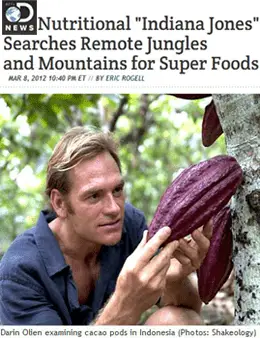 Darin Olien was hired to create Shakeology because of his knowledge of superfoods and agriculture. Discovery News reported the following about Darin Olien and the Shakeology ingredients:
"As the developer of Shakeology,…, Olien wanted only the absolute healthiest, most nutritional ingredients for the product. Ingredients that have very powerful antioxidant and adaptogen abilities like acai berry, Camu-Camu, maca root, and Sacha Inchi."
Darin has been traveling the world in order to find the most potent superfoods to place into Shakeology. He has even spent time with local medicine men and shamans in order to discover what they have been using for centuries, superfoods that the western civilization may not even know about.
Even after creating Shakeology in 2009, Darin continued to search for new ingredients to better Shakeology. As a result, the Shakeology flavors have gone through a few different upgrades since 2009 to bring you the best nutrition possible…
And it's this relentless search for better and more powerful ingredients that allowed Darin to create Vanilla Shakeology. It took 3 years of research of development in order to create a Vanilla Shakeology flavor that didn't make use of FDA loopholes that allowed artificial ingredients to be used in "Natural" products.
So it's no surprise that Beachbody takes pride in the Shakeology ingredients and where they are from… And best of all, Darin Olien works with farmers from every country in order to continue to produce nutrient dense crops without depleting the soil like much of today's farming is done.
Here are just a short list of the Shakeology ingredients and where they are from…
Asia – Cordyceps, Hydrilla, Schisandra
Bolivia – Quinoa Seed
China – Astragalus root, Gingko, Schisandra, Barley Grass, Reishi, Goji Berries
Costa Rica – Papain
Madagascar – Vanilla Beans
Mexico – Chia Seed, Moringa
Northeastern Brazil – Acerola
Peru – Yacon Root, Sacha inchi, Maca root
Peruvian Andes – Maca
South America and Central America – Stevia
South American rainforest – Camu-Camu
U.S./Canada – Wild Grasses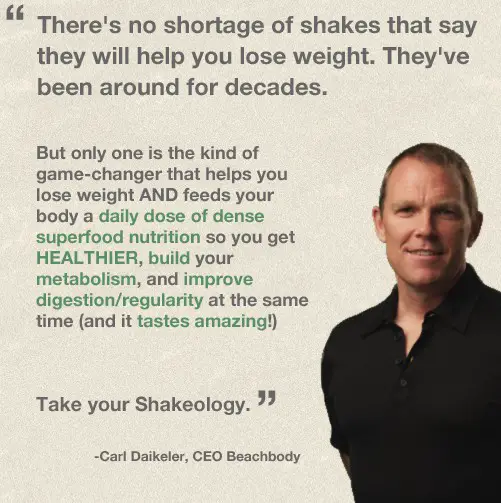 What's the Difference Between the Regular Shakeology and Vegan Shakeology Flavors?
Both regular Shakeology flavors and Vegan Shakeology flavors are the most nutrient dense shakes available on the market today. However, Beachbody knows that there are Vegans and those who can't tolerate dairy, so they made Vegan Shakeology. The Vegan Shakeology flavors are:
100% Dairy-Free
And Lactose-Free
To be Vegan, it means that nothing in it can be derived from animals. Thus, the Vegan Shakeology flavors contain only plant-based proteins and ingredients. While the Regular Shakeology flavors contain whey protein, which is derived from cow's milk and therefore not vegan.
What protein source does the Vegan Shakeology flavors have?… Vanilla Vegan, Café Latte Vegan, Tropical Strawberry and Chocolate Vegan Shakeology formulas contain a proprietary blend of plant-based proteins, ideal for those who cannot tolerate or wish to avoid animal proteins, whey, or dairy.
The vegan proteins are from chia, flax, sacha inchi, quinoa, rice, pea, and oat; which deliver all nine essential amino acids.
Plus, this Vegan Protein blend makes the Vegan Shakeology flavors extra smooth. Fixing the grainy texture of most Vegan shakes on the market.
Additionally, the Vegan Shakeology flavors are not fortified with additional vitamin and mineral isolates (as the whey-based Shakeology flavors are). As a result, the Shakeology Labels will not include a list of Vitamins and Minerals on the Vegan flavors…
However, for people looking for nutrition (vitamins and minerals) coming exclusively from whole foods, without fortification, the vegan Shakeology flavors are the best option…
GoDairyFree.org gave a Vegan Shakeology review and stated: "This dairy-free meal replacement shake fills a void in the market." Alisa Fleming, the Shakeology reviewer, gave the Chocolate Vegan Shakeology 5 Stars and the Tropical Strawberry Shakeology for 4 stars, losing a star because of the taste.
What do Clinical Studies Say About Shakeology?
Although Shakeology reviews give us some amazing anecdotal evidence of what Shakeology has been doing for people, it's always great to look at Clinical Studies to see what control experiments have to say about Shakeology.
In this Clinical Study†, the following Shakeology results were reported:
Helps With Continuous Weight Loss Over Time
Maintains Cholesterol Levels Within Normal Range
Supports Healthy Blood Sugar Levels (as measured by HbA1C)
Learn the full details of the Shakeology Clinical Study below:
† Results vary. Results based on a twelve-week independent clinical trial sponsored by Beachbody, where fifty people consumed Shakeology as their breakfast and lunch with no other changes to their diet or exercise regimen.
What do Shakeology Reviews say about the Beachbody Shakeology shake?
There are several Shakeology reviews online that you could easily find, with each person sharing what Shakeology has done for them.
However, here are the most common experiences that people share about Shakeology and what we would call anecdotal evidence:
Reduces Hunger & Food Cravings*
Promotes Healthier Skin, Hair, and Nails*
Increases Energy*
Boosts Immune System*
Lowers Blood Pressure*
Improves Digestion & Regularity*
People have even stated that Shakeology has helped them get off several different medications!…
Beachbody surveyed Shakeology users to see what they thought about Shakeology. Here are the results:
97% Believe It's A Smart Investment In Their Health.
93% Feel Healthier Since Drinking It.
92% Believe Shakeology Is Money Well Spent.
91% Said It Helped Improve Their Regularity.
91% Agree That Shakeology Tastes Great!
86% Report Increased Energy Level.
82% Reported Improved Digestion.
81% Feel It Helped Reduce Their Cravings For Junk Food.
81% Said Shakeology Kept Them Full Until Their Next Meal.
77% Feel More Alert And Focused Throughout Their Day.
74% Noticed An Improvement In Their Mood.
72% Said Shakeology Helped Them Lose Weight.
66% Noticed Their Skin/Hair/Nails Looked Healthier.
65% Cut Back On The Amount Of Caffeinated Beverages They Consumed Daily.
Just think about about it… These Shakeology results are from people who are actually using Shakeology everyday… This is not from people who read something online and just form an opinion about Shakeology without even trying Shakeology… This Shakeology Survey helps provide support that Shakeology really does work!
* These statements have not been evaluated by the Food and Drug Administration. This product is not intended to diagnose, treat, cure, or prevent any disease.
Does Shakeology Contain Dangerous Chemicals?
A while back someone calling herself Food Babe wrote an article titled: Is Your Protein Shake Safe? Food Babe, or Vani Hari, is not a registered dietitian, nutritionist and has no formal nutritional training.
In fact, Ms. Hari has a B.S. Degree in Computer Science and a background in the financial services industry. However, she quickly made a post without much research about Protein shakes that raised questions about what really goes into the ingredients in Shakeology. We'll set the record straight right now…
Does Shakeology Contain Lead or Heavy Metals?
Back in June 13, 2013, Consumer Labs made a Shakeology review and declared that the Shakeology Greenberry flavor has "lead contamination", as well as several other protein powders that are available on the open market. Beachbody stated the following when the review was released:
"A glass of Shakeology has far less lead than a serving of organic spinach or Brussels sprouts, and in fact, you could drink 15 glasses of Shakeology a day and still be under the guidelines established by the FDA and World Health Organization.'
However, on March 17, 2015, Consumer Labs retested Greenberry Shakeology and found it passed their Quality Certification Program on all measures, including heavy metals. Beachbody also had the following to say about all Shakeology and other Beachbody supplements:
"Beachbody® searches for the purest ingredients for its supplements, and strictly follows good manufacturing practices to ensure that its finished products are not contaminated with any listed chemicals that are not otherwise naturally occurring. We never add heavy metals or any toxic substances to our products which are intended to promote good health."
As a side note… The Shakeology Greenberry Flavor was discontinued on January 16, 2020 due to issues sourcing some of the high quality ingredients needed to create Greenberry.
Should I Be Worried About Shakeology Using a Whey Protein Isolate?
First of, don't confuse whey protein concentrate with an isolate. Whey protein concentration is the least pure form of whey protein. The benefits of "isolate" vs. "concentrate" are that the fat has been removed to achieve "isolate".
The fat in whey protein is what carries toxins consumed by the animal. That's the reason Shakeology can be used by so many people who are lactose-intolerant – because those toxins have been removed through the isolate process.
Whey Protein Isolates can be processed a number of ways. Processing whey protein to remove the lactose, fats, and cholesterol while not losing its biological activity takes special care by the manufacturer. Beachbody has gone to great lengths to make sure that the whey protein isolate in Shakeology is ion-filtered. No acid is used in this process.
The Shakeology whey isolate is purified through a state-of-the-art cold-filtration process, avoiding high heat, leaving it 90% protein and virtually fat and lactose-free. Great care is taken not to 'denature' the protein in Shakeology. Additionally, the Beachbody whey protein isolate is antiobiotic-free and BST free. However, it is not from grass-fed cows.
Does Shakeology Contain Refined Sugar, Fructose, Erythritol (Sugar Alcohol), or Stevia?
Shakeology does not get it's sweetness from adding additives. Instead, the sweetness in Shakeology comes from the Shakeology ingredients. Depending on the Shakeology flavor, each one will be sweetened a little bit differently.
However, Beachbody has stated the following when it comes to where the sugar comes from in Shakeology:
We formulated Shakeology using a carefully-selected sweetener system containing organic cane sugar-and two plant-based, no-calorie sweeteners: stevia, an extract from the leaves of the stevia plant that's 150 times sweeter than sugar; and monkfruit, a fruit extract that is nearly 300 times sweeter than sugar.
Outside of what has been stated above and on the Shakeology Nutritional Labels, Shakeology does not contain any other added sweeteners.
Does Shakeology Have GMO Ingredients?
NO!!! Beachbody is very much against using GMO ingredients. In fact, when Beachbody first formulated the Vegan Shakeology flavor, they made sure not to use Soy because of how hard it is to find a non-GMO Soy source and also for health reasons.
Here's Beachbody's official answer to: Does Shakeology contain any GMO (Genetically Modified Organism) ingredients?
They are not certified GMO-Free. However, special care has been taken in the formulation of all supplements to exclude GMO based ingredients such as soy, canola and corn. The supplier is required to provide documentation to Beachbody on their position on GMO ingredients. The possibility of obtaining a third party certification is currently being evaluated for Shakeology.
Learn more about what it took to make Shakeology below:
Is Shakeology Gluten Free?
Yes! The majority of Shakeology flavors are now certified Gluten Free! Make sure to check for the Shakeology packaging for the Gluten Free label. At this time, all Vegan Shakeology flavors are gluten free and more are being worked on.
Is Shakeology Safe for Pregnant and Nursing Mothers (Breast Feeding)?
By now you have already looked into everything that's in Shakeology. You know what is really in Shakeology and what is not. We have answered "What is Shakeology" by going over the healthy nutrient groups in Shakeology and have found that Shakeology does not contain anything artificial and is aiming to stay as pure as possible.
However, people still have the question "Is Shakeology safe to drink while you're pregnant or breast feeding?"… Interestingly, many people will not ask the same about eating junk food that's packed with artificial chemicals and men made chemicals. Yet, the question is asked about Shakeology so we'll answer it now…
Pregnant and Nursing Mothers from WhatToExpect.com and BabyCenter.com have stated that they have been drinking Shakeology with no problems whatsoever…
Beachbody has answered the following question: "Is Shakeology safe for pregnant women and nursing mothers?":
Shakeology should only be taken by pregnant women and nursing mothers under the direction of their physicians.

As with all of our supplements, we recommend that you consult with a healthcare professional if you are pregnant, breast feeding, taking medication, or have a medical condition.
Rather or not you drink Shakeology while breast feeding or nursing is really up to you and your healthcare profession.
How to Buy Shakeology Cheap!
As you probably know, Shakeology is a premium health shake with a premium price… True, it's cheaper to buy Shakeology than to buy multiple supplements to make a Shakeology alternative…
However, people still want to save money on Shakeology!
The best way to buy Shakeology cheap is to order Shakeology with Monthly Auto-ship… This will save you over $12!!! Don't worry… with monthly auto-ship you can cancel at any time or you can change your Shakeology flavor at any time with with a simple click of the button by logging into your Team Beachbody account and making changes to your subscriptions.
Additionally, if you want to lose weight fast, then you need to combine Shakeology with a workout program & nutrition program…
Team Beachbody offers combo packages called Total-Solution Packs that include Shakeology, Beachbody on Demand, much more! With Beachbody on Demand alone you have access to more than 1,500 workouts. Giving you the chance to find a workout that you'll love!
With Beachbody Total-Solution Packs you'll save anywhere from $324.85 to $602.90!