We all live extremely hectic lives, and our nutrition can substantially influence our health and wellbeing. Since it can be tricky to consume all the nutrients, vitamins, enzymes, and probiotics we need, it is only natural to use supplements to complete our nutrition. MacroLife Naturals' MacroMeal Replacements are a meal replacement supplement that can help you fill up on all the nutrients you need—without having to compromise on taste or variety.
The MacroMeal Ultimate Superfood offers a time released protein blend, antioxidants, probiotics, digestive enzymes, and vitamins & minerals. Made with super fruits & vegetables, MacroMeal is designed to help you with weight loss, immunity, digestive system, and your health. Plus, it tastes great!
MacroMeal is suitable for most people, and they can be the right addition if you are pursuing a healthier lifestyle. However, does MacroMeal do what it claims to do? Find out below!
MacroLife – An Overview
MacroLife Naturals is a historic company that gained popularity after their first supplements—Macro Greens and Macro Reds—entered the market. Conceptualized in 1997, the company developed thanks to founder and nutrition, health, and fitness expert Sylvia Ortiz, and her partner, chiropractor Dr. Edward Wagner.
Today, the MacroLife Naturals has become a leader in the field and continues to provide nutrition-based solutions to anybody who wishes to live a healthier life without compromises.
Sylvia's son, JR Ortiz-Dave, has become the president of MacroLife Naturals, and he continues to develop the company by implementing the latest innovations in the field, while only using natural ingredients suitable for anybody.
MacroLife Naturals' Flagship
Macro Greens and Macro Reds are undoubtedly revolutionary products that helped an endless number of people regain control over their health, positivity, energy, and good mood. However, the two products created in 1998 are only a small part of the wide range of supplements that you can find today on MacroLife Naturals' website.
Among the most recent additions, you can find MacroMeal, which have become the most popular and loved formulas. MacroMeal is a meal replacement formula made with superfood ingredients to help you with weight loss and your health.
Being conscious of the changes in diet and preferences of the public, you can find MacroMeal with Omni protein or with Vegan protein.
Additionally, the ingredients used in these products are natural, non-GMO, gluten-free, and sustainably sourced.
What Is MacroMeal Replacements Ultimate Superfood?
MacroMeal Replacements is your go-to to ensure that your diet is complete with all the nutrients and compounds you need for a healthy and satisfying lifestyle. Unlike the majority of meal replacement shakes on the market, MacroMeal won't require you to compromise with taste, usability, or price.
Each container of MacroMeal includes between 15 and 28 servings, depending on the size you prefer. You can mix them with water, milk, or milk alternative and enjoy them on the go. Descending from the successful Macro Greens and Macro Reds, MacroMeal Replacements are designed to be a meal replacement that works for individuals following a busy or hectic lifestyle.
MacroLife Naturals also takes into consideration the several other activities you might dedicate yourself to during the day. Indeed, MacroMeal is suitable to speed up the recovery time after a workout or gym session. Yet, they are also suitable to increase focus when you are at work and reduce the feeling of tiredness and fatigue after a hard week at the office.
Lastly, they are formulated with only the highest-quality ingredients that won't require you to spend much time preparing them. This is a big advantage if you only have a short lunch break to fit all those proteins, nutrients, and vitamins in just a meal!
Omni vs. Vegan MacroMeal
Depending on your diet and lifestyle, you might struggle to find supplements that won't require you to compromise on quality and taste. Especially if you have been following a plant-based, vegan, or vegetarian diet, you might struggle to cut out meat protein without having to compromise on taste.
Additionally, it has become challenging to find products that are made with natural, sustainable ingredients that are affordable and not negatively affect your health.
MacroLife Naturals keeps all this in mind, which allows the company to create products that are suitable for any budget and packed with all the nutrients anybody needs. So, within the MacroMeal Replacements range, you will find "Omni" and "Vegan" products.
The Omni protein based MacroMeal is more suitable for those who prefer to stick to the standard protein sources while finding a more sustainable diet option. The Omni protein is made up of the following: Collagen Peptides, Whey Protein Concentrate, Brown Rice and Pea Protein Concentrates.
The Vegan protein based MacroMeal is ideal for those users who need to have the certainty that no animal or synthetic products enter their diets. The Vegan protein is made up of the following: Pea Isolate, Brown Rice and Pea Protein Concentrates.
Time-Released Proteins
Have you ever felt full and energized after a protein-based meal just to feel tired again in just a few hours? This is mostly because our bodies are designed to make the most of what we eat and store proteins as we consume our meals.
We don't often tend to think about the importance of having fuel and energy that last longer! However, MacroLife Naturals has thought of that. So, they have packed every product with Slow, Medium, and Fast released proteins.
Whether you prefer to have pea or whey protein in your supplements' formulas, you can count on the unique time-released protein mix. This special formula is ideal if you wish to have energy and feel full for longer without consuming more calories during the day.
Overall, the MacroMeal meal replacement can help you stick to your diet and calorie intake while providing you with the energy level and feeling of satiety you need to complete most tasks at work and at home.
How Much MacroMeal Ultimate Superfood Do You Need?
All lifestyles are different, and so should be the amount of nutrition you need. If you live an extremely active lifestyle, you might require a much higher calorie and protein intake than normal.
Conversely, if your life is a little sedentary, ensuring that you are consuming all the vitamins and nutrients needed to maintain focus and positive mood throughout the day is crucial.
That is why MacroLife Naturals has implemented a series of serving options that can help you enjoy your MacroMeal independently of your lifestyle. MacroMeal Replacements offers the following serving sizes:
15 serving size
28 serving size
Ten serving size—in packets
MacroMeal Flavors
When following a relatively strict diet, one of the most common issues people experience is boredom with their food. Indeed, it is common to end up preparing the same meals over and over, which is something that can cause you to drop out of your nutritional regime before seeing the weight loss results you have wanted.
With the products created by MacroLife Naturals, you can be sure to find a flavor that will suit your taste buds. Since you can mix them with water, milk, coffee, any plant-based milk alternatives, or any other healthy shake ingredients; you can create different combinations and flavors at every meal.
MacroMeal, the Ultimate Superfood Meal, comes in the following flavors:
Vegan Chocolate
Vegan Vanilla
Omni Chocolate
Omni Vanilla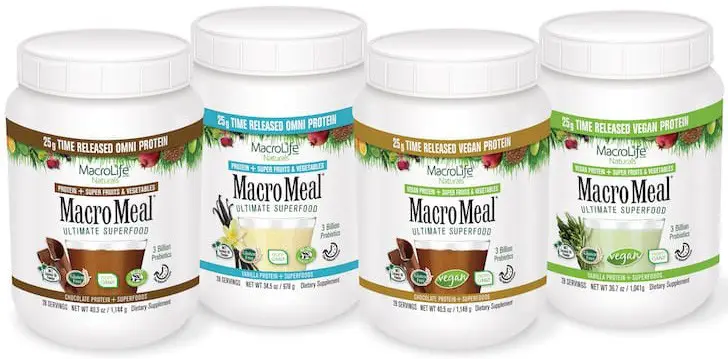 MacroMeal Ingredients and Composition
When picking the right meal replacement for your diet, it is essential to ensure that all the ingredients used are suitable for your lifestyle. Naturally, picking non-GMO and sustainable ingredients is most important. However, it's important to see what all is added into your meal replacement shake before drinking it.
Luckily, the products created by MacroLife Naturals have large labels that can help you find out more about all that is going into the ingredients! Below, you will find a comprehensive list of the MacroMeal ingredients.
If you are in a rush, you can learn a lot through the video published by MacroLife Naturals— check out the video below:
ORDER YOUR MACROMEAL REPLACEMENT HERE
The MacroMeal ingredients include the following…
Protein
The main reason for anybody to invest in supplements is protein. These are low in most diets, and, now that we just tend to eat a sandwich at the desk, it is challenging to include enough protein in our diet to fulfill this lack.
However, luckily, several protein sources can be harnessed to ensure you can easily include them in your diet.
In the MacroMeal products, you will be able to find a scientifically formulated blend of proteins that are released in your body over time. This particular feature is what allows you to feel fuller and more energized for longer!
If you have opted for the vegan version of these products, you can enjoy time-released proteins that are fully plant-based. These derive from pea isolate, brown rice, and pea protein concentrates. These are not only suitable to help you build lean mass and muscle, but they also support health.
Alternatively, if you have opted for the Omni MacroMeal version, you can count on the energy deriving from a maximized blend of proteins from standard sources. These include collagen, whey, brown rice, and pea concentrates.
Coconut Oil Powder
Coconut oil powder is an interesting addition to MacroMeal Ultimate Superfood.
Indeed, coconut oil is a premium product that naturally contains Medium Chain Triglycerides (MCT). Because they are made of a shorter chain, it is easy for the body to break them down and absorb them.
While longer-chain fatty acids can take longer to be absorbed by the body, MCTs immediately reach the liver. This process allows the body to use them immediately as an instant source of energy.
However, depending on whether you have absorbed enough of them, they can also be stored, turned into ketones, and function as a long-lasting, sustainable source of energy.
Antioxidants
Antioxidants are commonly found in vegetables and fruits, and a deficiency of these compounds can result in poor health. Indeed, they function as a defense against free radicals. These are the main source of damage to healthy cells and can worsen the signs of aging. In some cases, they might also be the cause of cancer.
While we all tend to suffer from a lack of antioxidants to an extent, healthy eating is the only way to increase the amount of these compounds in your body. While only eating vegetables and fruits might not be suitable, you can level up the antioxidants in your body through the correct use of supplements.
The supplements and protein shakes produced by MacroLife Naturals aim to be complete meals, so they all include enough antioxidants for a healthy lifestyle. Antioxidants can also boost your brain health and overall wellbeing—as well as boosting your immune system, working as anti-aging compounds, and helping you maintain healthy skin.
Probiotics
MacroMeal Replacements offers a surprising amount of probiotics—18 billion, to be precise!
Probiotics are beneficial bacteria that are essential to obtain and maintain good health. They can help you fight off harmful bacteria and boost your immune system, making you feel more energized and healthier.
Probiotics are also an essential part of your microbiome, a bacterial composition responsible for your immune system's health and digestive system, among many other functions.
Multivitamins and Minerals
Multivitamins and minerals are essential to maintain good health and provide your body with all the nutrients it needs. However, it can be extremely challenging to supply your body with all the vitamins and minerals it needs if you do not follow a proper and healthy nutritional regime.
These are all the compounds that your body needs to develop and remain healthy. Among the ones that are known, the MacroMeal Ultimate Superfood includes vitamins from the A, C, D, E, and K groups.
MacroMeal Replacements also include vitamin B12 in the mix. This is a vitamin that is essential for the maintenance and development of essential cognitive functions.
And, because it is essentially found in animal products, it can be extremely challenging for plant-based individuals, vegans, and vegetarians to consume it in sufficient quantities.
By including the MacroMeal meal replacement in your diet, you can be sure to consume enough of all these essential compounds—independently from your chosen nutritional regime!
Trace Mineral Complex
Trace Mineral Complex is a blend of microminerals that your body needs to perform all essential functions. However, they need to be consumed in small quantities to avoid side effects. Finding the right amount of these microminerals can be challenging—especially without help or proper guidance.
However, the Trace Mineral Complex included in MacroMeal blends can help you make sure that you are consuming enough of each compound! Among the benefits of these micronutrients, you can enjoy faster recovery and hydration—especially after the activities that characterize an active lifestyle.
The complex also includes nutrient-dense fiber and digestive enzymes. When combined, these two compounds can help you regulate hunger, maintain blood sugar under control, and protect the functioning of your digestive system.
MacroMeal Omni Chocolate Supplement Facts
Health Benefits of MacroMeal Ultimate Superfood
Even with all the nutrients and compounds included in the mix, no supplement can be considered worthwhile if its effects on your health are not visible or positive. So, before committing to any of these products, it is worth understanding what to expect from them—especially if you consume them every day!
Here are the benefits of drinking MacroMeal everyday…
Alleviates Chronic Fatigue and Fibromyalgia
Chronic fatigue, as well as fibromyalgia, is a condition that has started to affect an increasingly great number of individuals. While they might derive from or be worsened by our lifestyle, they can significantly affect our ability to enjoy our life!
Chronic fatigue syndrome or CFS is a common health condition that can cause symptoms such as fatigue, tiredness, and muscular pain. This condition, just like fibromyalgia, won't go away with rest or sleep, and they can significantly affect your health.
While it is recommendable to always get in touch with your nutritionist or doctor before introducing a supplement in your diet, MacroMeal can represent the "pick me up" you need to fight these conditions' symptoms.
While it won't affect your blood sugar, it can help you find the extra energy you need to deal with CFS and fibromyalgia.
Allows You to Get All the Nutrients You Need
Consuming all the compounds and nutrients you need to live a healthy lifestyle can be challenging, especially when you don't have enough time to cook your meals or pick the most nutritious ingredients for a quick lunch at the office.
That is where supplements, protein shakes, and meal replacement shakes that include all the vitamins, minerals, and nutrients needed become essential. MacroMeal is among the best ones on the market for this because you won't need to compromise on taste or price to get all the compounds needed.
Perfect for Anybody Living a Fast-Paced Lifestyle
If you are living an extremely fast-paced lifestyle, it can be challenging to follow a nutritious and balanced diet. That's when you might decide that investing in supplements could be the right choice to ensure you include all the nutrients you need in your diet.
MacroMeal products are perfect for this. You can prepare a nutritious shake in less than five minutes and enjoy it at work, at the office, or straight after a gym session. To cook a nutritious meal that includes all the essential nutrients that are in MacroMeal would require hours!
Yet, in minutes, you can enjoy a delicious, fresh, and healthy meal that can keep you energized and satisfied throughout the day!
Boosts Your Focus
Minerals and vitamins are essential to be healthy and in shape. However, they are also crucial to safeguard your mental health and boost your mood. Zinc, iron, vitamin B, and vitamin C are compounds that should be present in anybody's diets, but they are especially important for those individuals who are required to stay focused for longer.
Whether you follow a sedentary life or are active and training to achieve your fitness goals, improve your ability to concentrate, and to remain focused throughout the day. Achieving this can be challenging. Indeed, it has happened to everyone to feel full and a little heavy after a meal just to be hungry and tired in just a few hours.
However, this rhythm is not sustainable—for you, your body, and your surrounding environment, which is what makes it so crucial to find a long-lasting, sustainable source of energy—such as MacroMeal Replacements.
Naturally Supporting the Immune System
Thanks to the several probiotic and antioxidants included in each serving, you can count on an immune system boost every time you drink MacroMeal.
Indeed, the majority of meal replacements on the market focus on providing you enough energy for the day but often they overlook the nutrients needed to give your immunity a boost..
As a result, an increasing number of individuals suffer from colds and seasonal flu, which is due to having a immune system that is not ready to combat viruses and bacteria.
Working towards a stronger and more stable immune system is essential, especially if you are living a fast-paced lifestyle that leaves you only a little time to look after yourself.
Improves Your Mood
Super Greens, vegetables, and fruits are known to improve your mood and help you feel more energized. However, most people fall into the trap of eating the same fruits and vegetables over and over.  Thus, making you become bored of what you eat and missing out on other healthy essential nutrients.
Yet, reintroducing these important nutrients can be one of the few ways to ensure that you are happier, with higher morale, and in a better mood throughout the day.
Investing in MacroMeal – The Ultimate Superfood Meal can be an extremely convenient way to bring all these beneficial ingredients into your diet. And, you won't need to shop, prepare, and cook all the vegetables to feel the benefits of eating healthy ingredients!
Ultimately, MacroMeal presents itself as a quick, convenient, and efficient solution for anybody who doesn't have the time to prepare elaborate meals and does not want to miss out on the benefits that a nutritious diet can offer.
Pros and Cons of MacroMeal
If you don't have the time to explore all the features of MacroMeal, check out the pros and cons below!
Advantages of MacroMeal
They are suitable for all lifestyles, from omnivores to Vegans, to gluten-free.
They represent an excellent source of vitamins and minerals.
They include probiotics for a healthy gut microbiome and immune system.
They are a great source of antioxidants to fight the effects of free radicals.
A meal replacement shake can be prepared in just a few seconds.
All ingredients are natural and sustainably sourced.
Depending on the product you have picked, you can be sure that your supplements are non-GMO, gluten-free, and plant-based.
All the ingredients used are in the label at the back of the product—so you know what's in your diet.
The MacroMeal powder can be mixed with milk, water, coffee, or any milk substitute for more flavor variety.
They are suitable to speed up recovery time after a workout or boost your diet if you live a sedentary lifestyle.
Drawbacks of MacroMeal
MacroMeal comes in a limited range of flavors (only chocolate and vanilla).
Some of the products contain GMO ingredients.
You can only pick 10, 15, or 28 portion sizes.
Who Should Drink MacroMeal?
Anybody can enjoy the benefits of MacroMeal. Indeed, the ingredients used are plant-based, natural vegan, raw, and gluten-free. The majority of the products of MacroLife Naturals are also non-GMO. So, you can be sure to only introduce the most natural ingredients in your diet.
Additionally, MacroMeal is suitable for anybody following a sedentary lifestyle, especially if you wish to keep your calorie intake within limits and feel energized throughout the day at the office.
Oppositely, if you are in the process of changing your lifestyle towards a more active one or you are a passionate gym-goer, this product allows you to have all the energy you need to push your workouts a little more. Plus, you can enjoy much shorter recovery times and less muscle pain!
Finally, MacroMeal can help you lose weight due to it being low in calories and high in nutrition.
How to Prepare Your MacroMeal
MacroMeal can be enjoyed in a variety of mixes and blends. Indeed, you can decide to add them to your morning coffee or your favorite green smoothie.
You might opt to add a portion to milk or a plant-based milk alternative for a creamier blend.
If this makes a too large or heavy meal for your taste or need, you might decide just to add the powder to water or any non-citrus juice.
To prepare the blend, you will only need a couple of minutes, and you can easily carry it with you at work or to the office!
Conclusion
While MacroMeal is not produced in enough flavors to be a suitable long-term meal replacement, they can supply you with all the enzymes, minerals, protein, and vitamins you need to live a healthy life.
Thanks to the time-released protein, you can also enjoy shorter recovery times after a workout and a higher energy level during the day. And, these supplements are suitable for all lifestyles!
ORDER MACROMEAL – THE ULTIMATE SUPERFOOD MEAL HERE
While MarcoMeal is a great meal replacement that comes with several superfoods and is one of my most recommended meal replacement shakes, it would be unfortunate if I also didn't tell you about my #1 Meal Replacement Shake.
SHAKEOLOGY IS MY TOP RECOMMENDATION BECAUSE:
It comes in both Vegan and Whey Based formulas

The Whey flavors include: Chocolate, Vanilla, Café Latte, and Strawberry
The Vegan Flavors include: Chocolate, Vanilla, Café Latte, and Tropical Strawberry

Shakeology comes with the following core nutrient groups: Protein, Superfruits & Antioxidants, Prebiotics & Probiotics, Adaptogens, Supergreens & Phytonutrients, and Vitamins & Minerals
According to a study published in Current Developments in Nutrition, Shakeology helped participants reduce their desire to eat 58% more than when they tried similar products.
Shakeology can easily replace multivitamins, super green shakes, digestive enzymes, and prebiotic/probiotic supplements that you may already be taking or considering taking.
Shakeology contains NO Artificial Sweeteners, NO Artificial Colors, NO Artificial Flavors, NO Artificial Preservatives
SEE MY FULL SHAKEOLOGY REVIEW HERE
… OR …
Sources