Meal replacement shakes have been around for decades, but they've recently taken a lot of praise from customers. Being able to drink a healthy amount of calories, vitamins, and minerals without adding unwanted carbs and fat is essential to losing or maintaining weight. Fortunately, you're in the right place to find the top shakes across the world.
The best meal replacement shakes for nutrition need to have vitamins and minerals without loading you up with too many calories. They also need an adequate amount of protein to fuel your active lifestyle. Finally, it should leave you feeling full for several hours to truly replace a meal.
Throughout this article, you will also learn the following information about meal replacement shakes for nutrition, including:
The best meal replacement shakes to try out
What you need to look for when buying them
Details about each recommended nutritionally-balanced shake
1. Beachbody: Shakeology Meal Replacement Shakes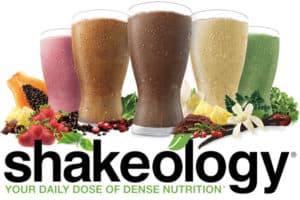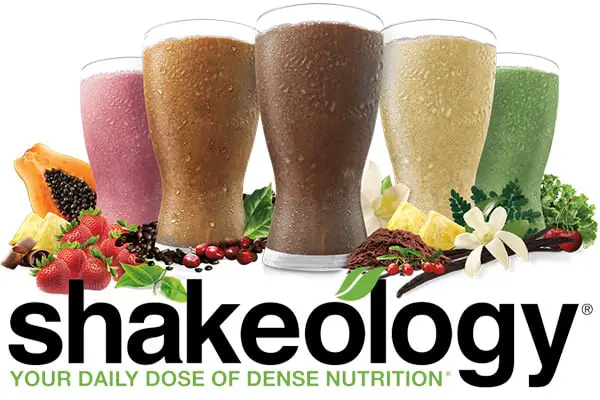 Shakeology is a leading producer of high-end meal replacement shakes for weight loss and control. Whether you're looking to burn fat or build muscle, these drinks are more than enough to set you on the right path.
They have several different flavors to choose from: Chocolate, Vanilla, Café Latte, Greenberry, Strawberry, Tropical Strawberry, and a variety mixed pack.
Every shake is made with probiotics and enough fiber to help aid your digestive system. You won't have to experience stomach cramps, even if you choose the whey protein option.
Speaking of which, they sell shakes made from both whey and plant-based ingredients to accommodate your diet.
Shakeology works by keeping you full of nothing but the good stuff. You won't have to worry about harmful fillers or empty calories with these shakes.
Instead, you'll leave the snacks behind and enjoy what feels like an entire meal for breakfast, post-workout shakes, or an evening pre-walk drink.
Pros
Comes with everything you need to support your gut health
Comes with superfruits & antioxidants, prebiotics & probiotics, adaptogens, supergreens & phytonutrients, and vitamins & minerals
Includes plenty of flavors and mixed varieties to choose from
Choose between plant-based or animal-based protein powder
Made with high-quality ingredients and zero fillers.
ORDER BEACHBODY SHAKEOLOGY SHAKE HERE
2. MacroMeal by MacroLife Naturals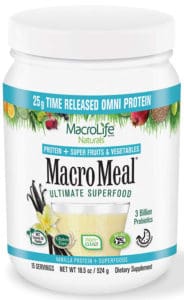 Getting all of the nutrients you need in one serving can be tough. However, MacroMeal has everything you need to feel energized and healthy throughout the day.
Every serving has 25 grams of pure protein to keep your body fueled and ready to burn fat. You can use it to gain muscle after a workout or replace your breakfast for a long day at work.
Much like the previous shake, you can choose between animal or plant-based protein powder. You'll also have two flavors to choose from: Chocolate and Vanilla.
The protein found in these shakes slowly releases, which prevents stomach cramps and indigestion. Since our bodies take a long time to break down protein, it's the perfect solution.
They also have MCT oil, antioxidants, and probiotics to promote healthy living and a thriving immune system.
MacroMeal is made to allow you to have more control over your weight. Whether your goal is to burn fat, gain mass, or maintain your current weight, you'll be in charge from now on.
Pros
Includes all sorts of digestive enzymes, fiber, and probiotics
Made with 25 grams of protein (choose between plant-based or animal-based)
Comes with plenty of vitamins, minerals, and antioxidants
Designed to taste delicious without a chalky texture
ORDER MacroMeal by MacroLife Naturals HERE
3. Orgain Organic Nutritional Shake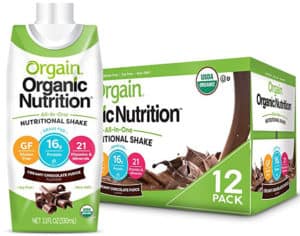 If you're on the hunt for a mid-range protein supplement that doesn't have too much fat, then try out the Orgain Organic Nutritional Shake.
Although it has a bit more sugar than most other meal replacements, it reduces the fat, carbs, and sodium content, unlike any other shake that you'll come across.
Choose from flavors like vanilla, iced cafe mocha, and strawberries and cream. These unique and simple flavors add a nice boost to your diet, but they're also great for satisfying your sweet tooth cravings.
You don't need to reach for the ice cream tub to get your fix! It'll save your gut as well, thanks to the added fiber, vitamins, and minerals.
One of the biggest appeals for these shakes is that they cost next to nothing compared to other meal replacement shakes.
Despite the low cost, they're made with high-end ingredients, all of which are certified organic. They also contain ten fruits and vegetables mixed with milk-based protein.
Pros
Budget-friendly meal replacement shakes with 16g of protein
Contains the vitamins and minerals from 10 fruits and vegetables
Made in three different flavor-packed varieties
Very low amount of fat and sodium
ORDER Orgain Organic Nutritional Shake HERE
4. Kate Farms Komplete Vanilla Meal Replacement Shake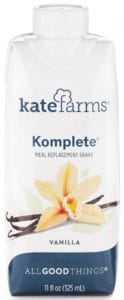 When you order Kate Farms Komplete Vanilla Meal Replacement Shakes, you'll receive them in a case of 12 11-ounce bottles. The three flavors that you can currently choose from include vanilla, chocolate, and coffee.
Regardless of the flavor, each bottle contains 325 calories of nutritionally-packed shake.
The protein found in this shake is derived from pea powder. It's designed to bring plant-based protein to your body right away without the negative side effects of whey protein supplements.
With all of the calories, vitamins, and minerals loaded into this shake, you'll undoubtedly feel full for plenty of hours on end before you need to eat again.
It should be noted that these shakes are made without the most common allergens, including soy, corn, dairy, nuts, gluten, and more.
Whether you're concerned about harmful allergens or you want to simplify your diet, they're a perfect choice as a meal replacement shake.
Pros
Multiple flavors to choose from in a case of 12
Made with plant-based protein that's free of common allergens
Encourages lean muscle growth without gaining fat through carbs
Includes 24 essential vitamins and minerals and over 300 calories for a feeling shake
ORDER Kate Farms Komplete Vanilla Meal Replacement Shake HERE
5. Ripple Vegan Protein Shake
Next up on the list is the delicious Ripple Vegan Protein Shake. It comes in four flavors: Coffee, Chocolate, Caramel, and Vanilla. You'll be able to receive cases of 12, with each bottle containing 12 fluid ounces.
They're loaded with 20 grams of high-quality plant-based pea protein, so you'll be able to enjoy them on a vegan diet.
Much like the Kate Farms shakes, the Ripple Vegan Protein Shakes are free of nuts, soy, dairy, gluten, and even lactose. They're also GMO-free, and they contain very little sugar fat.
Each bottle contains 200 calories, most of which come from protein and trace amounts of healthy fats to keep your body healthy.
Iron, phosphorus, potassium, and calcium can be found in quantities up to 30% of your daily value. If you're deficient in any of these minerals, you'll be able to enjoy these shakes knowing that they're replacing high-calorie foods that you'd need to get them otherwise.
They also have 75mg of caffeine, making them perfect for early morning breakfasts.
Pros
These shakes come with loads of vitamins, minerals, protein, and healthy fats
Made with enough caffeine to give you a boost and leave the coffee behind
Only contains 200 calories of plant-based ingredients per bottle
Doesn't have GMOs, dairy, gluten, soy, or nuts
ORDER Ripple Vegan Protein Shake HERE
6. Evolve Protein Shake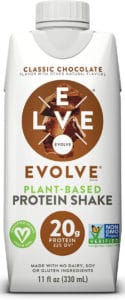 Evolve Protein Shakes have some of the widest range of flavors on the market. If you know exactly what you like, then you're bound to find something among their selection.
They currently have carrot lemon ginger, vanilla, mocha, mixed berry beet, chocolate, toasted almond, and loads of other flavors to try out.
Furthermore, you can choose to try out their 11-ounce or 12-ounce bottles, both of which have more than enough vitamins and minerals to replace a meal.
If you're after nutritional boosts, then you'll love the protein, potassium, iron, calcium, zinc, and other ingredients found throughout these drinks.
So many customers keep coming back because these protein shakes are low in sugar, fat, and carbs while having 20 grams of protein.
You don't have to load up on carbs to feel full, and you also don't have to worry about drinking too much fiber from these nutritional meal replacement shakes.
Pros
Comes in two different sizes: 11-ounce and 12-ounce bottles
The company offers a plethora of flavors for you to enjoy
Less than ten essential ingredients, omitting unwanted fillers and preservatives
Only 150 to 160 calories per bottle, keeping your daily total low
ORDER Evolve Protein Shake HERE
7. SlimFast Advanced Energy

SlimFast has been making nutritional shakes for quite some time. Their SlimFast Advanced Energy shakes are some of the best-selling meal replacements on the market.
You can choose to buy them in sets of four, eight, or twelve, each of which costs less money per drink as you buy a higher quantity.
The current flavors include Mocha Cappuccino, Rich Chocolate, and Caramel Latte. With 24 vitamins and minerals, and 20 grams of protein, you'll get the boost you need to keep going throughout the day.
Speaking of which, these shakes also include 100 mg of caffeine to make them the ultimate breakfast drinks.
If you're following a diet plan, SlimFast offers its own setup for you to try out. It includes their meal replacement shakes in addition to loads of other delicious meals for you to explore.
These shakes have won numerous awards for their flavor, so you'll be satisfying your sweet tooth, even though they only have 1g of sugar!
Pros
Contains the same amount of caffeine as a cup of coffee
Award-winning flavor with three different varieties
Loaded with vitamins, minerals, and protein to replace a meal
Only contains 180 calories per drink
ORDER SlimFast Advanced Energy HERE
8. Lean Body Ready-to-Drink Protein Shake by Labrada
The Lean Body Protein Shakes by Labrada come in all sorts of flavors for you to try. For example, you can enjoy a chocolate, banana, strawberry, or vanilla shake, as well as one of the many other flavors.
You can choose to purchase these drinks in 8.45 ounces or 17 ounces, depending on how many calories, protein, and nutrients you need.
The large variant contains 40g of protein, making it one of the highest protein supplements on the list.
It has 280 calories, though there's not much sugar or fat at all. It also has significantly less sodium than the average meal replacement shake, which is a major benefit for those who have a high sodium intake.
On the other hand, the 8.45-ounce shakes have 20g of protein and 140 calories. Nevertheless, they have more than enough energy and nutrition to boost your morning, satiate your afternoon cravings, or suffice as a post-workout meal replacement.
Both sizes contain plenty of Vitamin D, calcium, and potassium.
Pros
Comes in all sorts of delicious flavors and two sizes (17 oz and 8.45 oz)
Between 20g to 40g of protein per serving
Contains little to no sugar and very low fat
Naturally boosts metabolism and healthy digestion
ORDER Lean Body Ready-to-Drink Protein Shake HERE
9. Garden of Life Raw Organic Fit Powder
If you're looking for plant-based protein to replace a meal, then look no further. The Garden of Life Raw Organic Fit Powder is as good as it gets when it comes to taste, protein, and nutrition.
You can choose to buy a 10-serving or 20-serving container, so you'll be good to go for most of the month.
The four flavors that you can choose from include coffee, vanilla, original, and chocolate. You can choose whatever powder mixes best with your chosen milk, water, or blend it with fruits and vegetables.
These shakes are packed with 28 grams of plant-based protein to promote optimal muscle growth and fat loss.
The fact that the powder is organic contributes to the fact that it's a consistently hot-seller among fitness communities. It's also gluten-free, and Kosher certified.
You'll only add less than 1g of sugar and only 2g of fat, both of which are much less than most other flavorful meal replacement shakes.
Pros
Two sizes and multiple flavor options to customize your meal replacement
Low sugar and fat combined with high protein content
Tastes wonderful when combined with milk, water, and fruit juice
Completely organic plant-based protein supplement
ORDER Garden of Life Raw Organic Fit Powder HERE
10. Iconic Protein Shakes

If you crave the flavor of ice cream throughout the week, then replace it with the Iconic Protein Shakes.
They come in all of your favorite varieties, including vanilla, chocolate, golden milk, matcha, and more. They're a low calorie, low carb solution to fix your cravings and also keep you healthy in the process.
Each shake contains 20 grams of protein and 4 grams of fiber to regulate digestion. Combining protein and fiber prevents unhealthy digestive issues associated with excessive protein consumption.
In short, you won't get stomach cramps from ingesting too much protein since the fiber counteracts the gas.
They're naturally energizing due to the 200% Vitamin B12, which is known to boost energy levels smoothly.
Each shake also has calcium, magnesium, and phosphorus to promote bone health, brain capabilities, and more. They're free of GMOs, soy, lactose, and many other unwanted additives.
Pros
Comes with a low fat and calorie total while including 20g of healthy, lean protein
Naturally boosts your energy with 200% Vitamin B12
Includes numerous minerals to promote bone health
Contains 4g of fiber to counteract the stomach aches of high protein levels
ORDER Iconic Protein Shakes HERE
11. 310 Shake – Vanilla Plant Based Meal Replacement Shake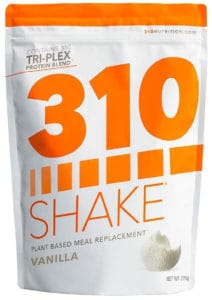 Are you tired of buying individual bottles of meal replacement shakes? Whether you're trying to avoid adding to the landfill or don't want to pay for all of the extra packaging, you can save quite a bit of money with this protein powder.
The Vanilla Plant Protein Meal Replacement Shake by 310 Nutrition is one of the most popular shakes sold online as of late.
Vanilla, mocha, chocolate, and salted caramel are the four mouth-watering flavors that this nutritious shake comes in. You'll be buying a single container rather than using a bottle for every shake.
Each bag comes with 28 servings of their unique recipe that comes with the company's namesake 310 protein blend.
This shake powder contains 0g of sugar and 1g of fat, making it an excellent choice if you're trying to cut back on belly fat while increasing your protein intake.
It has 15g of protein, which is ideal for those who get stomach aches from drinking too much protein in one sitting. It's hard to beat a nutritional shake with only 90 calories!
Check out our 310 Shake Review Here
Pros
Low fat, sugar, and carbs per serving
Buy your favorite flavor in bulk for a lower price and reduced carbon footprint
Only 90 calories per serving with 15g of lean protein
Includes probiotics and 5g of fiber to promote gut health
ORDER 310 Shake – Vanilla Plant Based Meal Replacement Shake HERE
12. Vega Protein Shakes Ready to Drink

Vega Protein is one of the top brands that people typically reach for. Their products are sold online and in-store, so you can find them almost wherever you go.
The Vega Protein Shakes Ready to Drink bottles are an easy way to get your meal replacement fix with 20g of lean plant-based protein right away.
Their simple flavor selection includes chocolate and vanilla, both of which come in an 11-ounce bottle. Each case contains 12 shakes.
Much like a few of the other meal replacement shakes on the list, these drinks come with Omega-3 fatty acids to boost your heart health and keep your blood flowing as it should.
Perhaps the best part of these drinks (aside from the flavor) is the fact that they each contain 25% of eleven different essential vitamins and minerals. Even if you're not deficient or don't need different nutrients, it's always good to have them ready to go for when you're having an off-day. They'll replace a meal without adding too much fat, carbs, or sugar.
Pros
Made by a popular, well-known, trusted vegan brand
Healthy for your heart, muscles, bones, and cognitive growth
Includes 20g of healthy protein per serving
Perfect for a meal replacement or as a post/pre-workout supplement
ORDER Vega Protein Shakes Ready to Drink HERE
13. Premier Protein 30g Protein Shake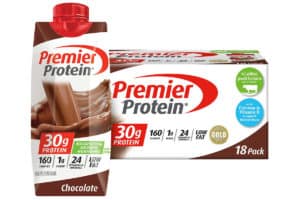 As the name states, the Premier Protein Shakes contain 30g of lean protein. They come in all sorts of flavors, such as peaches & cream, caramel, pumpkin spice, and bananas & cream.
There are plenty of others to try out so you can find your perfect match. They come in 11.5-ounce bottles, with each case containing 12 shakes.
Every drink contains just 5g of carbs, 1g of sugar, and very low fat. However, they have plenty of Vitamin D, potassium, calcium, and iron.
The company has also won taste awards for five years in a row, making it a top contender for those who want a unique flavor profile. If you're tired of the same bad taste from average brands, then this one will be a huge step up.
The vitamins and minerals found in these shakes are more than a meal replacement. They're enough to leave your store-bought supplements behind to get all of your nutrition through eating and drinking your meals.
They only have 160 calories, so you can still enjoy plenty of other meals each day.
Pros
All sorts of award-winning flavor to choose from
Contains a high 30 grams of protein per serving
Low calories, fat, sugar, and cholesterol in each bottle
Packed with a plethora of essential vitamins and minerals
ORDER Premier Protein 30g Protein Shake HERE
14. Muscle Milk Original Protein Shake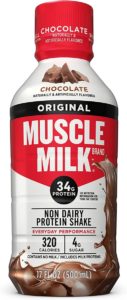 Much like a few other brands above, Muscle Milk is a household name. Everyone who knows about protein and meal replacement supplements has probably heard about this brand.
The Muscle Milk Original Protein Shake still remains a top choice for millions of people around the world who enjoy 34 grams of protein per serving.
The original drink has 320 calories, most of which come from protein and healthy fats. However, you can opt for the Light version that only has 150 calories and 28 grams of lean protein.
Either way, both shakes contain enough calories, carbs, protein, and fiber to keep you full for several hours on end.
Nine essential amino acids can be found in every bottle. They're known for optimizing muscle growth, especially when combined with lean protein in the same serving as they are with these shakes.
Whether you're trying to lose overall weight or bulk up with more muscle, you should definitely give these drinks a try.
Pros
Made from a well-trusted household name
Comes in two different sizes, one with 320 calories and another with only 150 calories
Includes 28g to 34g of lean protein per serving
Five high-quality flavors that keep you full
ORDER Muscle Milk Original Protein Shake HERE
15. MET-Rx Original Whey Protein Powder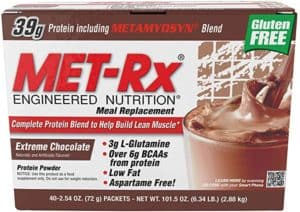 Are you trying to get more protein out of your meals? How about the MET-Rx Original Whey Protein Powder? It's loaded with 38 grams of high-quality protein that tastes wonderful and improves muscle growth.
Extreme Chocolate and Original Vanilla are currently the only two flavors to choose from.
Despite the small packaging, each case comes with 40 servings. You'll be good to go for more than a month without spending too much money.
They have plenty of BCAAs to enhance and accelerate your muscle gains and reduce fat storage throughout your body. Combined with exercise and adequate water consumption, these shakes can make a big difference in your body composition.
They have plenty of Vitamin A, C, and D, as well as zinc. These key ingredients are combined to boost your immune system and energy levels throughout the day.
Say goodbye to your routine coffee; It's time to save money by replacing your meals and caffeine habits with these meal replacement shakes.
Pros
Contains high levels of immune-boosting ingredients
High levels of protein found in each bottle
Each case contains 40 servings to enjoy
Low in sugar and fat, and high in protein and fiber
ORDER MET-Rx Original Whey Protein Powder HERE
16. Texas Superfood: Complete Superfood Powder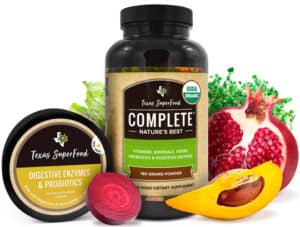 Texas Superfood crafts some of the highest quality supplements in the world. Using over 55 fruits, vegetables, and herbs, they manage to create an unmatched blend that tastes as good as it is healthy.
You'll also reap the benefits of nine enzymes to aid in the digestion process, regulating your body and reducing stomach cramps.
Despite the full feeling that you experience after drinking this 12-calorie shake, it doesn't have any fillers, dairy, GMOs, or other unwanted substances. It only has clean, pure ingredients and very little sodium.
Although not fully a meal replacement shake due to the lack of protein, fiber, calories, and carbs; Texas Superfood is high in nutritional value and can greatly help those who have diets short on vegetables and fruits.
Pros
Aids in detoxification
Supports energy and nutrition
Contains beneficial algae and grasses
Boosts alkalinity, aids healing and nourishment of the digestive tract
ORDER Texas Superfood: Complete Superfood Powder HERE
Conclusion
Meal replacements are much more than your average protein shake. While protein is definitely an essential component, they also need to have enough vitamins and minerals to truly replace a meal or two throughout the day.
There's no denying that flavor plays a huge role in the decision-making process when you're picking out your shakes.
However, you don't need to load up on sugar and fat to achieve the taste, nor do you need to risk consuming aspartame. Luckily, many of the meal replacements mentioned above check off all of the criteria.
Whether you want the award-winning taste of SlimFast Energy Drinks or a nutrient dense shake like Shakeology, you'll be able to choose your favorite combinations above. Good luck!