The weight loss journey can be a long and arduous one, where every little bit of help is greatly appreciated. One of the most recent and popular weight loss helpers has come with the emergence of meal replacement shakes. More conveniently, we now have access to vegan meal replacement shakes.
The best vegan meal replacement shakes for weight loss are: Vegan Shakeology, Ample V Plant-Based, Organifi Complete, and Garden of Life Raw Organic Meal Shake. Shakeology offers extra health support with superfruits, antioxidants, prebiotics, probiotics, adatogens, supergreens, & phytonutrients.
In this piece, we'll be taking a closer look at some of the most effective vegan meal replacement shakes available today. We'll pay close attention to what they contain and what properties make these ingredients work, their pros and cons, and any other information that might help you decide whether they might be the right choice for you. Let's get right to it.
1. Shakeology Vegan Meal Replacement Shake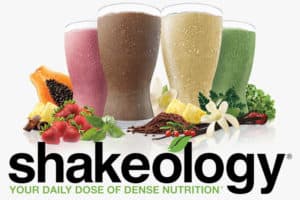 The Shakeology brand has made a strong name for itself in the meal replacement market for its excellently-formulated, high-quality, and effectiveness. No list of meal replacement shakes would be complete without including it.
For the vegans among us looking for a solution that does not involve the use of animal products, they have a line of plant-based shakes that promise to be entirely dairy-free, gluten-free, egg-free, soy-free, nut-free, and vegan friendly.
What's in Vegan Shakeology?
Although there are various flavors you can get this shake in, the essential ingredients are pretty much the same, depending on your preference. Except for what contributes to the different flavorings, you will be getting the same core ingredients whether you go for the Chocolate, Vanilla, Café Latte, or Tropical Strawberry flavored vegan shakes.
Here are the core ingredients in every Vegan Shakeology Flavor…
Protein Blend
The protein in Shakeology's proprietary protein blend comes from whole foods, plants, and grains, which is a healthier source of protein than fatty meats. Additionally, Shakeology delivers a complete amino acid profile with all 9 essential amino acids that helps support lean muscle growth and reduce cravings.
The protein sources include: Pea Protein, Flax (Seed), Rice Protein, Quinoa (Seed)
Superfruits & Antioxidants Blend
Antioxidants prevent oxidation and can help your body stay balanced. Consuming enough antioxidants is essential to help fight cellular damage and boost your immune system.
The superfruit and antioxidant blend includes: Camu-Camu, Acerola Cherry, Blueberry, Bilberry, Lycium Berry (Goji Berry), Luo Han Guo, Pomegranate, Rose Hips
Prebiotics & Probiotics Blend
Prebiotics come from plant fibers, and act as a fertilizer, nourishing healthy growth in your gut. On the other hand, consuming probiotics will add new bacteria to your gut and will help to increase the population of healthy microbes.
The source of prebiotics and probiotics include: Yacon Root, Chicory Root, Bacillus coagulans
Digestive Enzymes Blend
Help to break down food further in your body, thus allowing you to absorb more nutrients.
The source of digestive enzymes include: Amylase, Cellulase, Lactase, Glucoamylase, Alpha-Galactosidase, Invertase.
Adaptogens Blend
Adaptogens are substances that are often used to help the body adapt and manage stress. They are plants that assist the body in resisting physical, chemical, and biological stress.
The adaptogens found in Shakeology include: Ashwagandha, Astragalus, Cordyceps, Maca, Maitake, Reishi, Schisandra, Chaga.
Supergreens & Phytonutrients Blend
Some benefits of phytonutrients include their antioxidizing and anti-inflammatory effects. Phytonutrients also help to boost your immune system and increase intercellular communication.
The super greens and phytonutrients include: Chlorella, Spinach, Kale, Matcha Green Tea.
Vitamins & Minerals
The Vitamins & Minerals come from the whole food ingredients and can therefore vary batch to batch. Thus, it is not labeled because it's not fortified like the Whey Shakeology version.
Additionally, Shakeology didn't compromise with ingredients like other meal replacement shakes. Shakeology promises the following:
NO Artificial Sweeteners
NO Artificial Colors
NO Artificial Flavors
NO Artificial Preservatives
And Shakeology Is Certified to Have a Low-Glycemic Index
Pros and Cons of Vegan Shakeology
Shakeology vegan meal replacement shakes have a lot going for them. For one thing, it is a tried and tested product with many years of positive reviews from people that have lost weight using it. It is suggested that you replace two meals each day with this shake to achieve maximum benefits.
It is also considered one of the best-tasting shakes out there, both in flavor and texture. For convenience and ease of use, you can't do better – simply add water, and you're good to go.
Beachbody eliminated Ginkgo Biloba from its list of ingredients ever since it came under suspicion of causing liver damage, which was a very responsible move on their part and a testament to their ethics and quality standards.
However, many feel like the Shakeology price is higher than the average meal replacement shake. This is understandable because Shakeology is a premium health shake that offers more nutrition than a standard meal replacement shake.
Learn more about what Shakeology has to offer from the video below:
LEARN MORE OR ORDER SHAKEOLOGY HERE
2. Ample V Complete Vegan Meal Replacement Shake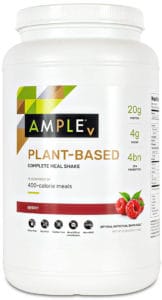 Ample V is the vegan option of the highly successful Ample O (Original) produced by Ample Meals. This company prides itself on its science-based approach to nutrition and its high regard for quality ingredients in all its products.
What's in Ample V?
The significant difference between the vegan option and the original version is that the protein content is sourced from pea and rice plant material rather than whey. They do not use soy in this product. Let's delve deeper.
Fats
Ample V meal replacement shakes' fatty content is somewhat higher than you will find in many meal replacement shakes, but this is only significant in that it serves to make their products some of the most delicious and smooth-textured shakes on the market today.
Fats in each serving are a blend of coconut oil (10 grams/ 0.35 oz), which explains the high saturated fat content, chia seed oil, sunflower lecithin, and macadamia nut oil. This is a particular blend of fats that displays their attention to detail and knowledge of nutrition. They have various health-positive effects on our cholesterol, muscle neurotransmitter performance, and risk of cardiovascular disease.
Carbohydrates
Many of us are aware by now of the dangers that refined sugars such as those present in high-fructose corn syrup (used in soda production) pose to our health, especially when considering obesity and its accompanying dangers. What we often forget is that carbs are only real danger markers when combined with unhealthy eating habits.
At any rate, the types of sugars used in Ample V are of the long-chain type and consist of tapioca starch and organic sweet potato starch. These will help your body absorb nutrients more efficiently and help prevent the risks of cardiovascular diseases. Even at a low level of 6 grams in each Ample V serving, they are a welcome addition to this list of ingredients.
Protein
As we mentioned, the protein content of Ample V is derived from rice and peas. Peas are notable for their unique quality of having all the essential amino acids present in them. At the same time, rice is an excellent protein source due to its high cysteine and methionine levels.
The genius behind this combination is discovered once we realize that cysteine and methionine are the two important, though semi-essential (our bodies produce some quantities), amino acids lacking in pea proteins. This is why you will encounter this combination in many of today's vegan meal replacement shakes.
Fiber
Fiber is fiber; in most cases, performing the same functions in the digestive processes of human beings. The specific blend of fibers in Ample V is a notable one that deserves some close attention. Here's what they came up with:
Acacia fiber: Improves digestion, lowers cholesterol levels and helps regulate blood glucose levels.
Organic banana resistant starch: Improves gut bacterial ecosystem, which leads to better blood glucose regulation and decreased risk levels for colorectal cancer
Organic psyllium husk: Improves the function of the bowels and their movement.
Organic Jerusalem artichoke inulin: Inulin plays an essential role in the absorption of minerals within our digestive systems
The upshot of all this is that Ample V has a unique composition of insoluble and soluble fibers designed to not only optimize your gut health and function but your internal floral biome as well, which many meal replacement shakes neglect to do.
Probiotics
Ample V covers the usual meal replacement shake roster of probiotics effectively, as it includes Lactobacillus rhamnosus, Bacillus coagulans, Lactobacillus acidophilus, Bifidobacterium infantis, Lactobacillus paracasei, and Bifidobacterium lactis. This combination of healthy bacteria will promote the effective running of digestive and absorptive processes and protect against the infiltration of potentially disruptive pathogens.
Micronutrients
Here we're talking about the minerals and vitamins that the human body needs to properly function, and this is where Ample V drops the proverbial ball somewhat. For whatever reason, you will find very minimal or nothing at all when you look at the list of nutrients. This is in comparison with other respected meal replacement shakes on the market.
Ample V only gives you 4 percent Vitamin C, 2 percent Vitamin A, 15 percent Iron, and 4 percent Calcium of your recommended daily dosage of these vital nutrients. This is a measly offering for a product that is supposed to take the place of a complete and balanced meal.
The solution for Ample V users will be to consume plenty of vegetables and fruits or take other supplements to compensate for this lack. That defeats the point of the whole enterprise; many would probably think.
Pros and Cons of Ample V
Ample V is a great tasting shake that is smooth in texture and easy to mix. Its high-quality ingredients are very well formulated to deliver a vegan-friendly meal replacement shake that does not include any soy, gluten, artificial sweeteners, or GMOs, which ticks most nutritional boxes.
The major let-down for Ample V is that they neglected to include sufficient micronutrients, thereby making it a must that customers go through the extra hassle of finding additional nutritional sources of these critical elements.
At the moment, they only provide the original flavor version, meaning that those who seek variety might have a hard time. Finally, their high-quality ingredients can come at a cost depending on the size of your meal; 200, 400, 600 calories.
LEARN MORE OR ORDER AMPLE V HERE
3. Organifi Complete Protein Meal Replacement
This is a product specifically formulated to help us out in three key areas – digestive health, immune system health, and, most importantly, weight loss. It achieves this through the use of entirely organic, vegan-friendly protein sources.
These are ideal for our purposes because plant-based protein sources will give you more benefits (added minerals, antioxidants, enzymes, and vitamins) than you would traditionally get from whey protein, but without the adverse health and ethical baggage that comes with it.
What's in Organifi Complete Protein?
The list of ingredients in each package will show how their blend works well to achieve the product's stated objectives. These are mainly in the superfoods category due to their exceptional concentrations of these vital nutrients we all require to lead healthy lives. They include:
Coconut
These are highly endowed with fiber and medium-chain triglycerides (MCTs), renowned for their efficacy in helping with weight loss efforts while simultaneously boosting energy levels in those who take them. MCTs accomplish this by stimulating our metabolic systems to burn up fat reserves as a source of energy rather than carbohydrates, which is why coconut is so prevalent in weight loss initiatives such as the ketogenic diet.
Monk Fruit and Vanilla Bean
The vanilla bean is well-known for its flavor, but it also has nutritional value due to its high concentrations of calcium, magnesium, and potassium. The monk fruit might not be so nutritionally endowed, but it does have the capacity to deliver sweetness levels up to 200 times higher than regular sugar sources.
Pumpkin Seeds
These are rich in protein and good sources of unsaturated fats such as omega-3 and omega-6, calcium, iron, folate, and vitamin B2.
Quinoa
This is a well-known superfood that is packed with beneficial nutrients such as B vitamins, folate, iron, calcium, amino acids, phosphorus, and abundant antioxidants. It also serves as a source of fiber.
Digestive Enzymes
A proprietary blend of digestive enzymes going by the label DigeSEB® is a combination of five digestive enzymes: protease, amylase, lactase, cellulose, and lipase. They serve the functions of assisting in the breakdown and digestion of carbohydrates, protein, fats, plant matter, and dairy.
Pros and Cons of Organifi Complete Protein
Organifi qualifies as a superior protein supplement that is capable of fulfilling the role of a full meal replacement due to the sheer variety and amounts of various minerals, nutrients, vitamins, antioxidants, and more in its formulation. To use it as a meal replacement, one simply needs to use two scoops per meal instead of the standard single scoop.
You can get it in one of two flavor options – chocolate or vanilla – which, with the inclusion of the naturally sweet monk fruit in the list of ingredients, should be adequate for even the most demanding users. Price-wise, it ranks among the more affordable options out there, considering its qualities and strengths.
The only apparent downside with Organifi Complete Protein is that you will have to make arrangements to stock up on more of it if you intend to use it as a full vegan meal replacement shake.
LEARN MORE OR ORDER ORGANIFI COMPLETE HERE
4. Garden of Life Raw Organic Meal Shake
This is another excellent option for those seeking out vegan-friendly meal replacement shakes. The Garden of Life organization has a long track record of providing high-quality, nature-based products such as multivitamins, essential oils, protein powders, protein bars, superfood greens, and many more.
What's in Garden of Life Raw Organic Meal Shake?
This particular product is made through the formulation of exceptionally numerous natural ingredients. It consists of an organic protein blend, organic fruit and vegetable blend, organic greens blend, probiotic and enzyme blend, and an organic fiber blend. Some of these blends have more than 20 individual ingredients.
To make the information more easily digestible, we'll look at the categories in which they're classified to give us an overview of what's in each container, in what amounts, and what they do for us.
Protein
You will have 20 grams (0.71 oz) of protein with each serving.
We know the importance of adequate protein consumption in any weight loss effort as it plays a massive role in keeping our metabolic rates up, keeping us feeling full for longer, and building up lean muscle mass instead of storing up fat.
The thing is, not all types of protein are the same, and the source of the proteins you use can make a great deal of difference to your progress. Animal proteins are not only proscribed for vegans; they also come with their own sets of side effects and potential allergies. The same goes for soy-sourced protein, mainly GMO produced (many times for animal consumption) and mimic estrogen's role in the human body.
This product's protein content is sourced from organic plant resources such as sprouted brown rice, pea, buckwheat, adzuki bean, quinoa, flaxseed, chia seed, garbanzo bean, sesame seed, and more. The combination of pea and sprouted rice proteins, for instance, is known to result in an amino acid profile that's considered to be the most effective for those trying to shed off excess weight.
Calories
You will get roughly 115 calories (depending on which shake you choose) with each serving.
It's always a good idea to keep an eye on our calorie intakes, even with meal replacement shakes, because they can add up rather quickly if we aren't careful. It would help if you had a balance that will allow you to feel full while still making it possible to lose weight.
The 115 calories you get with this shake makes for a great starting point. Those trying to lose weight should mix it with low-fat milk or water, while those merely trying to keep from gaining weight or balancing out their nutritional intake may add avocado, Greek yogurt, or even peanut butter. You have a lot of room to adjust your intake to your goals and desires with this meal replacement shake.
Sugar
Each serving contains less than 1 gram of sugar.
As you might expect, the last thing you want in your weight loss meal replacement shake is sugar. Sugar is a source of empty calories (calories with no nutritional value whatsoever), which is why sugary drinks (sodas in particular) are a well-documented culprit when it comes to obesity and excessive weight gain.
Even less than 1 gram of sugar in this shake (vanilla flavor) is a natural sweetener with zero calorific value, even though it is sweeter than regular table sugar. It is an extract of the Stevia leaf and is widely recommended for use by people who have diabetes to avoid regular sugar's harmful effects.
Another natural, safe sugar used in some Garden of Life meal replacement shake formulations is Erythritol, a sugar alcohol that has very minimal adverse effects. Taking it in excessive amounts may cause digestive trouble and bloat.
Fiber
You will get 7 grams (0.25 oz) of fiber with each serving of this shake.
The general best practice for weight loss and health is that shakes should have high fiber amounts while being low on carbs. Fiber is useful in achieving fullness and keeping hunger at bay, which is an excellent asset for shedding weight. It will also keep your bowels healthy, help keep harmful cholesterol levels down, and aid in toxin elimination from the body.
Carbohydrates
Each serving will deliver approximately 8 grams (0.28 oz) of carbohydrates.
As we mentioned above, the fewer carbs you have in your shake, the better. The best weight loss measures involve high-fat and low-carb intakes such as the Paleo or keto diets. Effective meal replacement shakes should keep their carb limits low so that users may easily keep to their carbohydrate limits.
Pros and Cons of Garden of Life Raw Organic Meal Shake
You have the option of choosing from four flavors here, which makes for a suitable amount of
variety to keep boredom at bay. The high-quality ingredients used in this product's formulation guarantees its effectiveness and safety. The balance of fibers, proteins, carbs, sugars, and an array of other nutrients contained makes it an ideal weight loss and healthy living helper.
However, a significant complaint with users of this shake is that many people find it too thick and with a too-heavy plant taste for their liking. This is perhaps due to the shakes' high fiber content, but most users found that the thickness helped them feel fuller and had no problem once they found a flavor they found palatable.
LEARN MORE OR ORDER GARDEN OF LIFE RAW ORGANIC MEAL HERE
Possible Allergies and Potential Side Effects of Meal Replacement Shakes
Even though the products on this list are of the very highest quality ingredients and manufactured under strict quality and regulatory controls, it is a fact that many manufacturers process their products in facilities that also process eggs, fish, soybeans, wheat, tree nuts, crustacean shellfish, and dairy products. Should you have active allergies, it is always prudent to proceed with a bit of caution when taking any new product for the first time.
It should also be noted that for many people who are not used to consuming whole foods in raw form, especially in the form of drinks that effectively bombard your system with nutrients, it may take a while for their bodies to adjust to replacement meal shakes.
As it does so, you may experience an increased frequency of bathroom trips or other digestive system reactions, such as bloating or gas, due to the increased intake of fiber and other useful ingredients that work to flush out toxins from one's system. This makes sense, especially considering the fact that most people who start taking meal replacement shakes have a poor diet history.
Athletes and those who lead very active lifestyles might find it necessary to increase their intake of replacement meal shakes, or even make them an additional source of nutrients to keep their bodies fueled aside from their regular meals. It all depends on the individual. As long as care is taken and the user takes the time to understand how their body works, it should be fine.
Give yourself some time to adjust, but should you experience persistent discomfort or side effects, you might be reacting to one or more ingredients. At this point, you should consider halting the product's usage until you can figure out where the matter lies.
Final Thoughts
Meal replacement shakes are handy tools available to those trying to lose weight or keep their weight in check. They make a very straightforward and easily implemented measure that requires very little time and effort, even though the results are tangible and significant.
As long as you combine your use of meal replacement shakes with a sensible diet and moderately active lifestyle, you can be confident that you will make your weight loss journey much quicker and easier than you thought it could be—best of luck to you.
Sources