There is a growing popularity for Super Greens powders and vitamin supplements, each claiming to be superior to the other. The fact is that both have their share of vitamins, essential minerals, and micronutrients.
Compared to multivitamins, Super Green powders aren't as complete. However, greens seem to have more advantages. If used moderately, they almost have no adverse effects on your body and are entirely natural. They have all the healthy ingredients your body needs and should be considered over multivitamins.
But before you choose either super green powders or vitamin supplements, it's important to compare their health benefits. This article will guide you through, so read on.
Super Greens Powder Benefits
Before you decide to buy, it's important to know that the US Food and Drug Administration (FDA) doesn't regulate or monitor vitamin supplements, including greens powders. FDA only intervenes when several cases associate a specific supplement with death or adverse effects.
Super Greens powders are becoming increasingly popular as more people discover their benefits.
After all, eating vegetables has for ages been associated with healthier, longer lives. Green powders are designed to assist you in getting the veggies your body needs.
They also come with several other advantages when compared to multivitamin pills and capsules.
They Are Completely Natural
A very beneficial and interesting aspect of Super Green powders is that they are entirely natural. From the onset, that may appear to make them a superior health solution to multivitamin pills that are largely synthetic.
Also, green powders have absolutely zero additives. Multivitamins tend to have additives, some of which can be harmful to your health.
Super Green Powders Are Rich in Fibers and Antioxidants
Green powders are loaded with fibers and antioxidants. The anti-inflammatory and antioxidant properties of plant compounds present in greens powder help reduce your risk of contracting chronic diseases.
The presence of fiber in vegetables helps prevent constipation and hemorrhoids.
However, it's important to note that the ingredients vary by brand and, therefore, their nutritional value and properties may differ between green powders.
Super Green Powders Are Easily Absorbed
Unlike multivitamins, green powders are much easier for your body to absorb. This is because they are produced naturally, and can even help in restoring your body's pH balance.
The imbalance is because most of our diets are protein-based, something that creates lots of body acids.
Super Green Powders Support the Digestive System and Immune Function
Probiotics that are usually added to greens powders support your digestive system and immune function.
In general, Super Greens powders could boost overall wellness and help in reducing the risk of chronic disease.
However, also note that the value of most added plant-based digestive enzymes remains uncertain.
Cons of Super Greens Powders
Green powders should not be taken as absolute alternatives to fresh greens or multivitamins. While they have no specific disadvantages, there are several things you need to pay attention to before buying or using super greens powders.
They Don't Always List Ingredients
A major criticism leveled against green powders is that they don't always list all the minerals and vitamins content.
Therefore, generally, they cannot be deemed to be as complete as multivitamin supplements. Multivitamins list everything that goes into their making.
Possible Absorption Issues
It's paradoxical that some of the very same beneficial compounds found in plants also become responsible for negatively and significantly affecting the amount of the vital nutrients from the plant that get absorbed within the body.
The main reason for the lower absorption is because the iron is bound tightly to phytate, a naturally occurring compound.
Those bonds are not easy to break within digestion. Nearly all naturally-occurring plant minerals and vitamin sources pose this problem.
Watch Your Servings
It's very easy to go overboard because you are taking this product as a powder. That can potentially harm your health.
You should, for instance, know that a single serving of super green powder usually contains more than the recommended amount of minerals and vitamins that you ought to consume per day.
Use With Caution
Know that green powders are not for everyone. Some warn that pregnant, breastfeeding women, children, and people using medications should avoid using it.
This is because green powders often contain concentrated extracts and herbs that might trigger unwanted interactions or pose potential risks.
Typically More Expensive
Compared to multivitamins, super greens powders are usually more expensive, especially when you buy an organic powder without proprietary blends.
Multivitamin Pills and Capsules
Multivitamins are probably the most common supplements globally in terms of usage. They are available in varying amounts and forms, depending on how one prefers consuming them.
Some of the benefits associated with multivitamins include:
Improved health
Compensate your poor eating habits
Reduce the risk of chronic diseases
Support enzyme reactions
The minerals and vitamins within multivitamins support enzyme reactions in your body and aid with bodily processes regulation. They may even improve mood and support memory functions.
The body also needs these nutrients for growth, reproduction, and maintenance.
Multivitamins Improve Mood and Memory
Multivitamins may boost mood and memory. What's more, the minerals, vitamins, and antioxidants may help slow down the progression of diseases that may lead to or cause blindness.
Cons of Multivitamins
Multivitamins also come with several drawbacks.
First, they aren't suitable for everyone and could even cause harm to some individuals.
Categories that need to be careful before using multivitamins include vegetarians and vegans, pregnant or breastfeeding women, and older adults. Some of them may even need higher doses of certain products.
For instance, when it comes to pregnant women, there's a specific multivitamin that's mandatory for them to take. Mothers should, however, be careful with multivitamin intake.
Multivitamins Are Synthetically Produced
A major concern surrounding multivitamin pills and capsules is that the ingredients within them are typically synthetically produced.
How well your body absorbs synthetic minerals and vitamins is not very clear, but one thing is clear; it's definitely much easier for your body to absorb natural nutrients than synthetic nutrients.
They Carry Other Substances
Usually, multivitamins only contain trace elements of the minerals and vitamins that we are seeking. Therefore, they may not always be effective in terms of promoting optimal health.
Typically, multivitamins are bound by several other non-nutrient substances. These include:
Binding agents
Preservatives
Anti-caking agents
Sweeteners
These are substances that your body will want to pass quickly through, but they leave minimal amounts of the nutrients that finally gets absorbed.
Labels May Be Misleading
When using a multivitamin, you are effectively getting several different synthetic nutrients.
Because these different amounts of synthetic nutrients don't typically represent what real foods offer, they could actually end up becoming a problem.
Multivitamins will convince you that your nutrition base is sorted.
There are tons of nutrients that you will not find in multivitamins. Resveratrol, ligand, and anthocyanins contribute to disease prevention, which you won't find in multivitamins.
Risk of Overdosing
Vitamin toxicity is real, and given the availability of supplements, it's very easy to take more than your body needs or can handle.
In some cases, the multivitamin may not even provide you with a full list of the nutrients used. Besides, for certain nutrients, supplementing with large doses can have harmful effects
Multivitamins and Shakes
This industry is known for being notorious for fraud, and it's crucial that you only get your vitamins from reputable brands or manufacturers.
Multivitamin pills or capsules can be safely taken with a protein shake. If you are thinking of shakes, some of the best ones to consider are those made with whey and vegan based-formulas.
You need to note that most meal replacement drinks or protein shake usually contain a significant amount of minerals and vitamins, particularly B-vitamins. So, take care not to overdo it.
Experts recommend that you take your multivitamin pill or capsule after a protein shake or at least a couple of hours before you drink the shake.
Here are 3 shakes that I highly recommended depending on your nutrition goals…
Beachbody Shakeology Shake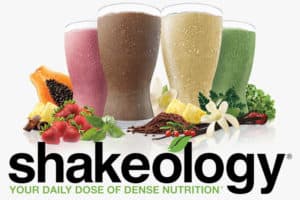 The Beachbody Shakeology Shake is perfect if you're looking for a complete, nutrient dense shake.
Although many people use it as a meal replacement shake, it's also perfect as a protein shake and a super greens shake.
Shakeology offers the following core nutrient groups:
Protein
Superfruits & Antioxidants
Prebiotics & Probiotics
Adaptogens
Supergreens & Phytonutrients
Vitamins & Minerals
By drinking Shakeology every day, you don't need to worry about purchasing a super greens shake nor multivitamin. Read my in-depth Shakeology review here
Other benefits of Shakeology include:
Only nutrient dense whole food, super food ingredients
Comes in whey and vegan options
Several flavors to choose from
Continues to evolve with more nutrient dense super foods
Has been found to help with weight loss, improve digestion, and overall health
ORDER SHAKEOLOGY HERE FROM BEACHBODY
SuperGreen TONIK Shake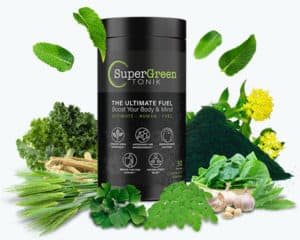 Only looking for a Super Greens powder shake? My top recommendation is SuperGreen TONIK because the Nutritional Label clearly states what you are getting (which is rare for many green shakes) and of course it has some amazing benefits.
Read my full SuperGreen TONIK Shake review here.
SuperGreen TONIK has an amazing mint taste and includes the following ingredients:
Leafy Green Blend: 2,000mg of Organic Spirulina powder, 2,000mg of Organic Kale powder, 1,000mg of Organic Spinach powder, 1,000mg of Barley Grass, 1,000mg of Organic Chlorella, 500 mg of Organic Moringa Oleifera
Brain Blend (Nootropic Blend): 500mg of Ashwagandha Root Extract, 300mg of Bacopa Monnieri, 300mg of Rhodiola Rosea, 250mg of L-Theanine, 240mg of Gingko Biloba, and 200mg of L-Tyrosine
Immune Blend: 500mg of Dandelion leaf extract, 250mg of Garlic extract, and 250mg of Olive leaf extract
Additional vitamins: Vitamin A, B1, B2, B6, B12, C, D, E, K, Selenium, Copper, Niacin, Zinc, Manganese, Black Pepper Extract, Biotin, Pantothenic Acid, and Folate/Folic Acid
Sweetener: 100mg of Stevia Leaf Extract
The SuperGreen TONIK includes the following benefits:
3 grams of protein per serving
Formulated with 15 different superfoods
No soy or dairy
Organic
Powerful apoptogenic herbs help fight stress and anxiety
Strengthens immune system
Boosts energy and supports natural weight loss
Helps with memory and focus
Gives you more energy
ORDER SUPERGREEN TONIK DIRECT FROM THE SOURCE HERE
MacroLife Naturals Macro Greens Superfood
The next highly recommended super greens shake is Macro Greens Superfood.
Macro Greens brings together a few different super greens that SuperGreen TONIK doesn't offer. And Macro Greens is a little more economically priced compared to the previous two shakes.
Macro Greens offers:
Antioxidants
Probiotics
Omega- 3,6,9
Natural plant enzymes
And other healthy greens
Macro Greens is a great basic Super Greens formula that you'll enjoy.
ORDER MACRO GREENS SUPERFOOD DIRECT FROM THE SOURCE HERE
Conclusion
Green powders, provide you with an assortment of other health benefits that are simply not found in multivitamins.
Multivitamins might just be a waste of money and resources — if you already have a dense Nutri-diet, which includes lots of fruits, vegetables, whole grains, and legumes.
Besides, the micronutrients found in super greens powders are direct from natural ingredients, which means your body will absorb them easily.
Sources