In the past, supplements mostly came in huge tablets that were nearly impossible to swallow without breaking up, most of them with tastes that can ruin a sumptuous meal when you have memory flashbacks. Today, supplements like Super Greens come in various forms, including powders and capsules, making them easy to use for everyone. Which option should you go for?
Super Greens powder is the best option  because it's nutrient dense, you'll take a stronger concentration, it's easier to swallow, and faster to absorb. However, Super Greens capsules mask the supplement's taste and are easier to carry around.
The rest of the article will look at both options more closely, so you'll have more information to make your decision.
What Are Super Greens Powder and Capsules?
Super Greens powder and capsules are dietary supplements that contain a selection of plants, that are dried and blended. These make it easy for you to enjoy the benefits of eating various vegetables without having to get each of them in their natural forms.
The exact combination of vegetables in the Super Greens powder or capsules will vary from one brand to another. Some common ingredients include:
Green tea extract
Ginseng
Pineapple
Kelp
Beets
Chlorella
Spirulina
Broccoli
Tomatoes
Wheatgrass
Barley grass
Holy basil
Rice bran
Mushroom extract
Blueberries
Some of them also include plant-based digestive enzymes and probiotics.
By choosing to go with Super Greens powder or capsule, you can get all the benefits of the dozens of vegetables and plant extracts in the supplement in one sitting.
What Are the Benefits of Super Greens?
As you've seen above, the benefits of Super Greens are a long list of consuming the various vegetables and extracts you'll find in each package. However, there are a few important benefits you should be aware of, some of them backed by research.
They can boost the immune system. Super Greens have a high concentration of vitamins A and C, which is beneficial to your immune system. The probiotics are also useful to your immune system and can improve digestive health.
They can prevent chronic disease. The plant compounds in Super Greens powder and capsules have anti-inflammatory and antioxidant properties, making them useful in fighting off chronic diseases. A study showed that consuming two tablespoons of super green powders lowered the blood's oxidatively damaged proteins by 30%. Preventing such damage in the blood can lower risk of cancer and other chronic diseases.
They can lower blood pressure. A study spanning three months showed that consuming 10 grams or two tablespoons of greens powder can reduce diastolic and systolic blood pressure in people with high blood pressure by as much as 8%.
They can improve your energy. Super Greens supplements are low calorie, but any mix containing green tea extract can support faster burning of calories due to caffeine in the extract. This will leave you feeling more energetic and alert.
While several studies are backing these benefits of Super Greens, some have yet to be replicated. Yet, we can't ignore the potential benefits and the previously documented advantages of consuming vegetables.
Should You Order a Super Greens Powder?
Looking at all the benefits of Super Greens, you may want to know which of them holds better value for you. Below are the important points to consider before you choose a Super Greens powder.
It Is Easier to Consume
A survey showed that 4 in 10 people find it difficult to swallow pills. If you're part of this demographic, you'll find it easier to consume your supplements in the powder form. All you need to do is to scoop out the recommended dosage and either eat it directly or mix it in a liquid to drink.
The downside to this is that there's always the possibility of going overboard with rations. How heavy should a teaspoonful be? If the product tastes good, the temptation to use the supplement without sticking to the dosage will be higher. Still, if you don't like swallowing pills, it's impossible to not jump at the chance of using the super greens in powder form.
It Has Higher Concentration
Consuming 10 grams of Super Greens powder is easier than swallowing the equivalent size in capsules. In most cases, you'll have to swallow multiple capsules, spread over the day to get the same serving and the same quantity of nutrients.
It Is Absorbed Faster
If you're taking Super Greens with ginseng, green tea, and other similar energy-boosting constituents to get you more active and energetic, consuming the powder will give you faster results. The compounds in the powder can get into your bloodstream very quickly.
However, faster absorption may also cause problems in the digestive tract for people with more sensitive systems. This is especially true if the supplements are consumed a few minutes after certain meals or drinks.
It May Help to Push Adherence to the Dosage
Most Super Greens powders come infused with fruit extracts to ensure a more appealing taste. However, this also has another psychological effect.
You look forward to taking the Super Greens powder as you would your daily cup of coffee or any other beverage. You're more likely to remember to take the supplement if you love how it tastes.
Of course, if the Super Greens powder doesn't taste good, it will be a herculean task to continue the dosage after the first few days.
Should You Go With Super Greens Capsules?
Below are the important points to consider before you choose Super Greens capsules.
They Are Easier to Move Around
If you like to take your Super Greens when you're at work, gym, or anywhere else, you'll most likely prefer to just swallow a few capsules than to carry along a bottle of Super Greens powder, a spoon, and some liquid for dilution.
Capsules are a lot more practical in this context. The protective shell holds the greens, and the capsules come in an airtight container that you can toss into your bag while heading out.
However, you need to be sure you don't find capsules difficult to swallow, or you may not be able to stick to your dosage or take enough capsules to give you the recommended daily intake.
They Will Not Affect Other Supplements
Drinking Super Greens powder after you've had another batch of supplements, powdered or otherwise, can leave a bad taste in your mouth.
On the other hand, with Super Greens capsules, you'll never have to worry about creating an unfriendly mix of tastes at any point as they are tasteless.
They Offer Delayed Release
If you want to delay the release of the nutrients in the Super Greens supplement until you need it, taking the capsules is the right way to go. The stomach must first act on the soft protective shell, before digesting the nutrients and releasing any benefits you're looking for.
The 30-40 minutes required for this reaction to be completed could be enough for you to get to the gym, if you want the greens' energy properties, or to avoid a clash with other nutrients in your stomach if you've got a sensitive gut.
Conclusion
Super Greens powders and capsules largely provide the same benefits. Your choice will come down to whether you're comfortable with swallowing pills or whether you'll prefer to take powder solutions instead.
You should also consider the practicality of scooping out the powder every time you need it, compared to just throwing a few pills in your mouth. Picking an option you're most comfortable with ensures you'll keep enjoying the benefits of regularly using the supplement.
Personally, I highly recommended the powder form of Super Greens because it tends to have more nutrients than the capsule.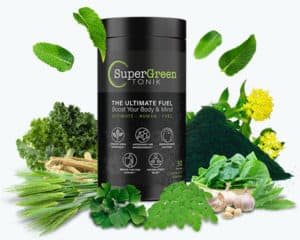 My #1 Recommended Super Greens is SuperGreen Tonik as it clearly states what you're getting and how much you're getting of every ingredient.
This is unique because many shakes on the market only tell you what's in their but not if it's enough in order to make a difference.
Read My SuperGreen Tonik Review Here
If you're serious about getting a tasty, minty Super Greens shake that will help you with the following:
Energy
Better Focus and Concentration
Anxiety
Sleep
Health
Immunity
Then you should consider SuperGreen Tonik.
Sources