Fitness and health experts advocate using a protein or meal replacement shake when trying to lose weight and get healthy. Supplemental nutrition can come from health shakes like Shakeology or Herbalife, which can be used in conjunction with a healthy diet and lifestyle. But which one is better, Shakeology or Herbalife?
Shakeology is better than Herbalife Formula 1 shake because it offers protein, superfruits, antioxidants, prebiotics, probiotics, adatogens, supergreens, and phytonutrients in a tasty smooth shake. Whereas Herbalife offers a limited amount of protein and fiber with artificial ingredients.
You will learn the following in this article:
How the ingredients of Shakeology and Herbalife compare
Why Shakeology is more expensive than Herbalife and why it matters
Why you need shakes to boost your nutrition
Herbalife Formula 1: A Brief Overview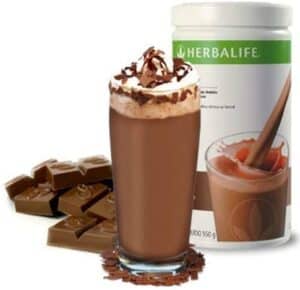 The Herbalife Formula 1 meal replacement shake mix is promoted as a very low-calorie meal replacement shake to help people lose weight. It is to be used in conjunction with a healthy diet and several multi-vitamins and supplements.
Herbalife as a company was formed in 1980 to fight against obesity by providing high-quality nutrition and helping people learn how to eat a balanced diet that would help them lose weight. However, to enhance your nutrition, Herbalife recommends several supplements and additional vitamins that the shake does not provide.
Recommended Supplements in Addition to the Herbalife Formula 1
They recommend the following supplements in addition to their Formula 1 shake:
A multivitamin that contains several additional minerals to boost your nutrition
A "cell activator" containing a mix of aminos, fruits, and other ingredients to support metabolism and nutrient absorption
Herbal tea with an Herbalife proprietary blend that supposedly is full of antioxidants and provides energy from the caffeine
The "Total Control" supplement contains ginger, caffeine, three tea types, and pomegranate rind that provides energy
A water retention supplement that contains parsley, dandelion, asparagus, root, corn silk extract, and electrolytes
Protease enzymes that help with protein digestion
A snacking control supplement containing chromium and other ingredients meant to metabolize carbohydrates and help you control your appetite
While no independent studies are testing their effectiveness, one study funded by Herbalife shows that their diet regimen, including these supplements, helped people lose 12.5 pounds (5.7 kgs) in 12 weeks. The people who lost that much weight replaced two meals with the Formula 1 nutritional shake. However, what is not mentioned is how much of that weight they gained back once they stopped the program.
Cons of the Herbalife Formula 1 Meal Replacement Shake
Some of the drawbacks of the Herbalife Formula 1 weight loss shake include:
They use highly processed ingredients.
Soy protein is the main protein source of the shakes, but they do have a soy-free option (Formula 1 Select: Natural Vanilla) for those sensitive or allergic to soy and soy derivatives.
You need to take extra supplements to get what other health shakes contain already.
You need to consult with an Herbalife representative to get the shakes and supplements.
You can sign up for three levels to give you access to varying levels of weight loss at different price levels, depending on how much you need to lose and how difficult it is for you to lose it.
Some of the supplements used might cause liver damage.
Herbalife is a multi-level marketing company whose distributors are Herbalife "consultants" whose main goal is to sell products and weight loss plans. Any positive review from consultants might be a ploy to sell more products, or they might be telling the truth. So, you must research the claims before you put down any money or commit to a program.
Herbalife Formula 1 Ingredients
While some claim that Herbalife Formula 1 shakes are healthy and can help you achieve your weight loss and health goals, the ingredients seem to suggest otherwise. Soy protein isolate, fructose, cellulose powder, natural and artificial flavors, and honey powder are the first few ingredients, which means not the best quality of ingredients.
However, certain ingredients redeem the shake from the junk food category. Digestive enzymes like bromelain and Proteases Derived from Aspergillus niger and Aspergillus oryaze help keep you regular while also reducing inflammation. Fiber helps keep you full and regular, and the shake contains psyllium husk fiber and citrus pectin for that reason.
A Brief Discussion of Other Ingredients
Several ingredients are better left in the trash than in the shake, as you've already seen. However, other ingredients, like digestive enzymes, are necessary to be healthy. Let's take a closer look at the rest of the ingredients.
Canola oil: To put fat in their shake, Herbalife uses canola oil, but canola is a hybrid word from four words—Canadian Oil Low Acid. The canola plant results from crossbreeding the Rapeseed plant with another plant to create a low acid oil fit for human consumption. It is a cross between mono and polyunsaturated oil.
Corn bran: Bran is a fiber and is included to encourage a full feeling, and it is included with several other fibers to help you lose weight.
Herb and fruit powders: Ginger root, blueberry, acerola cherries, papaya, and pomegranate powders are added for additional vitamins and antioxidants. They are added to give you extra nutrition, but it doesn't have near the number of nutritional food powders that Shakeology has.
Soy protein: Soy contains phytoestrogens that mimic estrogen in the body, but it hits different pathways and is considered hormone disruptors.
Artificial and natural flavors
Many of the other ingredients are unpronounceable. They are there as preservatives and to provide a smooth shake when you mix it with liquids. If you are sensitive to any of these ingredients, you might want to avoid these shakes and look elsewhere for nutritional shakes.
ORDER HERBALIFE FORMULA 1 HERE
Shakeology: A Brief Overview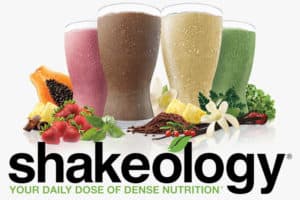 The Beachbody company developed Shakeology as a way to help participants lose weight and get healthy, in addition to their huge selection of workout programs. It contains several whole foods ingredients that contribute to your overall health and digestive well-being.
Probiotics, digestive enzymes, and superfoods like quinoa, spinach, kale, acai berries, and other foods are in the shakes to provide a lot of nutrition without the need for additional supplements and vitamins. It also contains whey protein, giving you 17 grams (0.6 oz) of protein per serving compared to Herbalife's 9 grams (0.3 oz) of soy protein.
Beachbody has an empire of workouts, fitness gear, shakes, and supplements designed to help people get fit and healthy and have more energy to keep up with daily demands and responsibilities.
Shakeology is described as "Your Daily Dose Of Dense Nutrition" by providing you the following core ingredients:
Protein
Superfruits & Antioxidants
Prebiotics & Probiotics
Digestive Enzymes
Adaptogens
Supergreens & Phytonutrients
Vitamins & Minerals
Best of all, Shakeology offers several different flavors and even offers Vegan options:
Whey Based Shakeology Flavors:
Chocolate (released 2009)
Vanilla (released 2013)
Café Latte (released 2016)
Strawberry (released 2013)
Plant Based Vegan Shakeology Flavors:
Chocolate (released 2010)
Vanilla (released 2010)
Café Latte (released 2017)
Tropical Strawberry (released 2010)
Beachbody has definitely made it easier for you to get your daily nutrients that would be difficult to get any other way.
Cons of Shakeology
The downsides of Shakeology include:
Although full of nutrients, it's still not real food, but only a supplement to your diet.
Shakeology is a premium shake at a premium price of $129.95 for a 30 day supply. This averages at about $4.33 per serving, which is higher than basic meal replacement shakes.
The amounts of the superfoods are not listed on the nutrition facts label, so no one knows how much of each ingredient is in the shake.
As with Herbalife, Beachbody is a multi-level marketing company that uses marketers as their "coaches." While you might be okay with that fact, remember that anyone with a small amount of nutrition knowledge can be a coach and distributor, so you might not get sound nutritional advice at all times from these "coaches".
Shakeology Ingredients
Shakeology formulates two separate types of protein shakes: vegan and non-vegan. The vegan shakes contain a blend of pea, oat, chia, rice, and sacha inchi proteins to form a complete protein. The non-vegan shakes contain whey protein isolate and a smaller plant protein blend to enhance the protein amount per serving.
All of their shake mixes contain several "whole food" ingredients that support health, well-being, and energy.
They contain a supergreens blend with spinach, kale, chlorella, and spirulina and a superfruits blend of several berries, including acai and goji berries, and acerola cherries for vitamin C. They also contain a fiber blend of chia, quinoa, and pea fiber, a blend of probiotics for digestive health.
Does Herbalife and Shakeology Really Work?
Herbalife and Shakeology claim that their shakes aid in weight loss and are far superior to other shakes on the market. However, are they really?
Shakeology
Shakeology is part of a vast network of fitness gear, workouts, and other products designed to help you become healthy and fit. They also have diet plans, coaches, on-demand workout videos and for different fitness levels, and community support to help you reach your goals.
Their 21 Day Fix Workout Program, for example, is meant to help you get your diet back on track and help you learn what healthy eating is supposed to be. After you learn what constitutes a healthy diet, you can add Shakeology shakes to your diet as either a meal replacement shake or a healthy snack after working out.
Here's what Shakeology users reported about: Does Shakeology really work? …
Herbalife
Herbalife, on the other hand, offers just three diet levels to choose from. The first level gets you started quickly on their weight loss program, while the second level gives you more tools to lose weight with, and the third level is their ultimate program.
They require you to get supplements in addition to the shakes, as mentioned above, for each diet level you buy.
You can buy Herbalife online, but you need to find an independent distributor to buy more of their products.
Cost Comparison of Herbalife and Shakeology
The Shakeology price  is roughly $4 per serving, while Herbalife is around $1.50 per serving. However, since you need to buy extra supplements with Herbalife to match the same nutrition of Shakeology, you're spending roughly the same amount of money over the long term.
The Herbalife Formula 1 nutritional shake might be cheaper at first look, but you will still be hungry after consuming it because of the lack of adequate nutrition and calories.
Herbalife encourages you to buy appetite suppressants in addition to the shakes. With Shakeology, you have more nutrition and more calories per serving, which can fill you up and keep you satisfied until your next meal.
Over the long term, Shakeology costs roughly the same as Herbalife because of the extra things you need to buy with Herbalife Formula 1 meal replacement shake mix.
Additionally, one of the main reasons that Shakeology is worth more than Herbalife is because of where they source their ingredients. Shakeology sources their ingredients from around the world, here's just a small sample of where the ingredients come from:
Asia – Cordyceps, Hydrilla, Schisandra
Bolivia – Quinoa Seed
China – Astragalus root, Gingko, Schisandra, Barley Grass, Reishi, Goji Berries
Costa Rica – Papain
Madagascar – Vanilla Beans
Mexico – Chia Seed, Moringa
Northeastern Brazil – Acerola
Peru – Yacon Root, Sacha inchi, Maca root
Peruvian Andes – Maca
South America and Central America – Stevia
South American rainforest – Camu-Camu
South America and Canada – Wild Grasses
Beachbody uses strict quality control to ensure that all ingredients can maintained for the long term and are the most potent possible to create the best shake possible.
Learn more about how Shakeology is vigorously tested for potency from the video below:
Click Here to Learn How To Save Money on Shakeology
Finally, Shakeology cost more because it offers more whole food superfoods than any other shake on the market.
There have been several customers who attempted to make a Shakeology alternative by buying every single ingredient found in Shakeology for themselves. What they found was that the supplements required to duplicate Shakeology costed people over $400!
Shakeology is therefore a simple solution to replace several supplements.
Which Shake Contains Higher Quality Ingredients?
As you've already seen, Herbalife contains fructose and sugar towards the beginning of their ingredient list. While they try to add different ingredients to boost their nutrition, it isn't on the same level as Shakeology. With the canola oil and inferior protein sources, Herbalife shakes do not measure up to Shakeology.
Shakeology ingredients are healthier, keep you full, focused, and give you more energy than canola or vegetable oils. With the superfoods blend, you have a powerhouse of nutrients to support your health and weight loss goals.
Beachbody Shakeology vs Herbalife Formula 1 Ingredients
For fair comparison, we will be comparing Chocolate Shakeology and Herbalife Dutch Chocolate.
| | |
| --- | --- |
| Chocolate Whey Shakeology | Herbalife Dutch Chocolate |
| 17 grams of protein | 9 grams of protein |
| 6 grams of Fiber | 3.5 grams of Fiber |
| 18 grams Total Carbohydrates | 13 grams Total Carbohydrates |
| Protein Sources: Whey Protein Isolate (milk), Pea Protein, Flax (Seed), Quinoa (Seed) | Protein Sources: Soy Protein Isolate |
| 250 mg of Alpha-Linolenic Acid (omega-3) | No Omega-3 |
| Sugar Source: Organic Cane Sugar, Natural Chocolate Flavor, Stevia Leaf Extract | Sugar Source: Fructose, Cocoa Powder, Natural and Artifical Flavors |
| Super-Fruit/Antioxidant Blend: Camu-Camu, Acerola Cherry, Blueberry, Bilberry, Lycium Berry (Goji Berry), Luo Han Guo, Pomegranate, Rose Hips, Vitamins A, C, E | Super Foods: None. |
| Super-Green/Phytonutrient Blend: Chlorella, Spinach, Kale, Matcha Green Tea | Super Greens: None. |
| Adaptogen Blend: Ashwagandha, Astragalus, Cordyceps, Maca, Maitake, Reishi, Schisandra, Chaga. | Adaptogens: None. |
| Pre- And Probiotic/Digestive Enzyme Blend: Yacon Root, Chicory Root, Bacillus coagulans, Amylase, Cellulase, Lactase, Glucoamylase, Alpha-Galactosidase, Invertase. | Probiotics: Proteases |
| Noteworthy Ingredients: Himalayan Pink salt | Noteworthy Ingredients: Contains Vitamins and Minerals, Psyllium Husk, Ginger Root, Honey, Pomegrante, Papaya, Blueberry, Bromelain, Papain |
| $4.33 per serving (30 day bag) | $1.50 per serving (XL Tub) |
To get more details and the most up to date ingredients list, follow the links below:
Why Would You Need Shakes to Boost Nutrition?
In a perfect world where all the food you eat contains adequate nutrients to power your day, you wouldn't need a supplemental nutrition shake to boost your nutrition. You would have all the time in the world to cook and eat healthy meals, and there would be nothing to tempt you to eat unhealthy foods.
However, this isn't a perfect world. Depleted soil doesn't produce healthy produce, there are junk food temptations no matter where you turn, and life moves super fast that it's difficult to cook only healthy meals.
Nutritional shakes help you stay on track when you don't have time for a healthy meal, and it gives you extra nutrition in addition to your well-balanced diet.
Which Is Better: Shakeology or Herbalife?
So, what is the verdict? While Herbalife can help you reach your goals, Shakeology gives you more nutrition for your money without any additional need for extra supplementation or appetite suppressants.
Shakeology contains healthy fats, protein sources, and fiber sources, and you can use it with a healthy diet that you choose.
Herbalife shakes must be used within the Herbalife diet levels, with the requirement of purchasing additional products.
The clear choice is Shakeology, even though it is pricier per serving than Herbalife shakes.
Sources