Dietary fruit and vegetable supplements are becoming increasingly popular these days, and there are so many to choose from. It is becoming harder and harder to decide which supplements on the market are actually worth buying. Today, we will look into Texas SuperFood.
Texas SuperFood is a good investment for those who find it hard to eat the proper amount of fruits and vegetables every day. It uses fresh, organic superfood ingredients to give your body the nutrition it needs; plus, the added benefits of probiotics and digestive enzymes.
Dietary supplements can greatly increase your health if you choose the right one. Since there are so many to choose from, it can be hard to decide the best option.
This article will describe in detail the pros and cons of Texas SuperFood, look at a few different options for dietary supplements, and provide answers to frequently asked questions about the product.
What Is Texas SuperFood?
Texas SuperFood is a company that makes dietary supplements. The powdered product comes in both capsule and powdered form.
The capsules can be taken as is, while the powder can dissolve in water. Most people use it in their smoothies. The powder is made from a combination of fresh fruits, vegetables, herbs, algae, grasses, and enzymes.
Texas SuperFood is meant to be a nutritional supplement for people who find it hard to eat the proper amount of vegetables and fruit every day. The company uses all organic foods that are locally grown in the U.S. and contain no GMOs.
What Are the Texas SuperFood Product Options?
There are three main products that Texas SuperFood offers. Let's take a look!
Texas SuperFood Essentials
This is the lowest costing SuperFood product, going for $35. Let's look at some of the main features:
Gluten, dairy, and soy-free
It aids in detoxification a little bit (not as much as the other products available)
It has some ability to support energy and nutrition
Has fruits and vegetables
It is GMP certified
Made in the USA
It is available in capsule form
It is not available in powder form
Does not contain probiotics
Does not contain enzymes
Does not contain beneficial algae and grasses
Does not contain beneficial herbs
Does not have 100% USDA organic ingredients
ORDER TEXAS SUPERFOOD ESSENTIALS HERE
Texas SuperFood Original
This product costs $54.95, and you can buy a single, double, or family size (three bottles). You can either subscribe or buy the product one time.
Here are a few key features of the SuperFood Original product:
Gluten, dairy, and soy-free
Helps with detoxification
Supports nutrition and aids with energy
Has fruit and vegetables
GMP certified
Made in the USA
Available in capsules and powder form
Tastes like a 'green veggie'
Contains some probiotics
Contains some enzymes
Contains some beneficial algae and grasses
Does not contain beneficial herbs
Does not contain 100% USDA organic ingredients
ORDER TEXAS SUPERFOOD ORIGINAL HERE
Texas SuperFood Complete
The Texas SuperFood Complete costs $49.95 for a single container. You can buy a single, double, or family size (three bottles).
Let's take a look at the key features of the Texas SuperFood Complete:
Gluten, dairy, and soy-free
Helps with detoxification
Helps with energy and nutrition
Contains fruits and vegetables
GMP certified
Made in the USA
It is available in both capsule and powdered form
Has a 'sweet' taste
Contains probiotics, enzymes, beneficial algae and grasses
Contains beneficial herbs
Contains 100% USDA organic ingredients
ORDER TEXAS SUPERFOOD COMPLETE HERE
Is Texas SuperFood Dairy Free?
The powder is not only dairy-free but meets a number of other standards:
GMO-free
Dairy-free
Gluten-free
Nut-free
No sugar added
Soy-free
Pros of Texas SuperFood Original Powder
There are a lot of positive things about this product. Here are some:
It Has Many Health Benefits
Since the powder contains so many nutritional benefits, there are many different things it can help with.
The mix will help increase your energy and performance.
It will also help you sleep better since it will be fulfilling all of your body's nutritional needs.
It will help with your mental focus and will elevate your mood.
The product can also be beneficial for your skin and will help keep it clear.
It will increase your organ health and function.
Lastly, it will encourage a balanced weight.
You Can Order Texas SuperFood on a Monthly Subscription
Another positive thing about this product is that you are able to subscribe and get Texas SuperFood every 30 days. The company automatically takes the money out of your account, so you don't have to worry about anything after you subscribe. Lastly, if you get the subscription, it will be a lower price than if you buy it one time.
It Will Lower Your Cardiovascular Risk Factors
According to the Journal of Cardiovascular Nursing, increasing your daily intake of fruits and vegetables can decrease the risk of cardiovascular risk factors. A lot of people find it hard to eat five to nine servings of fruits and vegetables every day, which is recommended by USDA. Working Texas SuperFood into your diet will make that much easier and will also increase your health.
Texas SuperFood Has Healthy Ingredients
Texas SuperFood has a lot of healthy ingredients that will benefit your body. Let's take a closer look at the ingredients:
Artichoke
Broccoli
Beetroot
Dandelion
Kale
Chicory root
Monk fruit
Acai
Turmeric
Pea protein
Maca
Fruits and vegetables provide essential vitamins and minerals, including calcium, folate, and potassium. They can also prevent bowel cancer by providing a good amount of fiber.
The high amount of fiber will also prevent constipation and increase gut health. Furthermore, eating enough fruits and vegetables will help you maintain a healthy and balanced diet.
Texas SuperFood also contains a variety of algae and grasses:
Chlorella
White mulberry
Peppermint
Cassia seed
Pine bark
Wheatgrass
Spirulina
Algae and grasses can offer many health benefits like vitamins, minerals, protein, and antioxidants.
Lastly, Texas SuperFood Original also contains enzymes:
Amylase
Diastase
Protease
Lipase
Bromelain
Invertase
Glucoamylase
Phytase
Beta-Glucans
Hemicellulose
The enzymes have been known to help starch digestibility, help with arthritis pain, and decrease inflammation. Overall, the product has 30 fruits, 25 vegetables, 9 enzymes, and 8 greens.
They Offer One of the Easiest Ways to Reach Your Fruit and Vegetable Intake
As previously mentioned, reaching your proper vegetable and fruit intake can be pretty difficult. The product offers both powder and capsule form, which gives you a few options to choose from for your ease.
The powder dissolves in water, which makes it easy to have any time of the day. The capsules are also easy to take with you in a bag or purse, so you can bring the nutritional supplement on the go with you.
The Ingredients Are Naturally Grown and Vine-Ripened
The company states that all of its ingredients are naturally grown in the USA. They grow the fruit and vegetables to the perfect ripeness, and then they cold-press the ingredients to extract all of the nutrients. After this, they turn it into the powdered product.
There Is a 30-Day Money-Back Guarantee
Another great thing about Texas SuperFood Original is that you can get your money back if you return the product within 30 days. This period starts on the first day you buy the product. If you do ask for a refund, you will be asked to return any unused product. The company also provides free shipping for refunds and exchanges.
This feature is great for those who are not sure how their stomach will react to the SuperFood powder. It will also allow you to see if the product actually helps your sleep, your mood, and all of the other things they claim on the website.
Cons of Texas SuperFood Original
A review is not complete without looking at the cons of the product. Let's get into it.
It's a Bit Expensive
A big downside of this product is its price. A single container of Texas SuperFood (either capsules or powder) costs $59.95, which only lasts for 30 days.
The reason that this is a bit expensive is because it's only used as a supplement. It doesn't offer more calories, protein, fiber, or carbohydrates to be considered a meal replacement.
It also doesn't offer enough super greens to fully be considered a Super Greens Powder.
In both cases above, you would need to get an additional meal replacement or super greens powder to further supplement your diet.
However, if you purchase a monthly subscription, the cost comes to $54.95 a month. If this is something you want to invest in the long-term, it will come out to $659.40 a year.
Although there are often sales on the products, for instance, if you buy the family size, which is three bags of the SuperFood powder, it comes out to $46.71 a month. This would cost you around $560 a year.
There Is No Data to Support the Company's Claims
When it comes to the company's claims, there is no scientific data to support them. The company claims that the product will help improve sleep quality, support physical energy and performance, mental focus and clarity, a balanced weight, radiant skin, and elevated mood.
These are some strong claims not to have support, so the claims will not be guaranteed if you do buy this product.
Furthermore, even though there is scientific data to support that fruit and vegetables will increase your health, the labels on the product do not say exactly how many fruit and vegetables are in the product.
There Can Be Negative Side Effects
Something that is not mentioned on the company's site, but it is important to note, is that there may be negative physical side effects of the product. This would most likely be due to introducing something new to your diet.
The physical symptoms could include:
Excess gas or changes in bowel movement
Allergic reactions
Headaches or nausea
Before you buy the product, make sure to review all of the ingredients and make sure you are not allergic to anything.
It might be beneficial to start off small with the portions and work your way up to the suggested amount to make sure there won't be any negative side effects. You can also check with your doctor to make sure it is safe for you to use the product.
The Company Has an FDA Warning
In 2015, the FDA issued a warning to the company telling them to not advertise the SuperFood as drugs or cures for illness. Even though increased fruits and vegetables will increase your health, the product cannot cure any health issues and should not be used for that purpose.
When a company has an FDA warning, its customers could question the reliability and the motivation of the company leaders. If consumers can see through the business's false marketing tactics, the relationship between the consumer and business will not be as strong.
Since Texas SuperFood has had a few warnings, you may want to consider what the company's true goals and motivations are. Do they really want to promote health, or do they just want money?
The Owner Has No Medical Expertise
There was also something else included in the FDA warning, which was towards the company's owner himself. The FDA asked him to clarify in the company's advertising that he is not a medical doctor. Dr. Dennis Black is the owner of the company and is a doctor of Natural Medicine.
The Company Has a Limited Selection of Products
Another big downside of Texas SuperFood Complete is that it has only one basic product that comes in a variety of forms (capsules and powdered drinks). Many of the competing businesses provide things like protein shake mixes, protein bars, and chewables.
If you want to invest your money into a company, it would be beneficial to invest in one with a variety of products to choose from since your needs and wants may change throughout the year.
What Are the Customers Saying?
Another great way of investigating the quality of a product is to see what customers are saying.
It can make your hair healthier.
It can make your skin more radiant.
The bottles look identical (the powder bottle and the capsule bottle) so make sure to pay attention to that when ordering.
It helps with your quality of sleep and increases your energy levels.
Texas SuperFood is overpriced and did not cause any noticeable changes to my body.
It can bother your stomach.
It is very expensive.
The product did not help with energy levels.
The product lowers the chances of getting sick.
Texas SuperFood helps to maintain weight loss.
As you can see, there are many mixed reviews, but overall, the company gets mostly positive feedback from its customers. Everybody is different; therefore, some people will react differently than others.
Is There a Texas SuperFood Original Alternative?
Since most dietary nutritional supplements are pretty pricey, it is good to know your options before investing in one company.
Furthermore, different people have different needs. Lifestyle plays a big role in the product you purchase, so deciding how you want your dietary supplements to fit into your daily life will also help you decide what company to go with.
Let's take a look at some other options there are for nutritional supplements.
Beachbody Shakeology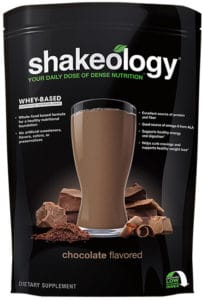 Shakeology is a shake-based product and has a variety of flavors, including Vanilla, Café Latte, Chocolate, Strawberry, and many more.
Shakeology is a nutrient dense shake that provides more nutrients than a common meal replacement shake. The nutrient groups in Shakeology includes the following:
Protein
Superfruits & Antioxidants
Prebiotics & Probiotics
Digestive Enzymes
Adaptogens
Supergreens & Phytonutrients
Vitamins & Minerals
Many Shakeology users have easily replaced several supplements with Shakeology. Additionally, Shakeology was first introduced to the public in 2009, and has continued to improve in quality and popularity as the years have passed on.
Shakeology has been:
Clinically studied to help reduce cravings.
Can benefit your overall health so you can feel better.
Provide healthy energy.
Support healthy weight loss.
Support regularity and healthy digestion.
Shakeology costs $129.95 for a 30 Day serving bag and can save money by having Shakeology shipped on a monthly basis.
Check Out the Following Detailed Shakeology Review
SuperGreen Tonik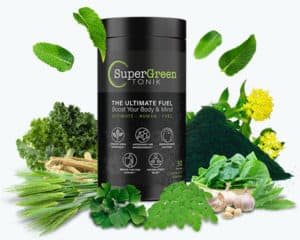 SuperGreen Tonik is my personal favorite super greens powder because of the unique Brain Blend (Nootropic Blend). This Nootropic Blend helps me focus and concentrate better than anything else I have tried.
SuperGreen Tonik also provides a Leafy Green Blend, Immunity Blend, and Vitamins & Minerals.
The creator of SuperGreen Tonik made it specifically to help people with Chronic Fatigue Syndrome, who suffer from constant sleepiness and brain fog (like himself). This means he looked into the research of all the ingredients in SuperGreen Tonik and made sure to have the right dosage of each ingredient.
Plus, SuperGreen Tonik specifically stated the amount of each ingredient that is used. Which is something almost no supplement on the market does.
Read My Complete SuperGreen Tonik Review Here
Athletic Greens
Athletic Greens is a super greens powder that is becoming very popular in the athletic world. Having only one flavor, it is vegan, paleo, and keto-friendly, and has over 70 healthy ingredients.
The product has been designed by doctors, naturopaths, and nutritionists. It helps with immunity, energy, recovery, and digestion. Athletic Greens is also formulated to be easy on your stomach, so you won't have to worry about negative side effects.
Athletic Greens costs $97 for a pack that will last 30 days.
Check Out the Following Detailed Review on Athletic Greens
Green Vibrance
Green Vibrance is another powdered drink that is a plant-based superfood. Green Vibrance is gluten-free, non-GMO, and vegan. The powdered drink is supposed to help with nutrition, circulation, digestion, and immunity. It is also said that it helps to increase your energy and boost your immune system.
The retail price for a 30-day container is $56. Green Vibrance has hundreds of great reviews, and the product has won numerous awards.
Patriot Power Greens
This product was developed by doctors and was initially meant for military veterans and members to support all-day energy, healthy aging, and to decrease inflammation.
The powder has over 60 ingredients that include fruits, vegetables, probiotics, and superfoods. One container has 30 servings and costs $49.95.
Patriot Power Greens is especially great for elderly customers. It also supports cardiovascular support and helps with detoxification.
ORDER PATRIOT POWER GREENS HERE
Texas SuperFood Original Frequently Asked Questions
Does Texas SuperFood Contain Corn?
Texas SuperFood does not have any corn byproduct, derivatives, or corn. The product contains 55 naturally grown raw vegetables and fruits and contains no toxic chemicals.
There are also no animal products, eggs, gluten, soy, wheat, isolated sugar, sodium, fillers, binders, preservatives, artificial colors, sweeteners, or synthetic additives.
Is Texas SuperFood a Whole Food?
Texas SuperFood is not food; it is a food supplement with many healthy ingredients such as raw vegetables and fruits that are naturally grown.
It is a powdered drink that dissolves in water. You can use it simply in a glass of water, or use it with your cooking or smoothies.
Is Texas SuperFood Completely Organic?
All of the ingredients that the company uses are locally grown in the U.S. The farms all hold an organic certification. Texas SuperFood's dream is to develop some of the most high-quality dietary supplements.
While the ingredients are completely organic, Texas SuperFood Original is not organic since some ingredients are not 100% organic.
How Is Texas SuperFood Made?
The company uses a unique process to manufacture their products. The ingredients are harvested and then picked at the perfect ripeness. Then, they cold-press the vegetables and fruits to extract all of the desired nutrients. The cold-pressed juice is then turned into the powder.
Texas SuperFood does not cook or heat the vegetables or fruit prior to the cold-press process. This is because when you pre-cook fruits and vegetables, some of the nutrients will be lost. By not cooking it, the SuperFood contains the maximum amount of nutrients possible.
Is It Possible to Know the Concentration of Vitamins and Minerals Texas SuperFood?
It is impossible to tell the exact amount of minerals or vitamins in each capsule because each carrot, for example, has a different concentration of vitamins. Texas SuperFood has thousands of minerals, vitamins, natural dietary polyphenols, phytonutrients, and anthocyanins. Those minerals and vitamins come from naturally grown fruit and vegetables.
When you use Texas SuperFood, you should not see it as a certain concentration of a specific vitamin or mineral, but a nutritionally dense capsule that will provide a healthy amount of nutrition.
Is Texas SuperFood Made in the U.S?
While most of the ingredients are grown in local USA farms, a few ingredients are imported from other countries, including Austria, Canada, Brazil, Thailand, Croatia, Italy, and a few more.
Texas SuperFood only imports ingredients from other countries when they are not available and possible to grow in the U.S locally. The company also makes sure that each supplier has a Certificate of Analysis to ensure authenticity.
Are There GMOs in Texas SuperFood?
The product doesn't contain GMOs (genetically modified organisms). Furthermore, Texas SuperFood doesn't have any pesticides and herbicides in the product. There are also no animal products or byproducts. Every ingredient was specially selected for its nutritional benefit. Lastly, the product doesn't contain any stimulants or caffeine.
What Is the Difference Between the Texas SuperFood Original Capsules and Powder?
Both the capsules and powders are made the exact same way. The only difference is the capsule itself. Many people who use the powder use it in their morning smoothies, while people who use the pills like to take them throughout the day. Furthermore, the capsule casing is vegetarian safe.
It's important to note that you will be taking 6 capsules a day to get one serving of a scoop of the powder mix. If you don't like swallowing pills, this may be an issue.
Where Can I Buy Texas SuperFood for the Best Price?
You can buy the product on Amazon and at Walmart. However, the best price will be through the Texas SuperFood website itself. Shipping is free if you live in the U.S. If you want the most value, purchase the family bundle (the three-pack).
ORDER DIRECTLY FROM TEXAS SUPERFOOD HERE
What Is the Recommended Serving Size for Texas SuperFood?
They recommend taking six capsules every day, two with each meal. There are 180 capsules per bottle, so the bottle will last 30 days.
For the powder, it is recommended to take one heaping teaspoon (6g) every day. The bag is 180 grams, so it will also last 30 days.
Is Texas SuperFood Worth It?
There are many benefits of purchasing Texas SuperFood. If you consider yourself moderately healthy in daily life and simply want a health boost, this is probably a great product for you.
Texas SuperFood will also be beneficial for those who are either too busy or who just don't know how to get the proper portions of their daily vegetables.
Using the Texas SuperFood products will be very simple and easy, so overly busy people will benefit from the product and all of its nutrients.
You can take the supplements to experience any of the claimed health benefits such as increased sleep quality, clear skin, and any of its other claims. However, if you experience trouble with a specific problem (such as lack of sleep), the best thing to do would be to see a physician.
Conclusion
Texas SuperFood with Probiotics and Enzymes comes in two forms, including capsules and powdered drinks. You are able to get a refund after 30 days if you are not happy with the product. It has many health benefits, including decreased risk of cardiovascular issues.
It also supports increased sleep quality, clearer skin, enhanced mood, higher energy levels, weight loss, and general health. Lastly, the fruits and veggies that are used in the product are not cooked beforehand, so they contain the highest amount of nutritional value possible.
However, it's not easy to see what nutritional value you are getting as the Supplement Facts cannot provide this due to fluctuations in harvest.
Additionally, Texas SuperFood was not designed by medical doctors and the company received an FDA warning.
Furthermore, there is no scientific data to support the claims that the company provides (better sleep, enhanced mood, etc.). There can also be adverse physical side effects such as stomach issues, diarrhea, bloating, headaches, nausea, and allergic reactions.
While Texas SuperFood looks to be very promising due to the details given in the ingredients, I would recommend you also check out the Texas Superfood alternatives mentioned above before deciding to order Texas SuperFood.
Click Here to Check Out the Texas SuperFood Alternatives
…OR…
Sources