If your child is refusing to eat regular foods or perhaps needs a little more nutrition in their life, you may be thinking about using PediaSure. However, it's important to look into how to use this children centered shake correctly before you use it.
PediaSure is not advised to be used as a meal replacement. Instead, it can be added to a child's diet to help them grow if they are underweight. The best option for your child is to give them whole foods instead of using PediaSure as a meal replacement.
In this article, you will learn about what PediaSure is, what it is used for, and why it is more commonly used as a meal supplement instead of a meal replacement. You will also learn about other meal replacement options.
What is PediaSure?
PediaSure markets itself as a nutrition drink for kids. It comes in five different flavors, including vanilla, chocolate, strawberry, banana, and berry. Most of their products are made for children that are 3-4 years old.
Grow and Gain is PediaSure's most popular product. It comes in a liquid and a powder form. They also make PediaSure Grow and Gain Organic, which is just like Grow and Gain, but it includes organic ingredients.
PediaSure Sidekicks is another product that was designed to include 40% more protein.
Finally, PediaSure Pro is their newest product. It is a nutrition drink made for older children and teens between the ages of 9-15.
What Are the Ingredients?
PediaSure is a milk-based product that contains a lot of unhealthy ingredients.
The first seven ingredients are water, corn maltodextrin, sugar, a blend of vegetable oils (canola and corn), milk protein concentrate, soy protein isolate, and nonfat milk.
Organic PediaSure products have organic versions of the same ingredients.
Corn maltodextrin, the second ingredient in PediaSure, is typically put in soft drinks and candy. Research shows maltodextrin may cause diabetes. Different studies also show that maltodextrin has a negative influence on people's gut bacteria, causing various health issues.
The third ingredient in PediaSure is sugar. Sugar has been found to decrease energy, cause skin problems, increase the risk of heart disease, damage teeth, and more.
So two out of three of the most prevalent ingredients in PediaSure have been found to have adverse health effects.
However, PediaSure does have some nutritional value.
Each shake provides 7g of protein and 27 vitamins and minerals and varying amounts of calcium and potassium. It also includes antioxidants, which are important for immune support, and DHA omega-3, which promotes healthy brain development.
While PediaSure does provide some nutritional benefits, it's main ingredients have been found to cause health problems, so it may not be the best option for your child.
Who Is PediaSure Made For?
PediaSure is made for kids below the normal height and weight levels for children in their age group.
On the PediaSure website, it says that within eight weeks, PediaSure can help your child grow out of "at-risk weight-height percentiles" if he or she drinks two shakes per day. By 24 weeks, they say your child's weight and height will be even better.
Is PediaSure a Meal Replacement?
PediaSure does not market itself as a meal replacement, and it is typically not used for this purpose.
On the PediaSure website, they say that PediaSure is a great supplement to add to a healthy diet. They recommend drinking PediaSure as a snack, having it with a meal, or adding it to a recipe. But they never recommend using it as a meal replacement.
Some doctors will prescribe PediaSure to kids who are underweight to help increase their calorie intake or help them get the nutrition they need if they have a chronic illness.
PediaSure is typically used as a supplement to add extra nutrients to a child's diet, not as a replacement for a meal.
So, to state it plainly, PediaSure is not intended to be a meal replacement. Even if it was, it isn't exactly a healthy option. If you want some healthier meal replacement options, check out the suggestions below!
Better Meal Replacement Options for Children
Whole Foods
The best meal replacement is not to replace your child's meals at all. Nothing beats eating real, healthy whole foods.
While meal replacement shakes may seem like an easy alternative for kids who are picky eaters, Children's Healthcare of Atlanta says that providing your picky eater with shakes instead of encouraging them to eat real foods can harm them in the long run. Here are the reasons why:
If they are only drinking liquid shakes, they won't develop normal eating skills, like using a fork or chewing.
Meal supplement/replacement shakes do not look like regular foods. Only feeding your child shakes can inhibit their ability to recognize different foods if, for example, they've only ever seen an apple or a piece of broccoli in liquid form.
Shakes have a certain texture and taste. If your child is a picky eater, they may refuse to try things that taste and feel differently than their shake in the future.
However, if your child needs to go on a liquid diet for medical or weight-related reasons, here are some options you can try.
Smoothies
Smoothies are delicious, nutritious, and a wonderful meal replacement option. If your child needs to gain weight, you can add ingredients that are high in fat such as avocado, nut butter, and full-fat milk to increase their calorie intake healthily.
If your child is lactose-intolerant, you can use non-dairy substitutes such as cashew or coconut milk.
Occupational therapist Alisha Grogan recommends trying this Natural Weight Gain Smoothie if your child needs to gain weight, but you don't want to give them unhealthy ingredients. The ingredients in this smoothie are:
1/2 cup of coconut milk (whole fat)
1 semi-ripe banana (ripe bananas are more flavorful!)
1/2 of an avocado
1 tsp vanilla extract
These ingredients are high in healthy fat and calories, so this smoothie will provide your child with the calories they need!
If you want some more smoothie options, check out these four delicious smoothie recipes by YouTuber and mom Emily Norris. She makes her smoothies using very nutritious ingredients, such as beetroot and carrots.
Beachbody Daily Sunshine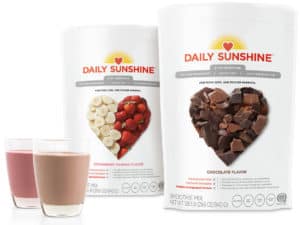 While whole foods and healthy smoothies are always better options than premade shakes, Beachbody Daily Sunshine is a good option if your child needs quick and easy liquid nutrition. These shakes come in two flavors, including Chocolate and Strawberry Banana.
The main nutrient groups in Daily Sunshine includes:
Fruit And Veggie Blend
Plant-Based Protein
Healthy Fats
Calcium And Vitamin D
Antioxidant Vitamins C And E
Fiber
Probiotics, which are great for increasing the good bacteria in your body.
Here are a few more benefits to Daily Sunshine compared to other children center shakes:
Made with Organic Fruits and Vegetables, Organic Pea Protein, and ALA Omega-3 Fatty Acids
Formulated with Fiber, Probiotics, Antioxidant Vitamins C & E, Calcium, And Vitamin D
Nutritionist Developed
Pediatrician-Approved Formula
Kid-Approved Taste
Certified Organic By QAI
Soy-Free, Dairy-Free, Gluten-Free, And Non-GMO
No Artificial Flavors, Sweeteners, Or Preservatives
LERAN MORE ABOUT BEACHBODY DAILY SUNSHINE HERE
While these ingredients are not as great as what you would get out of a homemade smoothie, they are better than what is in some of the other leading meal replacement/meal supplement products.
Conclusion
PediaSure is not a meal replacement shake, but a supplement to help children who are underweight achieve normal height-weight percentiles.
While doctors sometimes recommend PediaSure for this purpose, its main ingredients are not healthy and may not be a great option for your kids.
If you'd like a healthier meal replacement or meal supplement option, try smoothies or Beachbody Daily Sunshine. However, the healthiest option for your child is to eat nutritious whole foods instead.
Sources