You know that super greens can boost your nutrition and make you healthy, but there is only one problem with them—you can't stand the taste or consistency of them. No matter what you've tried, you can't seem to get them down. If you are unable to drink them, how can you benefit from the nutritional properties of super greens?
To make super greens taste better, you can put them in a yogurt smoothie, bake with them, add them to hummus for a veggie dip, or soup for a nutritious meal. You can even create a tropical smoothie or a super green latte. Super Greens easily taste better with other healthy ingredients.
Super greens can be a tasty alternative with the right ingredients, so let's get started, shall we?
Pair Your Super Greens With Yogurt
Yogurt has a very strong acidic flavor that balances the strong earthy flavor of super greens powder, but instead of using your usual yogurt, why not try a full-fat Greek yogurt with fresh fruit? The yogurt's fat neutralizes the greens' grassy flavor, and the tang can accent other flavors like berries, lemon, and greens.
The yogurt can be a base for smoothies, soups, baked goods, or a smoothie bowl with several additions like berries, almonds, or granola. Mix the greens powder and sweetener in yogurt, then add whatever you want on top to finish off the smoothie bowl.
Yogurt Smoothie With Super Greens
This is a basic recipe for a yogurt smoothie, but feel free to use whatever ingredients you prefer or have on hand.
Here are the ingredients that you will need:
One frozen banana
½ cup frozen blueberries
1 cup milk, dairy-free if needed
½ cup yogurt, preferably full-fat
One scoop super greens powder
2 tsp ground flaxseed
1 tbsp coconut oil
Add all ingredients into a high-powered blender and blend for 30 seconds to a minute. Pour into a glass and enjoy.
Bake With Super Greens Powders
Super greens don't always have to be placed in liquid. You can make superfood muffins by adding greens powder to the dry ingredients, then mix everything else and bake. There is a concern that high temperatures could destroy the greens' nutrition, but the loss is minimal, and the benefits of adding it to baked goods outweigh the loss.
Blueberry Muffins With Super Greens
A basic muffin recipe usually includes all-purpose flour, sugar, and hydrogenated oil. However, if you're trying to be healthy by using the super greens powder, then a different muffin is in order. Even whole wheat can be a problem for health.
Ingredients
If you can handle nut or coconut flour, then try this recipe. Here are the ingredients that you will need:
One ¼ cup cashew or almond flour
¼ cup coconut flour
2 tbsp unflavored whey protein powder
½ tsp xanthan gum
1 tbsp baking powder
¼ tsp sea salt
One scoop super greens powder
½ cup powdered monk fruit baking blend
Two medium eggs
¼ cup liquid coconut oil (or melted butter, if you like)
1 ½ tsp vanilla
¼ cup sour cream
1 tbsp milk or water, if needed for consistency
1 cup fresh or frozen blueberries
Procedure
To make blueberry muffins with super greens, follow these steps:
Preheat oven to 350℉ (175℃).
Prepare muffin tins by putting muffin liners in the tins, and spray the liners with oil. Then, set aside.
In a medium bowl, mix dry ingredients until no clumps remain. Then, set aside.
In a large bowl, blend vanilla, eggs, and oil or butter, until it reaches a slightly creamy consistency. Add sour cream and blend well.
Add the dry ingredients to the wet ingredients and mix until everything is just moistened. The batter should be thick yet slightly thin enough to spoon into the muffin tin liners. If it is too thick, add milk or water and mix. When it reaches the correct consistency, fold in blueberries.
Fill each muffin liner with batter, making sure to get a good amount of blueberries in each muffin. Fill each one to the top, as they don't rise as traditional muffins do.
Bake for 17-20 minutes, or until the tops are slightly browned, and the muffins pull away from the sides a little bit. Cool for 5-10 minutes, then move it to a cooling rack to cool the rest of the way.
Have a muffin on your way out the door for an on-the-go nutritious breakfast.
Add a Banana and Peanut Butter
If you're making a smoothie, a banana and peanut butter can turn your super greens into an indulgent treat reminiscent of the peanut butter and banana sandwiches from your childhood. Add some monk fruit chocolate syrup, and you have a dessert drink.
Bananas have a strong yet mild flavor that blends well with several other ingredients and can temper down the greens powder's bitter flavor. The peanut butter gives a nutty flavor that works well with the greens' earthiness, making it easier to get down.
You can put other foods or flavorings with a banana or peanut butter to create different flavors, including:
Monk fruit sweetened chocolate syrup can pair well with either a banana or peanut butter.
Frozen berries and a banana will keep the flavor of the greens in the background of your smoothie.
Try a bit of unsweetened caramel creamer with peanut butter and chocolate syrup.
Instead of a smoothie, you can mix greens with unsweetened yogurt, Stevia, and peanut butter. Then, put banana slices on top with a few almond slivers.
Make Nutritional Dips and Pair With Crackers or Veggies
Super greens powder can be mixed into hummus, sour cream, or other dips to pair with crackers or vegetables. Hummus is especially favorable to greens powder as the flavor is earthy like greens powder and can counteract the bitter flavor.
Sour cream mixed with greens powder, onion powder, garlic powder, and various herbs can create a flavorful dip that gives you nutrition with every bite. Buy a container of spinach/artichoke dip and mix some super greens powder in the dip. The artichoke and strong cream cheese will make the greens powder a background note in your dip.
If you're looking for a lower-carb option, eat the dip mixed with greens by itself without crackers or veggies.
Create Super Green Fat Bombs
Fat bombs are small servings of coconut oil, coconut cream, or butter and cream cheese mixed with flavors and other ingredients. Those on a Ketogenic diet use them to supplement their fat intake and help put them into ketosis, or fat-burning mode. (Not to be confused with ketoacidosis, which is a dangerous condition for those with diabetes.)
Super green fat bombs can be a way to give you a little extra nutrition while getting a dose of healthy fats for energy. If you've never made a fat bomb, the process and the ingredients make them simple to make.
Super Green Fat Bomb With Chocolate
Ingredients
Here are the ingredients that you will need:
½ cup nut butter of your choice
½ cup coconut butter
3 tbsp cocoa powder
One scoop super greens powder
¼ cup sweetener of your choice, preferably monk fruit or stevia baking blend
1 tsp vanilla
½ cup shredded unsweetened coconut, if desired
¼ cup chopped nuts like pecans, if desired
Procedure
Here are the steps that you should follow:
Using a small saucepan, melt the nut butter and coconut butter until it reaches a liquid state.
Remove from heat, and add the cocoa powder, super greens powder, vanilla, and sweetener. Mix well.
Fold in the coconut and nuts, if using.
Spoon or pour the mixture into a silicone mold or mini-muffin tin lined with liners.
Place in the refrigerator until set.
When the fat bombs are set, remove them from the mold or the pan, place them in a resealable bag, and keep them in the refrigerator.
These work as a low-carb snack when you crave junk food and will keep you on track.
Have a Tropical Smoothie
Pineapple, mango, coconut, and other tropical fruits blend well with super greens, as they provide the sweetness and tart, acidic flavor to counteract the bitterness of super greens powders. You could use pina colada flavors or go completely tropical and blend a banana with pineapple, mango, and coconut with super greens.
A yogurt base will add acidity, while the creaminess will blend well with the bitter greens. The fruit will add the sweet element, making the super greens barely discernible.
When you're in the middle of winter in a cold region and dreaming of the tropics, this smoothie can at least help you experience the tropics even if you're stuck inside.
Add Spices to Your Drink
Chai lattes, complete with cardamom, ginger, cloves, and cinnamon, work with super greens and make the bitter taste spicy. Savory spices like turmeric and chili pepper can make the super greens into a savory treat. Soups work well with these spices, along with herbs like dill, rosemary, and thyme.
Hot Spiced Chai With Super Greens
Ingredients
These are the ingredients that you will need:
1 serving black tea in a teabag
⅛ tsp ground cinnamon
⅛ tsp ground cardamom
A pinch of nutmeg, ginger, cloves
8-10 ounces (237-296 ml) hot water
One scoop greens powder
½ cup milk of your choice
Procedure
To make hot spiced chai with super greens, follow these steps:
In a small saucepan on the stove, bring to boil water, spices, and teabag.
Remove from heat and let sit for five minutes.
Place a strainer over a large mug and pour the liquid through the strainer into the mug. Then, set aside.
Place milk and greens into a personal blender along with the tea mixture. Blend well, then pour into the mug.
Turn Your Super Greens Into Soups and Sauces
Soups and sauces, as mentioned earlier, lend well to super greens. Tomato soup, with some greens powder, can go well with a grilled cheese sandwich. Pesto sauce is made with basil, pine nuts, olive oil, and parmesan cheese. The addition of super greens powder will not change the flavor or color very much, but it will change the nutritional content, making it a healthy addition to your meal.
You could also put super greens in a squash or pumpkin soup for a unique fall treat. Pair the soup with grilled chicken and pita bread for a balanced meal.
Have a Super Green Latte
Lattes are drinks made with milk mixed in with coffee or tea. A popular coffee chain specializes in lattes, such as "salted caramel latte" and Nitro Cold brew latte. Coffee has a very strong flavor and can take away the earthy, bitter flavor of super greens. When sweetened and mixed with milk, a super green latte might be a unique and satisfying drink.
You can make a super green latte by adding coffee, your favorite sweetener, milk of your choice, and a scoop of super greens powder into a blender. Blend well and enjoy.
Try Super Green Capsules
If none of these suggestions work for you, try taking super green capsules, as you won't need to worry about the taste. The same greens in the capsules are the same found in canisters of powders that you drink, so you're getting the same nutrition. The benefit of capsules over drink powders is that you will get the nutrition in seconds compared with drinking the greens.
Unfortunately, greens capsules cost significantly more per serving than when in drink form because it takes extra time to make versus putting the greens in the canisters. While they cost more, they are more convenient, and you can take them quickly and get on with your day.
Super Greens Powder Recommendations
Now that you know how to turn your super greens into tasty foods and drinks, you need to know what brands to use in your quest for health. Look for brands that don't use fillers or artificial sweeteners, flavors, or colors.
SuperGreen Tonik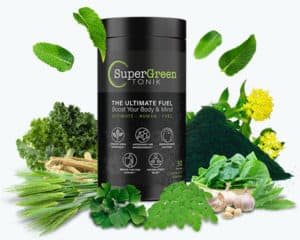 SuperGreen Tonik contains 16 superfoods like spinach, kale, spirulina, and chlorella, which provides several vitamins and minerals such as B12 and vitamin A. It contains only superfoods and stevia leaf extract, with no fillers or extra ingredients to get in the way of optimal nutrition.
The benefits of SuperGreen Tonik include the following:
Promotes stress relief and increase focus using L-Theanine
Gingko leaves improve brain function
An improved immune system
Protects against heart disease
Improves cholesterol and blood sugar levels
Reduces inflammation, which can cause several health problems
Additionally, SuperGreen Tonik has a transparency policy for their ingredient labels and don't hide a thing. Other companies use the words "proprietary blend," where they can hide certain ingredients that are not particularly healthy and not state how much of each ingredient is actually in the super greens.
One of the disadvantages that some people have with this super greens brand is that it is pricey compared with other brands. Thirty servings cost $89, which can be difficult for many people on a budget to buy. However, when you look at everything that goes into the powder, the cost is comparable with buying all the vegetables and superfoods whole.
LEARN MORE OR ORDER SUPERGREEN TONIK HERE
MacroLife Macro Greens
MacroLife Macro Greens contains a blend of super greens, probiotics, adaptogenic herbs, fiber, and antioxidants to optimize your health and overall well-being. Because of the nature of some of the ingredients, they don't recommend mixing their greens with acidic drinks like tomato or orange juice because it could interfere with the friendly bacteria of the probiotics.
Instead, they recommend mixing their greens powder with neutral juices like pear, white grape, or apple juice. You can also mix it with almond milk or other milk that you prefer.
The benefits of these greens are much the same as other greens powders, but here are some of the unique benefits:
The probiotics build friendly gut bacteria, which gives you a healthy digestive system and contributes to a healthy immune system.
The ingredients are processed at a low temperature to keep the bio enzymes active.
Antioxidants support a healthy immune system and can help ward off illnesses and diseases.
One of the few complaints about this brand is that the supplement fact label claims that each serving contains up to five servings of vegetables. However, the amount of B-vitamins per serving doesn't reflect the five servings, but rather one serving. Aside from that, most people like the brand and use it in their nutritional routine.
LEARN MORE OR ORDER MACROLIFE MACRO GREENS HERE
Shakeology Boosts: Power Greens
While Shakeology contains several superfoods along with fats and protein, the Shakeology line carries a Power Greens Boost. These should be taken if you aren't getting enough nutrition through your diet or if your diet isn't well-balanced for some reason.
The Power Greens Boost contains concentrated amounts of six ingredients:
Spinach leaf powder
Chlorella
Spirulina
Kale leaf powder
Cucumber
Celery stalk powder
The Power Greens don't have the same amount of greens nutrition as other brands but can be used in conjunction with their Shakeology shake to boost the overall nutrition. However, per serving, the Power Greens costs more than other greens powders at $1.75 per serving. If you like Shakeology, then using the greens powder can help boost the health shake's nutrition.
LEARN MORE OR ORDER SHAKEOLOGY BOOST – POWER GREENS HERE
Conclusion
Super greens can be difficult to get down, but because they can supplement your diet to make you healthier and more focused in your daily life, they're important to take. Still, that doesn't mean you have to suffer through it to get them down. Get creative and come up with ideas of your own with how you can use super greens.
Final Tip: If you think of super greens as another type of flour, you can begin coming up with baked goods with a lot of nutrition. Who knows? You might be able to fool your kids into eating vegetables.
Sources