Protein is essential for the healthy growth and development of the body and its muscles. It powers the body's ability to repair and make new cells, in addition to providing the necessary energy to exercise and complete daily tasks. When it comes to staying healthy, losing weight, and building muscle tissue, protein is crucial to achieving the results you desire.
The best protein powder for weight loss uses whey protein, such as Beachbody Shakeology, because it is easily digestible and is effective at reducing appetite. Shakeology is a protein-dense formula made without artificial sweeteners or flavors and is also available in vegan-friendly flavors.
Though whey protein has been proven to be an effective weight loss supplement, there are some instances where Beachbody Shakeology may not be right for you. These include:
For a high protein, low-carb shake, go with Ample Meal Shake.
For a post-workout shake, go with Beachbody Chocolate Whey Recover.
For an organic, plant-based protein shake, go with KOS Organic Plant-Based Protein Powder.
For a premade shake you can take on the go, try SlimFast Advanced Nutrition Creamy Chocolate Smoothie.
In this article, I will outline and explain in detail which type of protein is the best protein powder for weight loss, how protein functions in the body to aid weight loss, and how to lose weight with protein shakes correctly.
How To Lose Weight With Protein Shakes
Protein is often referred to as one of "the building blocks of life." This is because protein fuels such a large majority of bodily functions and processes.
One of the most critical functions that protein fulfills is it serves as an energy reserve. Protein builds and repairs cells, so as your body experiences normal wear and tear, protein restores the body and promotes muscle growth.
Have a Small Shake Before Your Workout
As you exercise and burn calories, protein acts as a last little bit of energy when you have used all the carbohydrates and fats in your body. Protein allows you to push a little bit further in your workout when you have exhausted all the other energy in your body.
Protein is what builds up muscle tissue, so if you have a small shake before heading to the gym, you should feel a boost of energy to help you go harder.
When you exercise and eat healthily, you lose weight. Consuming the right amount of protein for your body is what prevents you from losing muscle right along with all the calories and fat you are burning.
Use Protein To Speed Up Your Metabolism
Another way that protein helps you lose weight is that it helps speed up your metabolism. Speeding your metabolism allows you to burn calories faster, even when you are inactive or resting.
This helps you lose more weight when you exercise and even when you're just chilling on the couch.
Some other benefits protein provides the body with are maintaining bone density, boosting the immune system, lowering cholesterol, and helping to oxygenate the body through the bloodstream.
Overall, protein is a vital nutrient for the body, especially when losing weight.
Different Types of Protein Powder
Protein powder comes in many different shapes and forms. Each of the distinct types of protein powder can provide the body with additional benefits.
Depending on the individual, certain protein powders may better suit your needs compared to others. For more information on the varying kinds of protein powder, keep reading.
Whey Protein Powder
One of the most popular choices for protein powder is whey protein. It is effective because the body can quickly digest it.
According to Medical News Journal, whey protein has three different forms:
Whey Protein Concentrate: Contains between 29-89% of protein and other nutrients. Beneficial because it is the least artificially processed form of whey protein.
Whey Protein Isolate: This contains up to 90% of protein and contains less fat and carbohydrates.
Whey Protein Hydrolysate: This is a highly artificially processed form of whey protein. It is "pre-digested," meaning the proteins included have already been broken down into smaller, more easily digestible pieces.
Whey protein contains all of the nine amino acids to make it a complete source of protein. This makes it the most effective protein powder for building muscle and losing weight.
Soy Protein Powder
Another frequent choice in protein powder is soy protein isolate. This protein is derived from soybeans, making it a good choice for those allergic to dairy or lactose intolerant.
Like whey, soy protein contains all nine essential amino acids, making it another complete source of protein.
Other plant-based proteins usually do not have all the vital amino acids. Soy protein will help you build muscle and boost your energy level.
Casein Protein Powder
Like whey protein, casein comes from milk. However, casein is digested far more slowly than whey protein, which is why sometimes whey is seen as the better choice.
Casein is a complete protein containing all of the amino acids necessary for your body.
One of the most significant benefits casein provides is its ability to slow the rate of muscle breakdown due to how slowly the body absorbs it. It is a highly effective protein for building muscle and helps maintain long-term muscle mass.
Other Plant-Based Protein Powders
In addition to soy protein, there are several other forms of plant protein. The most popular include:
Hemp Protein Powder: Contains all nine amino acids and is high in Omega-3.
Rice Protein Powder: Does not contain all amino acids; lower levels of lysine.
Pea Protein Powder: Contains all nine essential amino acids; helps build muscle similar to whey protein.
There are plenty of protein powders to choose from, and each provides different advantages. But overall, whey protein powder has prevailed as the best protein powder for weight loss.
Why Protein Powder Is Important For Weight Loss
As previously mentioned, there are many different types of protein, each providing the body with varying benefits and sources of nutrients.
The most obvious way to fulfill your body's need for protein is to eat whole foods such as dairy, meat, or fish. If you can meet your body's requirement for protein with regular food, you might be wondering why protein powder is necessary.
Protein powder is important for weight loss because your body will demand a more considerable amount of protein to build muscle when you start working out. In addition, protein powder helps the body adjust and recover to more rigorous training if you've been consistently working out.
Overall, protein powder can serve as a convenient way to give your body what it needs when trying to lose weight.
According to sports nutritionist Barbara Lewin, "To build a pound of muscle…the body needs between 10 and 14 additional grams (0.35-0.49 oz) of protein per day." Protein powder is an easy way to fulfill this need.
More Info: What Happens If You Drink Protein Shakes Without Working Out?
Best Protein Shakes for Weight Loss
If you're looking for a solution to weight loss, increased muscle mass, and a healthier lifestyle, protein shakes were made for you. With a multitude of choices available, it can be challenging to decipher which protein shakes are worth it.
The following list will outline and describe the best protein shakes available today.
Whether you are looking for a low-carb, plant-based, or "on the go" shake, it is guaranteed that there is a protein shake that can help you achieve the goals you have set for yourself.
Best Overall High Nutritional Protein Shake: Beachbody Shakeology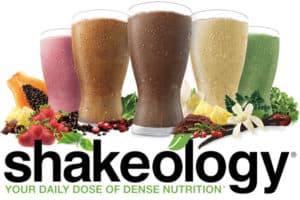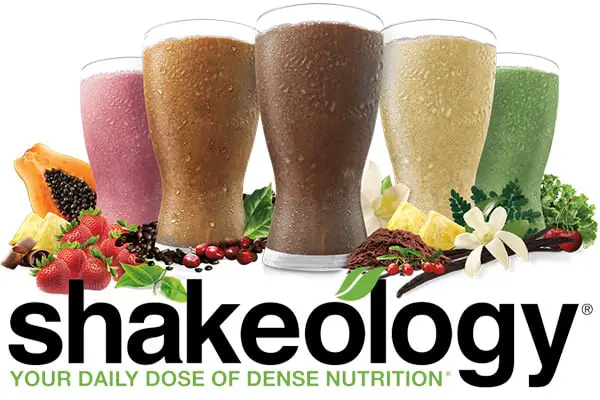 Shakeology is a nutrition-based protein shake created with the intent of making healthy eating and exercise easy. Beachbody offers an array of programs and products for every body type and any schedule. Shakeology is one of the top choices for weight loss and total health.
Shakeology offers an exclusive formula using a blend of:
High-quality proteins
Probiotics
Fiber
Digestive enzymes
Antioxidants
Superfoods
Vitamins, and minerals
If you're looking for a protein-dense shake to help you lose weight, Shakeology by Beachbody is the best shake for you. Beachbody stands out as one of the top protein shakes because of its high-quality ingredients.
Pros
Tasty, nourishing ingredients filled with the protein your body needs to lose weight.
Shakeology has a variety of options and flavors that will guarantee there is a shake that is right for you.
Cons
Like any other protein shake, Shakeology on its own may not yield the results you want.
Due to being one of the higher quality and premium shakes, the cost of Shakeology is higher than basic protein shakes.
Flavors
In terms of flavor options, Shakeology has plenty of whey based and vegan flavors to offer. Their bestsellers include:
Cookies & Creamy Plant-Based Vegan
Chocolate Whey
Chocolate Plant-Based Vegan
Vanilla Whey
Café Latte Plant-Based Vegan
Strawberry
ORDER or LEARN MORE ABOUT SHAKEOLOGY HERE
Best High Protein, Low Carb Shake: Ample Meal Shake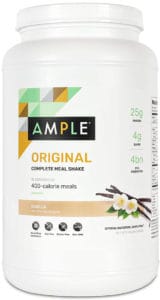 When it comes to keeping things low carb but maintaining high levels of protein, the Ample Meal Shake is the choice for you.
Ample focuses on the long-term effects of healthy eating and exercise by using ingredients that keep you feeling full without digestive discomfort. Ample shakes also include vitamins and minerals that other protein shakes miss out on, including 25% of your daily Vitamin D, calcium, and magnesium.
Pros
One of the most extensive benefits Ample provides is its emphasis on low carbohydrates.
The average Ample shake contains 58% premium fats, 20% protein, and 23% carbs.
This is a better carb to protein ratio than most protein shakes.
Cons
If you're looking to increase your muscle mass, you may need more protein than the Ample shakes contain.
Similar to Shakeology, premium ingredients have the cost of Ample to be higher than basic protein shakes.
Flavors
Ample Meal offers their shakes in:
You can choose from their original, plant-based, or ketogenic protein formula.
OREDER or LEARN MORE ABOUT AMPLE HERE
Best Protein Shake When Working Out: Beachbody Performance Recover
If you're looking to add  faster recovery to your workout, the Beachbody Chocolate Whey Recover shake is the best choice for you.
This shake is full of chocolatey protein, ready to fight muscle aches and jumpstart your body into recovery mode after a tough workout.
Pros
The Chocolate Whey Recover Beachbody shake amplifies your body's ability to repair your muscles so that you have a faster recovery time and can fight against soreness and aches.
Their protein-packed formula guarantees a faster recovery time, meaning you can go back into your next workout that much quicker.
This protein recovery shake comes in Chocolate, Vegan Chocolate, and Creamy Orange flavor.
Cons
One of the drawbacks of the Chocolate Whey Recover shake is that sometimes reviewers complain of a lack of taste.
ORDER or LEARN MORE ABOUT BEACHBODY PERFORMANCE RECOVER
Best Organic Protein Shake: KOS Organic Plant-Based Protein Powder
The KOS protein powder is here to change the game with a plant-based protein that will rock your workouts and your world.
KOS says, "The twin pillars of human nutrition—both globally and individually—are energy and balance."
Their plant-based formula gives you the protein and nutrients your body craves from all-natural, organic sources, balancing the amount of energy your body needs to provide you with a nutritious diet.
Pros
KOS is one of the top providers of all organic ingredients and emphasizes clean eating to reduce adult obesity and contribute aid to the global famine crisis.
Cons
In comparison to other vegan protein powders, KOS contains slightly fewer calories from protein.
Flavors
Chocolate Chip
Blueberry Muffin
Salted Caramel Coffee
Chocolate
Vanilla
Chocolate Peanut Butter
ORDER or LEARN MORE ABOUT KOS VEGAN PROTEIN POWDER
Best on the Go Protein Shake: SlimFast Advanced Nutrition Smoothie Mix
One of the most significant benefits a protein shake can provide is it acts as a meal replacement. If you want a quick, on-the-go protein fix, the SlimFast Advanced Nutrition Smoothie Mix is the shake for you.
Pros
Each serving comes with 20 grams (0.70 oz) of protein, 5 grams (0.17 oz) of fiber, and zero added sugar.
Many people have experienced successful weight loss with SlimFast.
Cons
While SlimFast is clinically proven to help you lose weight and is easy to drink on the move, it is not recommended as a long-term diet plan.
If your weight loss journey is just beginning, SlimFast is an excellent choice for you.
ORDER or LEARN MORE ABOUT SLIMFAST ADVANCED NUTRITION SMOOTHIE MIX
When To Drink Protein Shakes for Weight Loss
It is typically recommended to drink a protein shake a few hours before your workout if your goal is weight loss. This will help suppress your appetite while giving you a boost of protein and energy to help as you exercise.
For those looking to build muscles, protein shakes are best consumed after a workout to aid in muscle recovery.
How Much Protein Do You Need?
To effectively lose weight using protein shakes, first, you need to understand how much protein your body needs.
According to Mayo Clinic, approximately 10-35% of the average adult's daily calorie intake should be protein. This averages out to between 50 and 175 grams (1.76-6.17 oz) of protein per day.
Another way to measure the amount of protein your body needs is by weight.
The National Institutes of Health recommends 0.8 grams (0.02 oz) of protein per kilogram (2.20 lbs) of body weight. However, if you increase or make your workout more rigorous to lose weight and grow muscle tissue, you might want to consume more than the recommendation.
According to Men's Health, the maximum amount of protein you can include in your diet is 2.2 grams (0.07 oz) of protein per kilogram (2.20 lbs) of body weight.
Timing Your Daily Protein Shakes For Maximum Weight Loss
Most people believe that as long as you drink your protein shake at some point during the day in addition to your workout, you're all set to lose weight and build muscle.
This is not necessarily the case. For correct consumption of protein and protein powder, timing is essential.
Sports nutritionist Marie Spano recommends that you'll want to make your protein intake between every 3 and 5 hours throughout the day for optimum muscle building.
Many sources will say it does not matter whether you drink your protein shake before or after your workout and while this is true, drinking your shake after your training allows you to reap all of the benefits from protein.
As mentioned above, the most important functions in the body that protein provides are to repair and grow cells. As you exercise, your muscles become exhausted and experience slight tearing as you use them.
Drinking your protein shake within an hour after your workout will allow your body to absorb the protein and help repair your muscles. The faster your muscles can repair themselves, the faster they will grow, and you will be able to increase your muscle mass with ease.
A protein shake can also be a great way to meet your daily recommended protein intake level by drinking one in between meals.
Key Takeaways
Protein powder can provide your body with many benefits, especially when it comes to enhancing and building muscle and trying to lose weight.
Overall, the best protein powder for losing weight is whey protein because it is a complete source of protein that provides long-term benefits for muscle cell generation and the loss of fat.
One of the best ways to add whey protein to your diet is to use a protein shake in the list provided above. Each of the listed shakes will help you lose weight.
Sources