Meal replacement shakes have become extremely popular in recent times. This is because they provide your body with vital nutrition, keep you satiated, energized, and help you shed excess belly weight. Unfortunately, most come loaded with added sugar, so if you want to get all this goodness minus the extra sugar, meal replacement shakes without artificial sweeteners is the way to go.
The best meal replacement shake without artificial sweeteners is Beachbody Shakeology. It includes: Superfruits & Antioxidants, Prebiotics & Probiotics, Adaptogens, Supergreens & Phytonutrients, and Vitamins & Minerals. While Other options include: Ample Meal and MacroMeal Ultimate Superfood.
Finding a real meal replacement shake without added sugar can be challenging since there are so many options available. To make your work easier, I narrowed down on 5 of the best meal replacements without artificial sweeteners. Read on to find out more.
What To Consider When Buying Meal Replacement Shakes
Meal replacement shakes make excellent substitutes for actual meals. They provide energy for your body, restrict your calorie intake while balancing your nutrient consumption, and promote weight loss too. However, most of these shakes aren't the best tasting; hence manufacturers tend to incorporate artificial sweeteners in their production to lend them a sweeter taste.
Unfortunately, artificial sweeteners like aspartame, acesulfame-k, or sucralose come with potential side effects, and it's best to avoid them – particularly if you have underlying health issues. However, you may want to limit their long term use because:
They could heighten your desire for sweet food.
They destabilize your blood sugar, which could cause obesity.
They could harm bacteria in your gut, causing digestive problems.
They could lead to rapid weight gain because of eating too many sugary foods.
When buying your meal replacement shakes, try and look out for these features:
Nutritious. It should contain both natural and organic components that deliver a healthy, flavorful meal.
Convenient. It should fit your lifestyle easily whether you are a work at home mom, fitness enthusiast, or busy executive.
Easy to prepare. It should be effortless to prepare and take the least amount of time.
Great taste. Go for something you will enjoy taking often.
Portable. This allows you to prepare it at home and take it to work with you.
Effective. It should help you rein in your calorie consumption, provide you with balanced nutrition, and help you lose weight quickly if that's your goal.
Luckily, there are meal replacement shakes that don't contain any added sugars. We look at 5 of the best next.
Top 5 Best Meal Replacement Shakes Without Artificial Sweeteners
Best Meal Replacement Shake Overall: Beachbody Shakeology
Best Superfood Nutrition: Ample Meal
Best Vegan: MacroMeal Ultimate Superfood
Best Organic: Orgain Organic Plant-Based Protein + Superfoods Powder
Best in Value for Money:  Ambronite Balanced Meal Shake
1. Beachbody Shakeology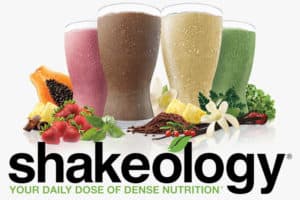 Beachbody Shakeology is a superfood nutrition shake that boasts a precise combination of components. It comprises high-quality nutrients that deliver phytonutrients, adaptogens, digestive enzymes, antioxidants, probiotics, vitamins, and fiber, among others. It's available in Chocolate, Vanilla, Café Latte, and Strawberry flavors.
The potent blend of proteins, superfoods, antioxidants, prebiotics, fiber, and minerals is unique and complex. This is because it's not easy to obtain such a wide array of nutrient-dense ingredients from your standard diet or the local grocery store. As such, Beachbody sources globally for these premium ingredients and spends hundreds of hours vetting and testing them- and their suppliers too.
Learn more about Shakeology from the video below:
All plant-based Shakeology formulas are vegan. They sport a proprietary mix of proteins sourced from chia, yellow pea, quinoa, and flax. These plant-based proteins are perfect for anyone looking to avoid dairy, animal proteins, or whey. The superfruit blends include fruits such as goji berry and pomegranate.
Shakeology is a vital part of Beachbody's health and fitness program. An excellent source of fiber, each serving contains 6g (0.21 oz) of this hunger-fighting ingredient. In addition, the powerful formulation helps curb unhealthy food cravings, promotes digestive health, and promotes healthy vitality in a bid to boost your weight loss goals.
You can consume Shakeology in the morning as a healthy breakfast composed of protein, carbs, and fat. You can also have it as a snack since it's quite filling and will help you avoid eating unwholesome foods. Each serving contains 140 to 170 calories, 17g (0.6 oz) protein, and 7g (0.25 g) of sugar- about half the amount you'd get in a medium-sized banana.
Shakeology is not complete as a meal replacement when taken on its own. However, this 'superfood nutrition shake' can form a healthy, balanced meal if combined with fruits like avocados, milk, nuts, seeds, and nut butters. Moreover, the protein, macro, and micronutrients, as well as superfoods, make Shakeology more than a mere protein shake and more like a high-performing multi-dimensional nutritional supplement.
For dieters using Shakeology to support their weight loss goals, it's best to drink the shake once or twice each day. To prepare, add a scoop of Shakeology to 8-12 ounces (236-355 ml) of water, nut milk, or your favorite juice.
While it does not contain any gluten-based ingredients, Shakeology is not certified as gluten-free. This is because its production occurs in a facility that handles known allergens like peanuts and wheat (gluten). Still, though not GMO certified, the formulation excludes soy, corn, and canola.
Pros
Can help you lose weight
It's convenient for busy people
Provides healthy energy and vitality
Offers 30 days money-back guarantee
It promotes regular and healthy digestion
Helps minimize hunger and cravings for junk food
Contains antioxidants that fight free-radical damage
It does not contain artificial colorings, flavors, or preservatives
Has a lower amount of sugar (7g) than other shakes on the market
Cons
It's expensive. Although there are options to help lower the cost of Shakeology.
It's not 100% organic
It's not certified GMO-free
Does not have third-party certification
2. Ample Meal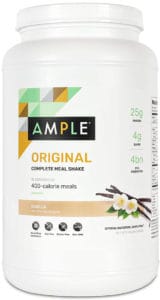 Ample Meal contains neither artificial sweeteners nor sugar alcohols, but this milky, creamy drink is quite delicious. Each meal brims with fiber, probiotics, and prebiotics that keep you feeling sated and help maintain a healthy gut microbiome. What's more, you get 4x the number of probiotics found in yogurt.
70% + calories come from premium fats like coconut and non-oleic sunflower, C8, and C10 MCTs to form a complete blend of mono, poly, and saturated fats. These healthy fats keep you in ketosis and are a ready source of energy. This meal replacement shake comprises real foods without any fillers, artificial sweeteners or flavors, GMOs, gluten, or soy.
Ample Meal is available in dry powder form and pre-portioned into 400- and 600-calorie meals. It comes in BPA-free recyclable bottles for easy portability, plus you can get it in 4 different flavors:
Ample Vanilla High Protein Meal (Original)
Ample V Berry 600-calorie Plant-Based Meal
Ample K Vanilla Cinnamon 600-calorie Keto Meal
Ample K Chocolate 600-calorie Keto Meal
Ample Original, a perfectly balanced meal, packs 34g (1.2 oz) of protein obtained from grass-fed whey, collagen, and organic yellow split pea. Furthermore, each 600-calorie meal contains only 6g of sugar. It also includes a rich blend of organic fruits and greens featuring wheatgrass and barley grass. This nutrient-dense blend helps to fight free radicals through the naturally-occurring pool of antioxidants and polyphenols.
Do you prefer having plenty of vitamins and minerals in your meal replacement shake? Then you need to note that Ample Meal offers only 25 % of the vitamin D, calcium, and magnesium recommended for your daily intake.
This is a high-fat, low-carb meal that delivers the perfect balance of carbs, fats, and proteins to keep you satiated and full of energy. The high fiber content ensures that you feel full for longer, while the low carbs and low sugar (4g or 0.14 oz per 400-calorie meal) maintains your energy levels. This helps keep blood sugar spikes at bay and supports weight management.
To prepare a 400-calorie meal, add 2 scoops of Ample Meal to 1.5 cups of water in a blender. You can also use milk or coffee and add greens, berries, and ice. For best results, drink Ample Meal twice a day. You can have it for breakfast, lunch, or as a healthy snack. To get the right consistency or meal size, you may want to adjust the number of scoops or the amount of liquid.
If you are looking for a keto meal that you can take while on the move, look no further than Ample K. It provides a full, nutritious ketogenic meal that enables you to follow your diet with ease even as you travel or work for long hours.
Finally, if you don't like the taste of Ample Meal – even after mixing it with your favorite liquids – or feel it's not right for you, you can get your money back. Ample Meal comes with a 30-day money-back guarantee, and all you need to do is get in touch with the company for your refund.
Pros
Easy to carry around
Keeps you full for more than 4 hours
Supports muscle growth and repair
Boosts digestion and gut health
Made with high-quality natural ingredients
Formulated with more than 20 superfoods
Comes with a 30-day money-back guarantee
Available in whey-based, plant-based, and ketogenic formulas
Cons
Might lack certain vitamins
Ample Original only comes in vanilla flavor
The taste might not appeal to some users
Might appear costly to some users
3. MacroLife Naturals: MacroMeal Ultimate Superfood
MacroMeal Ultimate Superfood prides itself on being the ultimate superfood drink. This scientific formulation is full of antioxidants, digestive enzymes, probiotics, plant-based vitamins, amino acids, trace minerals, and fiber. It also contains a blend of quick and slow-digesting proteins that help sustain your energy through a steady release of these proteins.
Designed for both vegans and omnivores, the complete protein blend consists of brown rice, pea isolate, and pea protein concentrates. Each of these gives you vital nutrients to support optimal health. Every serving contains 25g (0.8 oz) protein for boosting muscle strength and 500mg MCT oil for enduring energy.
This MacroMeal Replacement shake is a blend of various fruits and veggies. These include spirulina, organic maca, barley grass juice powder, cracked cell chlorella, aloe vera, mangosteen, goji, acai, blueberry, and acerola berry, among others.
The fruits and greens mix provides antioxidants that help boost your general health, immunity and help maintain beautiful, youthful skin.
In addition, MacroMeal is packed with digestive enzymes and probiotics that are essential in promoting optimal digestion, nutrient absorption, and maintaining a healthy gut. It also provides a nutrient-rich fiber blend, which could help in regulating blood sugar.
The easy-to-prepare superfood powder delivers a delicious vanilla serving of protein, vegetables, and superfruits in a single drink. What's more, MacroMeal is vegan, gluten-free, and non-GMO.
Pros
Has great taste
Offers anti-aging benefits
Excellent for weightlifters
Ultimate complete protein
Provides a steady release of energy
Available in Vegan and Omni versions
Satisfies hunger and keeps you full for longer
Contains pure, natural, and non-allergenic ingredients
Gluten-free, non-GMO, and no rBST – hormone-free
Cons
Some users complain of a chalky taste
Claims that 1 glass equals 5 fruit and vegetable servings might be misleading
Doesn't contain specific ingredients to help with weight loss besides generally eating healthier
ORDER MACROMEAL ULTIMATE SUPERFOOD HERE
4. Orgain Organic Plant-Based Protein + Superfoods Powder
Orgain Organic Plant-based Protein + Superfoods Powder is a smooth, delicious protein powder that packs super nutrition in the form of 50 organic superfoods. Each serving is a unique combination of proteins and superfoods containing organic plant-based proteins like brown rice, peas, chia seeds, organic dietary fiber, plus a single gram of sugar.
The organic superfoods blend boasts a wide range of powerful, high-quality, hand-picked constituents, including organic fruits, berries, and vegetables like kale, chia, flax, and quinoa. Also included are herbs, grasses, sprouts, and ancient grains. These superfoods provide you with maximum nutrition and make an excellent source of iron, vitamin C, B1, B2, B5, B6, thiamin, riboflavin, and pantothenic acid.
One great thing about this delicious and creamy chocolate fudge meal replacement shake is that it provides perfect on the go nutrition for the whole family. Besides, you can take your pick from the numerous ways you can use it, including:
As an antioxidant boost
For weight management
As a meal replacement beverage
As a quick breakfast smoothie
For muscle building and recovery
As a pre or post-workout drink
If you are wondering how healthy this protein powder is, it ticks almost all the boxes. It's one of the best organic meal replacements in the market, with several credits to its name. It is vegan, non-GMO, USDA organic and dairy, lactose, gluten, and soy-free. It's wholesome nutrition boosts your immunity and sustains your energy, helping you stay healthy and well. In a nutshell, it gives you the fuel and vitality to perform your daily tasks.
This protein drink is not gritty at all. Instead, it is deliciously smooth and creamy. You will enjoy every last drop. To make it even more complete as a meal replacement, you can add fruit, vegetables, nutritious nut milk like almond milk, and healthy fat. It's available in vanilla flavor too.
For the more adventurous, you can mix Organic Protein Plant-Based Protein Powder with a variety of liquids, coffee included! Additionally, you can cook and bake with it, thereby making your pancakes and baked goods more nutritious. However, avoid putting it in the microwave because the radio waves might affect the organic nutrients negatively.
Pros
Tastes delicious
Certified vegan
USDA Organic
Dairy and lactose-free
High in protein (21g or 0.74 oz) and fiber (6g)
Filling and curbs food cravings
Non-GMO, gluten-free, and soy-free
Contains 50 superfoods in each scoop
Includes immune-boosting vitamins and minerals
Has only 1 gram of added sugar (erythritol and stevia)
Cons
It's pricey
It might be too sweet for some palates
Contains gums and inulin – could cause digestive disorders
The chocolate fudge flavor does not contain probiotics
ORDER ORGAIN ORGANIC PLANT-BASED PROTEIN + SUPERFOODS POWDER HERE
5. Ambronite Balanced Meal Shake
Your search for a simple and affordable meal replacement meal shake is officially over with Ambronite Balanced Meal Shake. This great-tasting plant-based real food is perfect for breakfast and lunch. Also, it comes in a variety of flavors, namely vanilla, chocolate, and berries.
Ambronite Balanced Meal Shake is easy to prepare – takes less than a minute- making it convenient for those rushed mornings. To prepare, simply mix 95g (3.4 oz) Ambronite with 2 – 21/2 cups of cold water or milk. You can also use the meal replacement to make your favorite smoothie recipe.
Since it keeps you full for long, this meal replacement also helps you avoid snacking on unhealthy food. It's excellent for people who are too busy to prepare healthy meals, travel often, spend most of their time outdoors, or are keen to shed extra weight.
Ambronite Balanced Meal Shake allows you to live a full life with the best of ingredients. The meal shake provides your body with 20 grams (0.71 oz) of plant-based protein, sustained energy, vitamins, and minerals for optimal health.
Loads of vegetables, berries, and fruit deliver these vitamins and minerals to your body. The body recognizes these real essential foods. Thus, they get absorbed into the body quickly and in a form that's gentle on your stomach.
This meal replacement shake has no GMOs, soy, dairy, or artificial additives.
Pros
100% vegan friendly
Affordable and convenient
It's gentle on the stomach
Has a delicious, thick, creamy texture
Keeps you feeling full for up to 4 hours
Non- GMO, soy-free, and dairy-free
No artificial flavoring, preservatives, or additives
Convenient for on-the-go breakfast or lunch
Contains plant-based clean, and healthy ingredients
Cons
Tub made of thick, non-recyclable plastic
Contains flax-seeds – could mess hormonal balance for sensitive users
ORDER AMBRONITE BALANCED MEAL SHAKE HERE
Commonly Used Artificial Ingredients and Why To Avoid Them
When choosing a meal replacement shake, it's crucial to know and understand the ingredients used. This will help you to avoid consuming harmful ingredients that could affect your health. One way to keep yourself safe is to stay away from meal replacements with unrecognizable ingredients.
Again, cutting back on your consumption of packaged or processed foods while incorporating fresher ingredients into your meals is advisable. It can help minimize your exposure to food additives.
Below are some commonly used artificial ingredients and why you should avoid them:
Artificial Sweeteners: Sucralose and Aspartame
Artificial sweeteners are mostly used as sugar substitutes. They are present in many foods and beverages to improve sweetness but at the same time reduce calorie content. Generally considered safe if used in moderation, artificial sweeteners could aid weight loss and help regulate blood sugar levels.
Sucralose (Splenda) is an artificial sweetener that's even sweeter than sugar but has no calories. Consuming sucralose could lead to negative health effects like blood sugar spikes – especially if you don't usually consume sweeteners. Furthermore, regular consumption could cause a reduction in good bacteria present in the gut.
Aspartame is another artificial sweetener often found in drink products. It's extremely sweet and has a very low-calorie content. Unfortunately, clinical research into its effects is limited to tests done by manufacturers of aspartame-containing products. As such, there's no concrete medical evidence for any side effects claims such as headaches.
Nevertheless, avoid aspartame consumption if :
You have phenylketonuria since the sweetener is a source of phenylalanine.
You are on schizophrenia medication – could heighten the medication's side effects
If you suffer from seizures – it could contribute to the risk.
All in all, it's best to limit your intake of artificial sweeteners if you experience adverse side effects after using them.
Thickeners: Maltodextrin
Thickeners enhance the texture of drinks. You will find maltodextrin, an artificial thickener, in many meal replacement shakes. Formulated from starchy carbs like corn, potatoes, rice, and potatoes, it's highly processed and includes other additives too. As a result, if you have diabetes, it's best to avoid this thickener.
Synthetic Minerals and Vitamins
Some meal replacement shakes contain synthetically-derived minerals and vitamins instead of those that occur naturally in whole foods. Since such vitamins and minerals are not easily absorbed into the body, you may not get their benefits at all.
Always go for unprocessed whole foods since they provide these essential nutrients in a form that your body recognizes and can manage to use effectively.
Preservatives: Sodium Nitrate and Sodium Benzoate
Most non-perishable foods – meal replacements included- contain man-made preservatives. These are chemicals added to consumable products to extend their shelf life, allowing them to stay longer.
Preservatives like sodium nitrate might increase stomach cancer risk, while sodium benzoate also has its share of adverse side effects such as increased risk of inflammation and oxidative stress.
Stabilizers: Xanthan Gum and Guar Gum
Stabilizers like xanthan gum are commonly used to improve and thicken the texture of foodstuff. While xanthan gum is an approved food additive in many countries, it's also common in cosmetics gels, wallpaper paste, and engineering fluids.
In edible products, this artificial ingredient is common in gluten-free products and is used to recreate the stickiness that gluten provides. Xanthan gum is legally safe, but regular consumption could cause adverse effects such as low blood sugar, dizziness, and nausea.
Guar gum is common in ice cream, sauces, and soups. It has multiple health benefits such as:
It contributes to a reduction in irritable bowel syndrome symptoms, e.g., constipation.
It leads to an increased feeling of fullness and less snacking due to its high fiber.
It might help lower cholesterol and blood sugar levels.
However, high amounts could have negative effects on your health. Examples are obstruction of the small intestines, bloating, or cramping. However, it is safe if used in moderation. In addition, to reduce the risk of adverse side effects, the FDA provides strict guidelines on the guar gum amounts allowed in food products.
Artificial Food Coloring
Artificial food coloring is often used to enhance the appearance of food. Food dyes are mostly present in processed foods, thus it's always best to opt for whole foods. Besides, whole foods are usually much higher in nutrients and free of artificial food colors.
The thing about artificial food coloring is that it might cause allergic reactions in some people. It could also enhance hyperactivity in sensitive children. Some types might also increase the risk of thyroid tumors.
Artificial Flavors
These are synthetic flavors that imitate the taste of other food ingredients. They come in different flavors, such as caramel, popcorn, chocolate, and even fruit. The main concern is that animal studies show that these chemicals have a toxic effect on bone marrow cells while
grape, orange, and plum artificial flavorings hinder cell division.
While further research may be required to determine their effects on humans, you might want to reduce your intake of synthetic flavoring. As such, always check the list of ingredients in your meal replacement shake. For instance, look for chocolate on the ingredient list instead of chocolate flavoring.
As you can see, this is quite a list. Fortunately, you have plenty of options when it comes to delicious, healthy, nutritious, natural, and organic replacement shakes that don't comprise artificial ingredients.
Final Thoughts
All the meal replacement shakes without artificial sweeteners mentioned above are undoubtedly some of the best in the market. They offer you a winning combination of amazing taste, high-quality ingredients, rich nutrients, and reasonable pricing.
While a few of them contain added sugar, the amounts are far less than what you'd find in a majority of similar products. And the best part? The whole family can enjoy these meal replacements. Use them to complement a well-balanced diet, and you'll reap their numerous health benefits.
Again, here's the link for the #1 Recommended Meal Replacement without Artificial Sweeteners ==>> ORDER SHAKEOLOGY HERE
Sources