While you are fasting, it is important that when you do eat, the food you have provides you with plenty of essential nutrients, enough energy to fuel your day, and leaves you feeling full and satisfied. However, when you are running short on time, meal replacement shakes can save the day by providing you with the same nutritious benefits a full healthy meal would.
The best meal replacement shakes for fasting will include all the nutritious aspects that a meal should have to keep you full. A substantial amount of protein, carbohydrates, fats, and vitamins are necessary to maintain proper health. Using high-quality ingredients is also an essential feature.
Throughout this article, you will find some of the top features to look for when picking out a meal replacement shake while you are fasting and see a list of all the associated benefits each one has.
Whether you are looking for high protein, gluten-free, low sugar, or a wide variety of flavors to choose from, this list has options for you!
1. Beachbody Shakeology Shake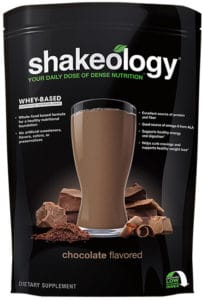 Shakeology is a product made to fill your body with all the nutrients it needs, helping you maintain a healthy lifestyle and lose weight. Shakeology puts an emphasis on creating a truly healthy shake that is good for you and of high quality.
Shakeology offers nine flavors with plant-based options that all benefit you in many different ways.
For those who struggle with low energy, digestive issues or with losing weight by incorporating all essential nutrients that the Shakeology Shake offers it can help you achieve many of your health goals.
While this is not targeted at being a diet shake, this shake has helped many people achieve their weight loss goals.
With 16-17g (0.6oz) of protein in each scoop along with digestive enzymes, prebiotics, probiotics, fiber, adaptogens, antioxidants and many vitamins and minerals this shake nourishes your body and helps you feel full.
In a clinical trial published in Current Developments in Nutrition, they tested the benefits of the low glycemic index value within their shake and found that 58% of participants who had the Shakeology Shake had a reduced desire to eat.
This is due to the low glycemic index, which your body then reacts to by releasing carbohydrates slower than usual which can curb many cravings by keeping you full longer.
As for the prebiotics within this shake, they help maximize the benefits the probiotics bring to your digestive system. Resulting in a healthier gut and giving your body an easier time processing foods.
This is an addition to the antioxidants from vitamins A, C and E as well as superfoods and phytonutrients that all help keep your body strong and healthy.
A unique feature of Shakeology is the adaptogenic herbs and botanicals they include in each scoop. Ingredients like ashwagandha, reishi, chaga and others help your body combat any effects stress may have on your body.
Without a doubt, Shakeology offers the most nutrition out of all the shakes listed here for fasting.
Benefits
Contains 16-17g (0.6oz) of a whey protein blend (vegan options available)
Contains 9 essential amino acids
Has digestive enzymes, prebiotics & probiotics that help support the digestive system
Low glycemic index that helps you feel full longer
Vitamins A, C, and E
Adaptogenic herbs and botanicals that combat stress
Low in fat
Has plant-based vegan options for each flavor
Features
Size: 30 shakes
Flavors: Chocolate Whey, Chocolate Plant-Based, Vanilla Whey, Vanilla Plant-Based, Cafe Latte Whey, Cafe Latte Plant-Based, Strawberry Whey, Tropical Strawberry Plant-Based, Greenberry Whey
ORDER Beachbody Shakeology Shake HERE
2. Texas Superfood: Complete Superfood Powder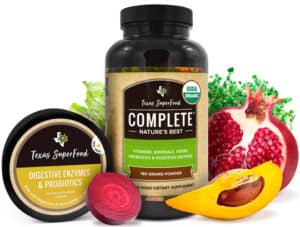 Texas Superfood is an all natural, organic company that provides the finest antioxidant rich ingredients in the form of a dietary supplement.
The Superfood powder supports physical energy and performance, promotes quality sleep, enhances your mental focus, helps balance your weight, gives you radiant skin and elevates your mood all due to the variety of nutritious ingredients in the powder.
The powder is gluten-free, soy-free, dairy-free and vegan. Within each scoop is an assortment of vine-ripened fruits, vegetables, herbs, algae, grasses, probiotics and enzymes to support a healthy digestive system.
This powder also has no added sugars, no fat and has a low amount of carbohydrates. What's even better is that it does not contain toxins, pesticides or herbicides, no fillers or binders, no GMO's and no artificial substances of any kind, making this one of the most natural shakes you can find.
Although this product is low in protein, it is easy to combine this with a scoop of protein powder to make this an all natural, nutritious and filling meal replacement shake.
Benefits
Gluten-Free
Dairy-Free and Vegan
Soy-Free
Organic and All Natural Ingredients
Non-GMO
No Artificial ingredients
Contains red and green superfoods to nourish the body
Contains enzymes and probiotics to support digestive health
Features
Amount: 30 Shakes
Flavors: Sweet Natural Flavoring
ORDER Texas Superfood: Complete Superfood Powder HERE
3. MacroLife: MacroMeal The Ultimate Superfood Meal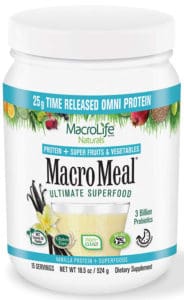 MacroMeal meal replacements are formulated specially to keep you full while providing you the nutrition you need. The Ultimate Superfood Meal is exactly what it sounds like as it is packed full with every ingredient you want in a meal.
You can get this powder in either a vegan option that is made with plant-based protein or one made with an "omni" protein that is a type of whey protein.
Each kind is made with a blend of time-released proteins and essential nutrients. With both having 25g (0.9oz) of protein.
An added benefit is the amount of nutritious ingredients they have, including coconut oil powder that contains Medium Chain Triglycerides (MCT's) to help you sustain your energy while still feeling full. On top of keeping you satisfied, MCT's are also beneficial as they can promote calorie burning.
The MacroMeal Ultimate Superfood Meal also contains plenty of antioxidants to boost your immune system, probiotics and digestive enzymes to keep your digestive system running smoothly, plant-based multivitamins and minerals, and fiber to regulate hunger.
This shake is a low-carb, high-protein option that is full of beneficial super fruits and veggies that is guaranteed to keep you feeling full until your next meal.
Benefits
25g (0.9oz) of vegan protein or omnivore whey protein
Time-released proteins to promote satiety
Contains MCT's that help you feel energized, burn calories and feel full
Contains Vitamins A, C, E, K
Has calcium, iron and fiber
Low-carbs and low-sugar
Contains 3 billion probiotics
Gluten-free
Features
Amount: 28 Shakes
Flavors: Chocolate, Vanilla
ORDER MacroMeal The Ultimate Superfood Meal HERE
4. Orgain Organic All-In-One Nutrition Powder
Orgain Organic's all-in-one nutrition powder is a high-protein, plant-based option that is full of clean, organic ingredients that is certified by USDA Organic.
Orgain Organic's powder is a complete meal replacement that is full of vegetables, protein, and fiber that makes it both filling and good for you.
Each scoop has 20g (0.7oz) of plant-based protein and 7g (0.2oz) of fiber and is not short on additional nutritional benefits that support your entire body's health.
This powder easily fits into anyone's lifestyle as it is gluten-free, vegan, lactose-free, soy-free, kosher, non-GMO and is low in sugar with only 1g (0.04oz). It is an easy choice when it comes to finding a powder with complete nutrition that also allows people to stick to their preferred food choices.
This high-protein and 100% organic option can be easily mixed with water or added to your smoothie to make for a delicious meal replacement.
Benefits
High in plant-based protein 20g (0.7oz)
High in fiber 7g (0.2oz)
Low in sugar 1g (0.04oz)
100% certified organic ingredients
Has lots of beans, sprouts and vegetables including acai, flax, guava and spinach
100% Vegan and Dairy-Free
Gluten-Free
Kosher
Soy-Free
Features
Amount: 16 Shakes
Flavors: Creamy Chocolate Fudge, Vanilla Bean
ORDER Orgain Organic All-In-One Nutrition Powder HERE
5. RSP Nutrition TrueFit Meal Replacement Protein
RSP Nutrition's TrueFit Protein is the true definition of an all-encompassing meal replacement shake. RSP uses only clean ingredients and makes its products for active people, busy professionals, and fitness enthusiasts.
Each scoop of TrueFit is like one full meal, including 25g (0.9oz) of Grass-Fed Whey protein. Whey protein, unlike other types of protein, is shown to be more easily digested and absorbed and shown also to be better at promoting muscle growth.
It also has a collection of 12 fruits and vegetables, prebiotic fiber, a small amount of fat, and loads of probiotics. Probiotics are healthy bacteria that help improve your gut and digestive health and are a great addition to your diet.
This shake also provides plenty of good-for-you ingredients of the highest quality in one place and makes it an easy choice to reach for when you don't feel like cooking.
Not only do they include everything you want in a meal, but they also leave out anything you don't want, such as GMOs, artificial ingredients, or preservatives.
The RSP Nutrition TrueFit Protein can be mixed with water or your favorite dairy (or non-dairy) product making it an easy on-the-go meal.
This shake will become a quick favorite after reading all the benefits below as it not only replaces your meal but helps you get in any vitamins, minerals, or probiotics you may have otherwise missed out on.
Benefits
25g (0.9oz) of grass-fed whey protein of the highest quality
2g (0.07oz) of sugar
Low in carbohydrates
Provides nutrients from 12 fruits & vegetables including organic broccoli, carrots, kale, elderberry & more
Uses organic, non-GMO Ingredients
Gluten-free
Soy-free
Has prebiotics and over 1 billion CFU probiotics to aid in gut health and digestion
No artificial ingredients or preservatives
Features
Size: 20 Shakes
Flavors: Chocolate, Vanilla, Cinnamon Churro, Unflavored, Cold Brew Coffee
ORDER RSP Nutrition TrueFit Meal Replacement Protein HERE
6. Vega One All-in-One Shake
Vega is a plant-based brand that is vegan certified, gluten-free, and a Non-GMO project verified brand, making this plant-based option both excellent and good for you.
Not only that, but this shake is also low in carbohydrates, making this the perfect drink if you follow the ketogenic diet.
Vega offers many options for both sports nutrition and daily nutrition, with each product having plenty of protein and vitamins, including their All-in-One Shake.
It contains 20g (0.7oz) of plant-based protein from pea protein, hemp seeds, and flaxseeds in a 44g (1.6oz) serving.
Comparing that to a typical meal, one serving has slightly more protein than a serving of chickpeas and slightly less than a serving of chicken.
The shake is packed full of vegetables to ensure that you get your greens in even if broccoli was never your favorite.
It also incorporates 6-7g (0.2oz) of fiber and a ton of other benefits that make this meal replacement shake better than many of the meals that we typically would make when we are running low on time.
Benefits
High in plant-based protein
This shake is diet-friendly making it great for those who are vegan, gluten-free or ketogenic
No added sugars
Gluten-free
100% vegan
Non-GMO
Lots of veggies and greens
Probiotics to help with gut health
Each scoop includes 1g (0.04oz) of omega-3s (ALA), an essential fatty acid your body needs but cannot produce alone
Includes 11 vitamins and minerals such as Vitamin A, C & K
Features
Amount: Large (19-20 shakes)
Flavors: Chocolate, Vanilla, Mocha, Berry, Vanilla Chai, Unsweetened Natural, Natural, Coconut Almond
ORDER Vega One All-in-One Shake HERE
7. IdealShape: IdealShake Meal Replacement Shake
If you have ever wished that your first meal of the day could be as good as your favorite ice cream flavor, look no further as IdealShake comes in some of the most decadent flavors that will have your inner child jumping for joy.
Whether you are simple and like Vanilla or want to venture out and get Mint Chocolate Chip, these flavors are sure to keep you satisfied after a fast.
IdealShape is a brand that aims to help you lose weight, and the IdealShake Meal Replacement Shake does just that. It is a low-fat and low-sugar option that has, what they call, a "hunger control blend" that will keep you full for up to 3 hours.
This hunger blocking blend is made with a potato protein extract called Slendesta. Slendesta is a safe-to-use ingredient that helps you feel fuller longer, improving your satiety by getting the stomach and the brain to produce the feeling of fullness. If you are a snacker and have been worried about how a shake can replace a meal, this option is a gamechanger.
This meal replacement shake will also provide you with 11g (0.4oz) of all-whey protein and includes plenty of benefits from vitamins and minerals to ensure you are still getting the recommended daily intake that your body needs.
Benefits
Delicious flavors
Hunger control blend to help you feel full for up to 3 hours
11g (0.4oz) of whey protein
5g (0.2oz) of fiber
Only 3g (0.1oz) of sugar
Has Vitamin C, D, E, B6 & more
Over 50% daily iron intake
Features
Amount: 30 Shakes
Flavors: Chocolate, Cookies 'N Creme, Mint Chocolate Chip, Mocha, Salted Caramel, Strawberry, Vanilla
ORDER IdealShake Meal Replacement Shake HERE
8. Purely Inspired All-In-One Nutritional Supplement
Another plant-based and a gluten-free option is from Purely Inspired. Their All-in-One Meal Shake comes packed with protein, vitamins, and minerals and is verified as both Vegan and safe for those with that are gluten-free.
This Meal Replacement Shake was made with those who live a conscious lifestyle in mind, ensuring that their products are clean. This means they are Non-GMO and contain no artificial colors, flavors, or sweeteners.
It is designed to help you fuel your day and comes loaded with all those good things that you should be looking for in a typical meal.
Made from pea protein, rice, and hemp, their 20g (0.7oz) of protein is both high-quality and delicious. They also have included 27 different fruits or veggies into the mix, and you won't even have to taste one of them with their two flavors, French Vanilla, and Decadent Chocolate.
Even if you do not follow a plant-based lifestyle, this 100% vegan option is just as full of protein, vitamins and minerals, iron, fiber, Omega-3, and probiotics as the options that are not plant-based. With Vitamins A, C, D, E, B6, and B12, this shake includes many of the recommended vitamins that we should be consuming daily.
This is another quick and easy option that you just mix two servings with water or your preferred plant-based beverage to make a delicious meal replacement.
Benefits
20g (0.7oz) of high-quality protein made from peas, rice, and hemp
Made with 27 fruits and vegetables
5g (0.2oz) of fiber both soluble and insoluble that comes from inulin and flax
19 vitamins and minerals per 2 scoops including vitamin A, C, D, E, B6, and B12
Omega-3 derived from flaxseed and is an essential fat your body needs
1 billion CFU probiotics that contribute to a healthy digestive system
Gluten-free and safe for those with Celiac disease
100% vegan
Features
Amount: 15 Shakes
Flavors: French Vanilla, Decadent Chocolate
ORDER Purely Inspired All-In-One Nutritional Supplement HERE
Conclusion
When you are looking for a meal replacement shake while you are fasting, it is essential to find one that does not cut corners.
By helping you maintain your health through essential vitamins & minerals, a high amount of protein, and throwing in some extra good-for-you ingredients such as probiotics or Omega-3, meal replacement shakes do not actually feel like meal replacements at all.
The best part of it all is that no matter what your dietary restrictions or preferences may be, there are products out there for you, and in plenty of delicious flavors.
Meal replacement shakes should not feel like a punishment, and this list of the best meal replacement shakes for fasting are sure to be nutritious and filling.
Sources