Every parent wants the best for their children – including nutritious, healthy, and tasty meals. However, getting them to eat green vegetables and fruits is often a losing battle – with the parent on the losing end. Yet, with super green powders, feeding time can turn out to be fun and enjoyable for your toddler and yourself too.
The best super greens powders for toddlers are Macro Coco Greens and Beachbody Daily Sunshine. Both of these green powders are nutritionally dense, made specifically with what kids need in their diet, and are made to taste delicious. These shakes make it easy for your kid to eat fruits and vegetables.
In this article, we delve into the best greens powders for toddlers. We will look into their unique features, benefits, and why you should consider buying these nutritional supplements to meet your toddler's health needs. Let's get into it.
Highly Recommended: Macro Coco Greens – For Kids!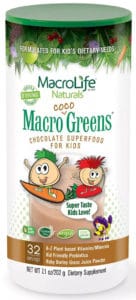 If your toddler hates the sight and taste of greens, you can now give them a reason to look forward to mealtimes with Macro Coco Greens. This delicious, chocolate-tasting, all-natural super greens multivitamin drink is full of all the essential nutrients your kid needs for healthy growth.
The manufacturers harnessed the power of the best ingredients from their adult formulations to create great-tasting, high-quality health drinks your toddler can't get enough of. The ingredients are chosen with great care to ensure that they provide the best nutrition for your child.
Macro Coco Greens contains vital vitamins such as A, C, D, and E, as well as calcium, fiber, magnesium, other trace minerals, and electrolytes. The formulation boasts up to 3.5 billion probiotics and digestive enzymes that assist in digestion and also support your baby's immune system.
The good news is that this drink mix has neither common allergens nor any other harsh or artificial ingredients like preservatives, stabilizers, pesticides, or artificial coloring. Additionally, it has no GMOs, bee pollen, wheat, corn syrup, or yeast.
While most available supermarket drinks contain high sugar levels, Macro Coco Greens has 70% less sugar – only 200 mg (less than 1/10th a teaspoon) of organic cane sugar per serving. Note that fresh organic blueberries contain almost 14gm (14,000 mg) of sugar per serving.
You need not worry about your toddler getting adequate vitamins anymore since this nutritional supplement is equal to up to 3+ servings of fruits and vegetables. Furthermore, this complete superfood comes with powerful antioxidants, making it an excellent green food alkalizing source.
Macro Coco Greens' alkalizing base is similar to certified organic baby barley juice powder, aloe vera, and organic spirulina. Other superfoods in this health drink include organic cacao, raspberry, beets, spinach, and carrot.
This multi-vitamin drink mix is gluten-free and vegan and will keep your toddler well hydrated. It is also available in a different variant – Macro Berri Reds – a fruit/berry multi-vitamin drink full of natural goodness.
To prepare your Macro Coco Greens:
Mix a scoop of the powder with either milk, juice, or water.
You can also add it to your toddler's favorite smoothie, yogurt, or cereal.
At the end, Marco Coco Greens will be a great addition to your child's health.
ORDER MACRO COCO GREENS FOR KIDS HERE
Beachbody Daily Sunshine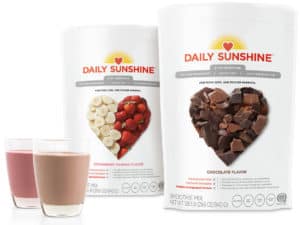 This kids shake also comes highly recommended, especially if your toddler is a picky eater when it comes to eating their greens.
Kids enjoy feeding on great-tasting foods, but unfortunately, many vegetables don't quite hit the mark. Luckily, the creators of Shakeology produced Beachbody Daily Sunshine as an easy solution to your toddler's feeding challenges.
Daily Sunshine is a delicious-tasting, 3-in-1 smoothie, based on whole foods. Designed to address your kid's nutritional needs, this formulation offers a healthier alternative to junk snacks.
This highly nutritional health drink is made from organic fruits and vegetables, pea protein, fiber, and healthy fats. The whole fruits and vegetables go through inspection, washing, pureeing, straining, drying, and then grinding to make a fine powder.
Daily Sunshine is carefully formulated with the kind of nutrition kids need to grow up healthy and strong. Created by a nutritionist, it is also endorsed by a pediatrician, so you can rest assured that you are giving your toddler a high-quality product.
This also means that it has no artificial flavors, sweeteners, hidden sugars like sorbitol, or preservatives. Still, a little cane sugar ensures that Daily Sunshine contains much less sugar than other similar products, but remains delicious.
This healthy smoothie is not bulked up with cellulose gel, magnesium stearate, or rice flour. Instead, each serving comes packed with premium ingredients. What's more, its GMO, Dairy, Soy, and gluten-free, which makes it safe for your toddler.
This fruit and vegetable blend is available in two great flavors: Chocolate and Strawberry Banana.
Other fruits and vegetables used in the mixtures include acerola cherry, blueberry, spinach, and sweet potato. To figure out which option suits your toddler, refer to the Nutrition Facts for the exact amounts of key nutrients in Daily Sunshine.
The Beachbody Daily Sunshine shake is simple to make, you only need to add water, shake, and it's ready for your toddler to drink. This makes it convenient as a snack or pick-me-up at any time of the day.
To Learn More: Read my Full Beachbody Daily Sunshine Review Here
Avoid mixing Daily Sunshine with hot liquids because some nutrients are heat-sensitive and could get destroyed. On the same note, it's not advisable to keep this nutritional drink in the fridge because moisture could have a negative impact on its performance.
Daily Sunshine comes with a 30 days money-back guarantee. That's how confident the manufacturers are that your toddler will love this nutritious smoothie. After all, which kid doesn't like drinking chocolate?
ORDER BEACHBODY DAILY SUNSHINE HERE
Amazing Grass Kidz Superfood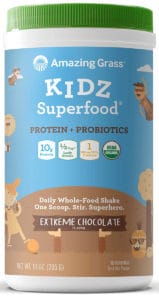 Kids Kidz Superfood is a nutritional powder-based powerhouse sourced from a blend of more than 30 different organic greens, fruits, and vegetables. The greens powder contains high-quality, plant-based ingredients that are organic certified, gluten-free, and Non-GMO.
The Kids Kidz nutritious greens powder comes in two variants, giving your toddler an option to try out different blends. These nutritious greens and antioxidant-rich superfoods provide your toddler with the kind of whole food nutrition their body needs in a tasty and convenient form.
The Kidz Superfood Protein + Probiotics is created using different colored organic greens, vegetables, fruits, plant proteins, and millions of CFU probiotics. All this goodness comes packed in a single scoop that tastes delicious. What's more, it's available in Extreme Chocolate and Strawberry Blast flavors.
Kidz Superfood is a nutrient-rich smoothie formulation that combines farm fresh greens with multiple wholesome fruits and veggies. It also comes in two exciting flavors; Berry Blast and Outrageous Chocolate.
This product offers you an amazingly simple way to help your toddler attain their daily recommended dose of fruits and veggies. Disguising all the greens, fruits, and vegetables in a delicious drink also means that your picky eaters will never guess what they are eating.
What's more, if your child gets a cold that's accompanied by a low appetite, Amazing Grass Kidz Superfood allows you to navigate through the feeding slump.
You can also try some cocoa powder or peanut butter to make it even tastier and further hide the vegetables from the exceptionally shrewd greens sleuths.
For best results, use a shaker style bottle or blender to dissolve the Amazing Grass powder into your preferred liquid. It might also help to put the powder in some warm water or milk first to help dissolve it before mixing it into a cold liquid. You can use water, milk, or juice to mix it in, add it to your smoothie, or use it in your favorite baking recipes.
With this great-tasting addition to your kid's diet, you now have a chance to offer them nutrients they would have passed up otherwise. Don't be surprised if they keep asking for seconds!
ORDER AMAZING GRASS KIDZ SUPERFOOD HERE
Nested Naturals Super Kids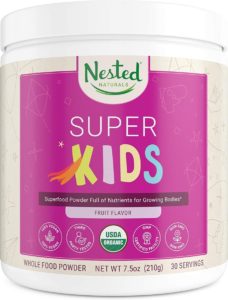 Super Kids is a vegan powder created using a rainbow of plants to make sure that your toddler receives a wide range of nutrients. Since it's made for kid's bodies and taste buds, it bears a tasty, fruity flavor, even though it's full of greens and vitamins.
Many kids won't touch anything 'healthy-looking' if they can help it, however Super Kids is an exception. This health drink is well-suited to kids because it does not feature any ingredients that aren't ideal for their bodies. These include spirulina, chlorella, or potent probiotics that small bellies may not be able to handle.
Super Kids sweetness comes from natural monk fruit extract. Hence, it will not give your child a blood sugar rush. Natural fruit flavor essences also add to the delicious taste, but the formulation has neither sugar nor artificial additives.
Even very picky eaters cannot resist the refreshingly good taste of this superfood health drink.
By eating multiple different-colored fruits and vegetables, your kid gets access to various phytonutrients with different nutritional qualities. You see, if your tiny one only eats red-colored foods like apples, they will miss out on all the healthy goodness that green, yellow or orange-colored foods pack in.
As such, Nested Naturals Super Kids covers every hue of the nutritional gamut:
Red – apple, cranberry, and beetroot
Green – kale, spinach, and broccoli
Orange – carrots
Yellow – pineapple and banana
Blue/purple – blueberries
For extra fiber, the formulation also includes ground flaxseed and oat sprout powder. This is necessary because most kids don't usually get adequate fiber in their regular diet.
As noted, a diverse blend of vegetables, dehydrated fruits, fiber-rich seeds, and sprouts make up Super Kids, providing a rainbow array of micronutrients. The result is a great-tasting kid superfood that goes exceptionally well with smoothies, juice, yogurt, or frozen popsicles.
A scoop of Super Kids makes for a great pick me up, mid-morning snack, or for days when you are out with your kid. It also works for those days when you don't have enough time to prepare a healthy portion of vegetables for your young one.
When you mix it with water, this superfood powder turns ruby red. This vibrant color, in addition to the great taste, wins over any reluctant feeder. There's no weird tasting component in the ingredients either, which adds to the product's likability.
High on the list of nutrients is antioxidant vitamin C, which helps in providing general wellness. Next is dehydrated fruits and vegetables, which help to make the health supplement well balanced. They also ensure that your toddler gets all the nutrients plus energy they require on a daily basis.
Super Kids is 100% USDA organic certified. Furthermore, the manufacturers promote sustainability hence work hard to create products that are most often vegan and Non-GMO.
In addition, this superfood powder is gluten, soy, and allergen-free. It undergoes stringent Third-Party tests for quality assurance purposes. The lengthy testing process goes through four stages:
Herb Identification – to validate the identity of every herb used
Microbial counts – involves testing the ingredients and final supplement for pathogens
Heavy metals testing – involves testing the product for arsenic, lead, cadmium, and mercury
Potency – conducted with third parties and confirms the amounts of vitamins, minerals, and other active ingredients in the supplement
Touted as 'the unicorn of superfood powders", this amazing product comes with a lifetime guarantee; you get a refund if you're not fully satisfied with its performance.
ORDER NESTED NATURALS SUPER KIDS HERE
Feel Great 365 Green Superfoods for Kids Protein Powder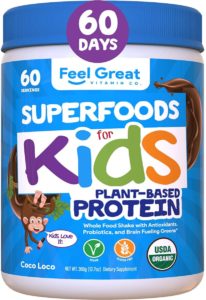 According to nutritionists, a toddler needs a wide range of fruits and vegetables, vitamins and minerals, natural fibers, probiotics, and digestive enzymes for optimum health. However, they would need to consume 20+ servings of such foods to get the antioxidant power found in a single serving of Organic Protein Superfood for Kids.
Thankfully, with Superfoods for Kids Plant-Based Protein, getting your toddler's nutritional needs right couldn't be easier. This is because the concentrated vitamins and minerals offer maximum energy support, allowing your child to escape energy crashes that emanate from insufficient daily nutrition.
Besides, this plant-based green juice powder is not only easy to add to your kid's breakfast smoothie, but it also bears a flavorful chocolate taste. This delicious flavor comes from real cocoa beans and helps make your smoothies a rich and decadent treat. Your toddler will adore the taste of this superfood drink and will always look forward to his daily serving.
Superfoods for Kids provides you with an excellent means to boost your toddler's nutrition with real food despite today's hectic life. This is because it contains adequate amounts of the core nutrients your kid needs – all offered in a convenient, easy-to-mix green powder.
Organic Protein Superfood for Kids is packed full of organic superfoods and nutrition including advanced protein, antioxidant, probiotic and greens blends. It contains over 15 powerful superfoods, 8 alkalizing greens and 7 grams of protein!
Here are just some of the Organic Protein Superfood for Kids ingredients:
Alkalizing Greens: sea kelp, spirulina, broccoli, chlorella, spinach, kale, parsley and green tea extract.
Antioxidants: noni, turmeric root powder, aloe vera leaf powder, ginger root powder.
Probiotic & Digestive Enzymes: acacia gum, agave inulin, LactoSpore, DigeZyme
Vitamins and Minerals
Protein Superfood for Kids is pure and free of preservatives, 100% natural, gluten-free, non-GMO, dairy-free, and vegan, USDA Organic.
Protein Superfood for Kids delivers a host of benefits. These include the following:
Helps to minimize food cravings
High in polyphenols and antioxidants
Muscle Growth & Recovery
Bone and Joint Support
Boosts natural energy, enabling your toddler to engage in more play
Promotes a healthy digestive system, thus helps to ease constipation
By offering complete nutrition in a single scoop, you can now maximize your child's health in an easy and simple way. Besides, this organic superfood is not only a time-saver, but it also goes well with juice, milk, or even water.
This product is USDA certified. Furthermore, the manufacturer follows strict guidelines and standards during manufacturing, which takes place in a GMP-Certified facility. This ensures that you receive a vegan, dairy-free superfood.
Additionally, the manufacturer guarantees the goodness it provides and backs this further by offering a warranty on this and all other Superfood supplements. This assures you that this healthier alternative to chocolate milk is not only high-quality but effective.
ORDER SUPERFOODS FOR KIDS PLANT-BASED PROTEIN HERE
Conclusion
There you have it – a list of the best green powders for your toddler. Whether you are looking to:
Add more greens to your toddler's diet
Find a better-tasting alternative
Get a more vegan or organic-based product
Whatever your preference, you are sure to find a green powder that fits your needs from the list above.
While we recommend Macro Coco Greens as the best of the lot, followed closely by Beachbody Daily Sunshine, all these products are superb.
Each is unique and offers all the vital nutrients your toddler's body needs for optimal health and much more. Besides, they all taste delicious, and your child is bound to love any that you opt for.
All the same, it is advisable to consult your health provider before you begin feeding your kid on health supplements. This is more so if your child has a medical condition or special needs.
Sources