Meal replacement shakes have been around for quite some time. However, they've come a long way from their earlier incarnations, where they were often advertised as low fat but high sugar options to help their drinkers slim down. Times have changed and you can find a shake to fit just about any purpose.
The best dairy-free meal replacement shakes contain better macronutrient ratios, the proper amount of protein needed for optimal tissue repair, and nutrients that our bodies crave. Beachbody Vegan Shakeology is the best currently on the market, but there are also others worth looking at.
This article will be looking at the best dairy-free meal replacement shakes on the market today. We'll also dig deeper into what these shakes are, what they can do for you, and how to find the right one for your unique needs and body composition.
Is It Healthy To Replace Meals With Shakes?
Let's first address the elephant in the room: is it healthy to skip meals and drink shakes instead? Well, that depends on the type you're replacing it with. There's a difference between a protein shake and a meal replacement shake, which comes down to what it contains.
It can be healthy to replace meals with liquids when those liquids contain the nutrients that our bodies require to repair themselves. It's also a fantastic way to get protein and fiber. Best of all, you can slim down or add calories where needed.
Our bodies are complex, and they need a good mix of nutrients to operate properly. Not only do we need a wide array of vitamins and minerals to stay healthy, but we need macronutrients, as well. These are Protein, Carbohydrates, and Fats. Cutting any of the three out entirely can lead to problems.
A protein shake tends to be high in that particular macronutrient and either low or moderate in either of the other two. This is to cater to those who follow special diets, such as ketogenic (high fat, low/no carb) or low fat (higher in carbohydrates).
You need either fat or sugar to produce energy, while the protein acts as a building block for your body's muscles, organs, and tissues. Bodybuilders, for instance, need more protein thanks to their rigorous exercise routine requiring more help for recovery.
A meal replacement shake provides a good balance of all macronutrients, vitamins, and minerals that we might not be getting in our regular food. When cutting calories to lose weight, in particular, we could be missing out on crucial nutrition, which could lead to food cravings or even illness.
Why Do People Use Meal Replacement Shakes?
There are several reasons someone might choose to consume these helpful shakes. As mentioned above, bodybuilders will add a meal replacement shake without actually replacing the meal. Instead, they add the shake to their daily food intake to bulk up and build more muscle.
People trying to lose weight will use meal replacement shakes to reduce calorie intake and curb hunger signals. These products tend to contain anywhere from 100 to 500 calories a serving. If you replace one meal that would've been more, you have an immediate deficit that'll help you drop pounds.
Meal replacement shakes are also gentle on the stomach. That's good news for anyone who suffers from gastrointestinal issues, such as gastroparesis, Crohn's, or Celiac disease. The liquid is easier to digest, processing faster, and requiring less stomach acid to get the job done. Most are also gluten-free.
Additionally, while many old-school meal replacement products had bad health effects, manufacturers have made major improvements to their formulas. Just in time; the benefits of shakes have become clearer as time has gone on.
Why Go Dairy-Free
Dairy-free meal replacement shakes have become increasingly popular over the past decade. Not only do they taste just as good as the traditional shakes, but they have additional benefits.
These are some of the benefits of a dairy-free meal:
Nutritionally dense, with a high number of micronutrients.
A balanced diet of macronutrients, with protein within the correct range.
Environmentally friendly, as they lessen reliance on methane-producing livestock.
Animal friendly, as they reduce reliance on factory farming.
No saturated fat, as there are no animal products.
Uses responsibly farmed ingredients that go directly into the shake, rather than as animal feed.
Inexpensive, given the lower cost of ingredients.
Filled with superfoods, including antioxidant-rich plant matter.
There are many different meal replacement brands out there. I'm personally fond of Shakeology, which has helped me lose weight and improve my health in a big way. We'll start by looking at their shakes and move on to some others that I feel are among the best dairy-free meal replacement shakes you can buy today.
What Is Shakeology?
Shakeology is a meal replacement shake created by Isabelle Daikeler, the wife of Beachbody co-founder Carl Daikeler and nutritionist and super food expert Darin Olien. It has become a huge hit in the fitness world. They're also known best for their whole foods approach to meal replacement shakes.
Carl didn't like to eat healthily, but he wanted to be healthy. He had a hard time eating vegetables and getting the right kind of nutrients into his diet. Not wanting to rely on supplements, he turned to his wife and friend to develop a solution that forced him to start adding in the right whole foods.
Shakeology was the result. Given he already ran a fitness brand, they decided to mass-produce and market the Shakeology recipe and make them a part of Beachbody.
What Is in Shakeology?
Shakeology has five plant-based, soy-free shakes that are entirely vegan: Chocolate, Vanilla, Tropical Strawberry, Cookies & Cream, and Café Latte. They're full of plant-based protein, high fiber content, and have about half the sugar you find in a medium-sized apple per serving.
Since it's a powder, you can add it to either liquid or milk. This includes plant milks like coconut, almond, oat, or any other that you prefer. Each shake also has superfoods, and most recently, they added matcha to their powders for a significant antioxidant boost to fight against free radicals.
Learn More About Shakeology Here
5 Best Dairy-Free Meal Replacement Shakes
We'll now look at what I think are five of the best dairy-free meal replacement shakes you can find. One will be Shakeology, as I genuinely believe they have the highest quality plant-based shakes around and it's what I drink every single morning. The rest are other brands that I've found to be both nutritionally dense and delicious.
1. Beachbody Vegan Shakeology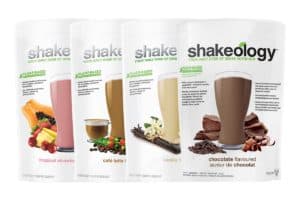 Shakeology's Vegan shakes by Beachbody have already been mentioned, but they're worth mentioning again. As my own #1 choice, they're far better than the average shake. Coming in an easy-to-use powder, you have the option of mixing them with either water or plant-based milk. You can use regular milk, as well, if avoiding animal products isn't important to you.
Ingredients
The Shakeology ingredients are all nutrient dense, ethically harvested, and Beachbody went across the globe to find the best ingredients. They include quinoa, flax seeds, chia seeds, yellow peas, and oats. Not only are these excellent Vegan proteins, but they're high in fiber for better gut health.
Unlike many other brands, Shakeology doesn't contain any soybeans, which are hard for the body to digest. So you'll feel full, without feeling bloated or sluggish.
Each shake contains 7 to 8 grams (0.25 to 0.28 oz) of sugar. That might seem like a lot, but their official website puts it into perspective: a banana has 19 grams (0.67 oz) of sugar.
That's far less than even a piece of fruit, and much of that's from the natural fruit and vegetable powders provided by the high number of superfoods.
Cost
The cost is the most common complaint about Shakeology. A 30-serving bag is $129.95, which can be purchased as a subscription with discounted shipping. Though that might seem high at first glance, it comes out to about $4.33 per shake.
For comparison's sake, a Mocha Frappuccino Grande (16 oz/510 g) at Starbucks is approximately $4.45, without any additional ingredients added to the mix. Not only is that smaller, but it's nutritionally deficient.
Here are Different Ways to Buy Shakeology Cheap
Nutrition Facts
Let's look at the two, side by side (please note that these are estimates based on public nutritional information):
| | |
| --- | --- |
| Starbucks Mocha Frappuccino (16 oz/510 g) | Shakeology Vegan Chocolate Shake (1 Scoop, made with 16 oz/510 g unsweetened almond milk) |
| Calories: 370 | Calories: 251 |
| Fat: 15 grams (0.53 oz) | Fat: 11 grams (0.39 oz) |
| Sugar: 52 grams (1.8 oz) | Sugar: 7.6 grams (0.27 oz) |
| Protein: 5 grams (0.18 oz) | Protein: 19 grams (0.67 oz) |
| Vitamins: Trace amounts | Vitamins: A, C, Calcium, Iron, various amino acids |
| Super Foods: None | Super Foods: Pea Protein, Quinoa, Rice Protein, Flax, Camu-Camu, Acerola Cherry, Bilberry / Blueberry, Lycium (Or Goji) Berry, Luo Han Guo, Pomegranate, Rose Hips, Schisandra, Whole Coffee Fruit, Cocoa, Yacon Root, Chicory Root, Bacillus Coagulans, Digestive Enzymes, Pea Fiber, Astragalus, Cordyceps, Ashwagandha, Chaga, Maca, Maitake, Reisha, Chlorella, Spinach, Cinnamon, Spinach and Kale. |
Many people buy Starbucks in spite of the cost being the same (or more), and the ingredients being unhealthy. Shakeology is nutritious, filling, and comes with a number of benefits. When you break it down, it isn't nearly as expensive as it might seem when you first glance at the price tag.
Shakeology Pros
Full of your daily allowance of vitamins and minerals.
A great source of vegetables for people who don't like vegetables.
Easy to take on the go, no matter how busy you are.
Gives you a boost of energy with each serving, so you won't feel sluggish, even if you are trying to lose weight.
Shakeology Cons
Shakeology can only be officially purchased on the Beachbody website, not on any third party online retailers.
The shakes can be a bit pricey.
There are only five flavors of Vegan Shakeology shakes, currently.
2. Ample V Complete Vegan Meal Replacement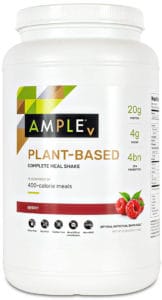 I first came across a review of Ample V Complete Vegan Meal Replacement on the blog of a popular vegan bodybuilder and fitness guru.
I had been looking for a shake that was pre-made in the bottle for days where I just didn't feel like making my own. We all have mornings where we want to pull something out of the fridge on our way out of the door. Or maybe I'm the only lazy person?… Anyways…
This blogger swore by Ample V, saying it was one of the most fantastic meal replacement shakes he had found. What really drew me was that it has a high level of probiotics. As someone who has struggled with gut health in the past, I wanted something that would help keep me regular. Each serving comes with approximately 4 billion active probiotic cultures.
Their dairy-free option is berry flavored, and I found that it tasted a little more complex than others I've tried. If you chill the powder in the fridge, you can add milk or water in their convenient bottles and shake it to prepare. So you don't have to worry about washing out and using your own protein shaker.
As someone who travels a lot, Ample V is a good option for having a few days worth of lunches packed into a carry-on and ready to go.
Cost
This is where they lose me a bit. They cost $79, not including shipping, for a 15-serving canister. Their bottles are a little bit more, coming to around $5.20 per serving. At the same time, though I love having them while on the road (or on a plane), they're a bit pricey to use every day when at home. At least when other brands cost less and have more flavor options.
Nutrition Facts (Powder Only)
Calories: 400 per serving (600 calorie bottles available)
Fat: Unknown, though their site claims their shakes are made of 56% premium fats
Fiber: 11 grams/0.39 oz
Protein: 20 grams/0.71 oz
Sugar: 4 grams/014 oz
You can buy Ample V at several local stores, as they tend to be available at Walmart, the Vitamin Shoppe, and online retailers like Amazon.
Ample V Pros
No need for a shaker, just add liquid to Ample V bottle
Available at Walmart, Vitamin Shoppe, and other retailers
Lots of probiotics for gut health
Convenient to carry for lunches on the go
Ample V Cons
Ample V Shakes are expensive
Only one non-dairy Ample V flavor, berry
Fat content of Ample V shakes unclear
ORDER AMPLE V COMPLETE MEAL HERE
3. Organifi Complete Protein Meal Replacement
Organifi is a well-known brand that provides supplement powders of various types. Their products include mixes for sleep, relaxation, mood elevation, immune system support, metabolism, and energy boosters–if you need it, they probably have it.
Their complete protein meal replacement shakes are 100% Vegan organic superfoods that come in chocolate or vanilla flavors. Their website also sells multi-packs called Redesign Your Day Bundles, which include their protein shakes, red juice, and green juice for a balanced diet full of everything you need for your body to thrive.
The selling point Organifi promotes is craving control and hunger curbing. They claim their shake gives you something sweet to break through your desire for desserts but also leaves you feeling full and satisfied. Given their ingredients list, it's safe to assume those statements are accurate.
Organifi powder is made with coconut, pumpkin seeds, pea proteins, and quinoa for plant-based protein. The sweetness is produced through a mix of monk fruit and other fruit powders, with vanilla bean for satisfying that itch for rich foods. The chocolate also has the high-quality cocoa powder to give you that taste of chocolate we all need once in a while.
In addition, both shakes have a complex enzyme profile that aids in digestion. Some users have claimed that these shakes helped to settle down their gas and acid reflux. That could be thanks to shakes being easier on the stomach than solid foods, but the enzymes could undoubtedly have something to do with it.
Cost
One way that Organifi may be a good option is if you're on a budget. One canister of 30 servings is $69.99. On their official website, you can sign up for an additional 15% off your first order. Amazon also qualifies it for Subscribe and Save for 5% off each month.
They're high in vitamins A, C, D, and E and offer 33% of your daily iron intake in one serving.
Nutrition Facts (Powder Only)
Calories: 170 per serving
Fat: 6 grams/0.21 oz
Fiber: 1 gram/0.04 oz
Protein: 20 grams/0.71 oz
Sugar: 3 grams/0.11 oz
Organifi is keto-friendly, as they contain only 7 grams/ of net carbs per serving. It's a good option if you want to add in some protein without the added sugars in lactose. If you aren't worried about animal products, you could even mix them with heavy cream for a good fat bomb.
To be honest, while the cost is much lower than other brands, I don't personally find the taste that great. The finished product comes out tasting a little like Ensure, and I've always found it a bit too sweet for my liking. That can be offset by using thicker plant milk, like cashew or oat.
For an occasional meal replacement, I like having it around when funds are tight. It isn't a terrible option, just not my favorite.
Organifi Pros
Enzymes to aid in digestion
Less expensive than other brands
Keto-friendly, only 7 grams net carbs/serving
Organifi Cons
Low in fiber
Taste leaves something to be desired
Order Organifi Complete Protein Meal Replacement
4. Ambronite Balanced Meal Shake
I had never heard of Ambronite Balanced Meal Shakes until a friend of mine underwent gastric bypass surgery. During her recovery, she struggled to reintroduce solid foods into her diet. Instead, she used these shakes to give herself optimal nutrition until she could stomach the high-protein meals her bariatric surgeon recommended.
These meal shakes come in chocolate, vanilla, and berry flavors, and in many ways, are similar to the Organifi shakes. What makes them unique is their consistency; Ambronite shakes are quite a bit thinner than other brands. This is regardless of how much liquid you use, as it mixes differently than thicker varieties. If I had to guess why, I'd say it has to do with the ingredients list.
While Ambronite uses some of the same plant-based protein sources that we've commonly seen with the brands above (pea proteins, flaxseed, and oats), they have far fewer. They also don't contain the same number of superfoods, relying on beetroot, wheatgrass, and carrot for most of the vitamins.
That isn't necessarily a negative. If you find it challenging to drink thicker shakes or use them to replace meals while you get your appetite back from a procedure or illness, they may be handy.
If you're trying to lose weight, they might not be heavy enough to keep you satiated for very long.
Cost
A pack of 10 shakes comes out to $68, or $6.80 a serving. That's up there when compared to others, which is a significant con. If you're using it temporarily, it may be worth it. You can get 15% off recurring orders if you go through their official website, which helps.
Nutrition Facts (Powder Only)
Calories: 400 per serving
Fat: 16 grams/0.56 oz
Fiber: 12 grams/0.42 oz (Net 21 grams carbs)
Protein: 19 grams/0.67 oz
Sugar: 1.5 grams/0.05 oz
Ambronite promotes itself as a balanced meal and looking at the macronutrients, you can see that they spread them somewhat evenly across each. So if you aren't looking to cut one macro from your diet, this could be perfect for you.
Ambronite Pros
Complete nutrition for recovering bariatric patients
15% off for recurring orders
Ambronite Cons
Shakes are a bit thin
Not as filling as some other meal replacement shakes
One of the more expensive shakes per serving
ORDER AMBRONITE BALANCED MEAL SHAKE
5. OWYN Vegan Protein Shake
Right off the bat, I'll say that I love that I can just run into a Target and grab a pack of these already prepared shakes. It makes them a convenient choice when I don't have my usual brand, or I'm out and about and find myself hungry. OWYN has saved me more than once from picking up pizza or french fries. Best of all, I don't feel like I missed out on that fast food.
They have four options to choose from: high protein, original protein, weight management, and a protein powder that can be mixed with your choice of water or milk. They also have a wider variety of flavors than most, with chocolate, dark chocolate, vanilla, smooth vanilla, chai, buttercup, cookies and cream, and cold brew coffee.
So if you're sick of the usual tastes of meal replacement shakes, you can get something different with OWYN.
OWYN is somewhat keto-friendly, at only 5 grams (0.18 oz) of net carbs per bottle. That's how I originally came to know about them, as a coworker of mine brought the powder into the office when she switched to low carb. She mixed it with heavy cream to get more fat. They're also allergen-free, which was good for her given she had a peanut allergy.
I ended up trying some with my soy milk and loved the cookies and cream and no-nut buttercup flavors.
Cost
These are the most cost-effective shakes on the list. A 12 pack of premade cartons is $29.99, or $2.90 per serving, a great price for those mainly concerned with their budget. According to their website, the bottles are 25% more expensive, which isn't half bad.
Nutrition Info (Prepared Carton)
Calories: 170 per serving
Fat: 7 grams/0.25 oz
Fiber: 5 grams/0.18 oz
Protein: 20 grams/0.71 oz
Sugar: 4 grams/0.14 oz
I probably wouldn't rely on these entirely for my meal replacements. They don't have nearly as dense of vitamins or minerals as other brands. But they're easy, accessible, have a great list of flavors, and are cheap enough to work for anyone.
Next time you're tempted to go through the drive-through, pick one of these up instead. You'll feel much better about the choice.
OWYN Pros
Wide variety of flavors
Available at Target
One of the most inexpensive meal replacement shakes listed
OWYN Cons
Less nutrient-dense than other brands
ORDER OWYN VEGAN PROTEIN SHAKE
Final Thoughts
You may be looking to lose some weight and want something to help manage your calorie count. You could be cutting for muscle definition or bulking for muscle gains. Or you might just want something fast that won't leave you running for fast food.
Whatever your motivation, the above brands are the best dairy-free meal replacement shakes available. They're healthy, nutrient-dense, tasty, easy to implement into your diet, and even the pricier ones are cheaper than a drive-through.
If you're looking for a healthier alternative to snacks or a full meal, dairy-free replacement meal shakes are the way to go.
Additional Resources:
THE BEST Vegan Meal Replacement Shakes for Weight Loss
Looking for other incredibly healthy vegan meal replacement shakes? Check out this list of meal replacement shakes that will help you lose weight.
Best Beachbody Workouts for Weight Loss
Need an extra boost to help you lose weight besides dieting? Here are the best Beachbody workouts that will help you burn calories fast. There are different types of workouts, so you'll be sure to find a program that you will stick to.
Ultimate Reset: 21 Day Vegan DETOX Cleanse
Need to detox your body in a natural, healthy, and vegan way? This is not a starvation cleanse like the other guys. Instead, with this detox, you'll use high quality supplements and will be eating only delicious vegan meals for 21 days!
Sources