Wanting to look your best at the beach is not a new concept. When swimsuit season rolls around, I need a workout that's going to help me focus on weight loss so I can feel happy and confident about showing some skin at the beach this year.
Here are the best Beachbody workouts for weight loss:
21 Day Fix by Autumn Calabrese
Insanity: MAX 30 by Shaun T
Morning Meltdown 100 by Jericho McMatthews
LIIFT4 by Joel Freeman
P90X3 by Tony Horton
Each workout is designed to help you lose weight with proven exercises & simple to follow nutrition guides.
Unlike the saying "One size fits all," one workout does not work for all people. In this article, I'll discuss each of these workouts in detail so you can get a better idea of which one sounds like the right Beachbody workout for you and your needs. But first, let's take a look at the important components of weight loss and how it all ties together.
The Importance of Exercise and Nutrition in Weight Loss
Before we get started, let's go over the qualifiers for a good weight loss program. When you perform physical exercise, you are burning calories. To burn calories and lose body mass, you'll need to focus on stimulating your cardiovascular system and figuring out your target heart rate.
Your target heart rate refers to how many heartbeats per minute you should have when exercising.
This calculator will help you find out your target heart rate. When exercising, it is recommended to raise your heartbeats per minute to within 55-85% of your maximum heart rate, which you can find by subtracting your age from 220.
Investing in and using a fitness tracking app makes it easier to be aware of your heart rate when you're working out so you can see which routines are the best calorie burners for you, therefore making it easier to stay on top of your weight loss journey.
Exercise
All exercise is a good exercise; but, there are specific fitness regimens that are designed for weight loss. Different types of exercise that can help with weight loss include:
Aerobics: Aerobics translates to "with oxygen." This type of exercise can include walking, running, swimming, jump rope, or cycling. In aerobics workouts, there should be a warm-up routine before and a cool-down routine after finishing. Stretching is also vital before and after to avoid injury and to improve your flexibility.
High-Intensity Interval Training (HIIT): HIIT refers to a workout including high-energy bursts of movement with rests in between reps. This type of exercise is popular with fitness buffs that don't have a lot of time on their hands since some HIIT intervals can be completed in under ten minutes. HIIT routine features can include sprints, burpees, cycling, and incorporating weightlifting equipment into timed movements.
Resistance Training: This type of exercise focuses on building up strength and endurance, usually with the addition of weightlifting equipment. It can also be referred to as strength training. Adding resistance training to your workout regimen will help to firm up and tone muscles and increase your physical endurance. Workouts include moves such as lunges or squats with dumbbells or kettlebells and weightlifting machines.
Nutrition
Have you ever heard the phrase "abs are made in the kitchen?" There's a lot of truth behind that saying. Although working out regularly can produce great results for weight loss, you won't get very far in your journey if you're not eating right.
Let's go over some factors different foods can have on your body when you're working out.
There are certain foods you should be eating that will help you produce enough energy for your workouts as well as help you to feel full, so you don't go overboard.
It's also important to pay attention to what you're eating after your workout as well since you need to make sure the calories you consume do not exceed your daily intake plus the calories you've just burned in your workout.
Here are some examples of foods to eat before and after your workout:
Before:
Eggs
Yogurt
Smoothie
Whole grains
After:
Fruit
Lean proteins
Veggies
Avocados
It's also important to drink water and other non-sugary drinks, such as coffee and tea, to help you stay hydrated and satisfied.
Exercise and nutrition are the building blocks of any weight loss program. Once you are exercising regularly and eating well, the pounds will start to fall off, and you'll begin to see results quickly. You'll see in most of the workouts I'm going to talk about in this article, almost all of them include a meal plan or nutritional guide to go along with their program.
Most Effective Weight Loss Workout: 21 Day Fix by Autumn Calabrese
Time commitment: 30 minutes a day
Equipment needed: depending on the workout, you will need a mat and small weights. It's recommended to have a small, medium, and large set of weights depending on what will challenge you.
Modifier: Yes, in every workout
Workout schedule: 30 minutes a day for 21 continuous days
Program Materials: Check out the Start Here Guide, 21 Day Fix Calendar, 21 Day Fix FAQs, and more => Click Here
Designed by Autumn Calabrese, the 21 Day Fix is a program designed to bring fast results, with a promise of losing up to 15 pounds (6.80 kg) if followed correctly. The program package consists of six 30-minute workouts to be performed and completed at designated times during the 21 days and a meal plan based on a color packaging system.
Instead of just red (proteins), yellow (carbs), and green (veggies), you also have purple (fruits), orange (dressings and toppings, such as seeds), and blue (fats).
Once you've filled up all your containers with the recommendations the 21 Day Fix provides, then the size of each color container depends on how much you're going to eat of which food each day; sounds pretty easy to follow, right?
Each of the workout videos included in this program focus on a different component of the body, which are all only 30 minutes long:
Upper Fix: This workout concentrates on resistance training with the upper half of your body (arms, shoulders, abs, chest, and back).
Lower Fix: This workout focuses on resistance training with, you guessed it, your lower half. (glutes, thighs, and legs).
Total Body Cardio: This workout will get your blood pumping and work out your entire body using small weights.
Pilates Fix: Focusing on the aspects of Pilates, this workout will help shape your hips, thighs, core, and muscles.
Cardio Fix: Works your entire body and increases your heart rate, but this time without small weights.
Yoga Fix: Using yoga poses to help build your strength and endurance, as well as improves your flexibility.
The Pros
21 Day Fix is a quick method to lose weight and achieve results FAST.
The program includes a meal plan and color system to keep everything simple.
Suggests healthy foods rich in vitamins and nutrients that can help sustain a long-term diet.
Different levels and modifications to customize your own plan.
The Cons
You must be fully committed for 21 days (including workout out every day).
Restricting foods and portion size to color system containers.
LEARN MORE ABOUT THE 21 DAY FIX WORKOUT HERE
Best No Weight Workout: Insanity: MAX 30 by Shaun T
Time commitment: 30 minutes
Equipment needed: None
Modifier: Yes
Workout schedule: 30 minutes a day, six days a week for 60 days
Program Materials: Max 30 Quick Start, Fitness Guide, Quick Start Guide to Nutrition, Progress Tracker, Insanity MAX 30: Max Out Tracker, Max 30 Calendar, and more => Click Here
The average person should be awake for about 17 hours a day. When you think about it, is fitting a 30-minute workout somewhere in that 17 hours really that hard to do? If you're an impatient person like I am, Insanity: MAX 30 by Shaun T is a great workout; there's no time to be annoyed by waiting around because you're too busy moving!
Insanity: MAX 30 workouts include components of cardio, HIIT, and resistance training to push people to their maximum limits in each workout. Once they've hit their threshold, MAXED OUT, they record how long it took to reach their first unscheduled break. The next day involves attempting to beat their max time, and so on and so on.
This workout will get you in shape quickly and help you achieve that beach body you're after by pushing yourself further than you've ever pushed before. The program is made up of 12 workouts that will help work every muscle in your body and comes with a nutrition guide that is a little more generous than your typical fitness meal plan.
The 12 workouts included in the Insanity: MAX 30 program are listed here:
Tabata Power
Sweat Intervals
Cardio Challenge
Tabata Strength
Friday Fight: Round 1
Friday Fight: Round 2
Pulse
Ab Attack
MAX Power
MAX Cardio
MAX Sweat
MAX Strength
With names like Ab Attack and Sweat Intervals, you can tell this program is not for the faint of heart. This program is designed for individuals that are serious about weight loss and want to fight for it so that they can achieve their ultimate goals.
The Pros
The program doesn't advertise a set weight loss number; it is based on the individual's goals.
Flexible meal plan.
Builds strength and endurance in just 30 minutes a day.
No equipment needed.
Split screen offered so that you can always see the modifier.
The Cons
Workouts may be too intense for some participants.
LEARN MORE ABOUT INSANITY MAX 30 HERE
Best Variation: Morning Meltdown 100 by Jericho McMatthews
Time commitment: 20-30 minutes
Equipment needed: Some workouts will require a mat and dumbbells
Modifier: Yes
Workout schedule: 100-morning workouts to complete
Program Materials: Check out the Get Started Here Guide, Be 100 Book, Quick Start Guide to Nutrition, Prep Calendar, Wall Calendar, 60 Day Calendar with Doubles & Rest Days, 100 Day Calendar with Doubles & Rest Days, and more => Click Here
Isn't it fun to make challenges for yourself? What if that challenge was to complete 100 workouts? Do you think you'd be up for it? That's what our lengthiest BeachBody workout, Morning Meltdown 100 by Jericho McMatthews, is all about!
This Beachbody program includes:
Your Get Started Guide is there to prepare you for your 100 workout journey.
The Be 100 Book helps guide and motivate and inspire you with room to write in your own personal notes and aspirations along the way.
A nutritional guide so you know what you should be eating to help get the most out of your fitness routine.
Calendars that will help you to keep track of your 100 workouts–that's a lot to keep track of, after all!
The Morning Meltdown 100 program is divided into five phases, with 20 workouts in each phase. Like the name says, it is designed to be done in the morning so you can start your day off already feeling accomplished. If you like to work out to music, Jericho has a DJ playing tunes that match the fitness routines and will help to keep you motivated.
Each phase will have ten workouts that are 20-30 minutes each that all include a common theme; once the first ten are completed, you will repeat those ten workouts with additional challenges in each one. Here are the themes of the ten workouts:
Core Inferno: Focusing on working your abs and strengthening your core
Total Body Badass: A full-body workout using dumbbells.
Lit Cardio. A HIIT workout that will get your blood pumping.
Cardio Meltdown: Your muscles won't actually melt, but they will get a great cardio workout with this one.
Freestyle Flow: This workout combines yoga with movement when you're looking for something not as high-intensity.
Upbeat Strength: Concentrating on your upper body, this workout will help increase strength and endurance in your arms, shoulders, chest, and back.
Downbeat Strength: What goes up must come down. Strengthening your legs, thighs, and glutes is the object of this workout.
Melton: A total-body workout with some serious cardio mixed in for optimal calorie-burning.
Fight Club: You'll get in excellent fighting shape with this workout inspired by the martial arts.
Re-Vibe: Time to cool down with this low-key workout that includes stretching and yoga poses to aid in flexibility and recovery.
The Pros
The 100 workout challenge will help to keep you motivated and focused.
Different phases mean you won't be doing the same tired routine over and over.
You can go at your own pace and don't have to commit to any deadlines.
Motivational book and nutrition guide included.
The Cons
The workout is meant for the intermediate level, so it may not be meant for everyone.
Workouts have a dance party vibe, which may not be your cup of tea.
LEARN MORE ABOUT MORNING MELTDOWN HERE
Best Time-Saving Workout: LIIFT4 by Joel Freeman
Time commitment: 30-40 mins
Equipment needed: Body Weights
Modifier: Yes
Workout schedule: 4 workouts a week for eight weeks
Program Materials: LIIFT 4 Get Started Guide, Workout Calendar, Weight Progression Trackers, Quick Start Nutrition Guide, and more => Click Here
No, this workout isn't spelled incorrectly. LIIFT4 by Joel Freeman is a program that's designed for the busy bee that doesn't have too much time on their hands. Lift, HIIT, Rest, Repeat These workouts only need to be performed four times a week with three recovery days to give your muscles time to rest and repair. And the workouts are still only 30-40 minutes long!
If you want to get that beach body but just don't have extra time and energy to spend on working out, this might be the routine for you. LIIFT4 is composed of HIIT and weightlifting components, including a meal plan guide that will help you achieve your goals and lose up to nine pounds (4.08 kg) in 14 days.
The workout timeline consists of two phases which involve building and strengthening muscle in the first phase which should last six weeks, and then you'll get hit with high-intensity calorie-burning cardio routines for the remaining two weeks of the program.
Workouts in the first six weeks will target specific areas at a time to help you achieve maximum results without becoming overwhelmed all at once. These areas covered include:
Back and Biceps
Chest and Triceps
Shoulders
Legs
Once you've worked on toning and sculpting these muscles, then comes the cardio. If there's one component that stays consistent in Joel's workouts, it's weights and lifting first, HIIT and cardio second. Each workout will leave you feeling accomplished and confident in achieving your goals, and probably pretty sweaty too.
The Pros
Achieve results fast.
Workouts are only four times a week.
Workouts consistent with weightlifting and HIIT components.
The Cons
Variety of weight equipment needed
Best Muscle Building: P90X3 by Tony Horton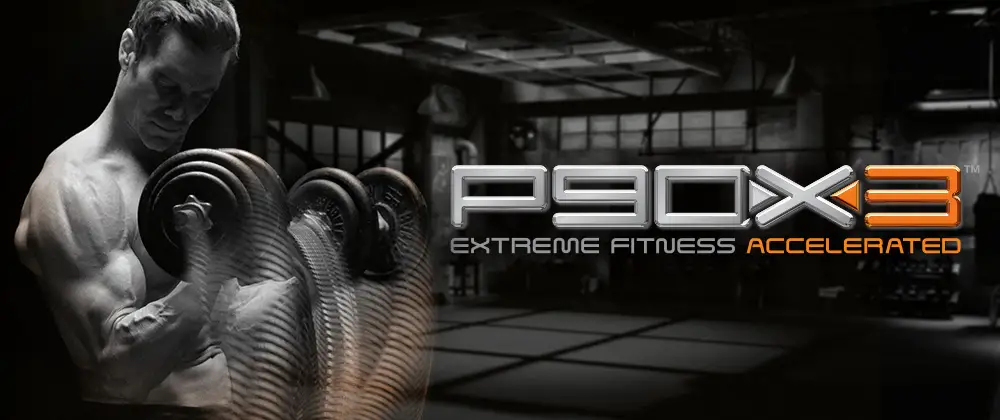 Time commitment: 30 minutes
Equipment needed: Body weights and resistance bands
Modifier: Yes
Workout schedule: 30 minutes a day, six days a week for 90 days
Program Materials: P90X3 Fitness Guide, Quick Start to Nutrition, Nutrition Guide, Workout Calendar, Worksheet, FAQs, and more => Click Here
You've been wanting to push yourself into an extreme workout every day that helps build big, strong muscles, right? Then P90X3 by Tony Horton may be the Beachbody workout for you. P90X3 is the third in a series of fitness programs that trainer Tony Horton has created a workout designed to push you to your limits to achieve optimal results.
P90X3 works every muscle in focused, high-intensity moves that will help you lose weight in just 30 minutes a day. Previous versions lasted from 60-90 minutes a workout, but P90X3 was shortened to become the most convenient, high-intensity workout you can find.
The P90X3 program comes with a fitness guide that explains everything you need to know to achieve your best results, a guide to nutrition and what you should be eating during your fitness journey, a calendar to help you keep track (90 days is a long time!), and music playlists designed for Spotify to inspire you to keep you going through your routine.
The Beachbody program P90X3 workouts include:
Eccentric Upper
Eccentric Lower
Total Synergistics
Agility X
X3 Yoga
CVX
Cold Start
The Warrior
Dynamix
Accelerator
Decelerator
Isometrics
Pilates X
The Challenge
MMX
Triometrics
The Incinerator
Ab Ripper
If you're not completely terrified by some of the names of these workouts, then it might be worth giving it a shot. If you're looking for a true test of your endurance while gaining strength and achieving the best beach body you can have, then you may have found your perfect match.
The Pros
P90X3 is only 30 minutes a day.
A complete and full-body workout that won't leave you feeling like you skipped a muscle group.
The equipment needed is minimal.
Program is long enough to develop a lasting habit.
It can be adapted to all levels of fitness from beginner to advanced.
The Cons
May prefer earlier, more extended versions.
Some may find the 30-minute version too intense.
So, now you've looked into all the different types of programs to obtain your beach body. If you're still not sure which one is right for you, I recommend trying out Beachbody on Demand to find your favorites because you might like more than one once you've tried a few of them out.
What is Beachbody on Demand?
Beachbody on Demand is the Netflix of physical fitness workout videos! You can choose from a variety of different subscription services, including three months, six months, or annual fees that will give you access to all things Beachbody. It's a great option if you want to try out more than one Beachbody program or you're looking for more content from your favorite trainer.
By signing up for a BOD membership, you'll have access to over 75 programs ensuring that you'll never get bored with a workout. You can also find beneficial cooking shows that will help you develop your ideal meal plans and introduce you to some new recipes.
Beachbody on Demand is great for beginners up to experienced fitness buffs. Each workout's level of difficulty can be found in the program information. Many of the workouts also include a person performing a modified version for beginners as well.
Other Resources:
Is Beachbody on Demand Better Than a Gym?
Still debating on a Gym Membership or Beachbody on Demand Membership? Find out which one is really worth the money. We'll go over the pros and cons of each. Plus, what is really possible with Beachbody on Demand.
The Best Beachbody on Demand Workouts
Are you looking for the most effective Beachbody on Demand workouts? While every Beachbody workout program will get you results, some have worked better than others. Here's a list the best Beachbody on Demand workouts that have helped thousands to lose weight and reach their fitness goals.
How Does Beachbody on Demand Work
Find out what all you get with Beachbody on Demand. The kind of workouts you have instant access to and how you can stream your workouts on multiple devices. Plus, what kind of nutritional support is available through Beachbody on Demand and other BOD exclusives.
Best Beachbody Workouts for Beginners
Are you just deciding to start working out? This article will help you find the best beginning workout that you can easily do at home and get amazing results. Beachbody offers a lot of different workout programs, however are the ones that the majority of people have enjoyed the most.
Shakeology is a nutrient dense shake that gives you more nutrients than a meal replacement and protein shake combined. Shakeology contains: Protein, Superfruits & Antioxidants, Prebiotics & Probiotics, Adaptogens, Supergreens & Phytonutrients, and Vitamins & Minerals. Learn more from the review above to see if it's shake you should add to your daily life.
Sources