Running is fun. However, while daily running is great for your body, it can become routine and boring. Beachbody running programs that incorporate cross-training provide runners with an excellent opportunity to make their workouts more exciting, avoid injury, and enhance their fitness.
The best Beachbody program for runners is Idalis Velazquez's 30 Day Breakaway, a workout suited to amateur runners. Seasoned runners can go for 21 Day Fix, P90X3, LIIFT4, and Morning Meltdown 100 workouts as part of their running plan. These are also ideal for runners looking to build strength.
In this article, you'll find detailed information relating to the above Beachbody programs, how they work, and how you can incorporate them into your current running schedule. Let's get started.
30 Day Breakaway Program
30 Day Breakaway is a running and resistance-training workout combo designed to produce rapid results by providing the guidance you need to build a strong running foundation. A creation of Idalis Velazquez, a renowned track-and-field star athlete, and super trainer, the unique fitness program is specifically designed for beginner runners. It's also ideal for runners aspiring to complete their first 5K run.
After 30 days of consistent running, you come out stronger, leaner, more athletic, and ready to tackle your 5K. Experienced runners looking to improve their running will also find the program helpful.
Idalis runs through beautiful landscapes that inspire you to step outside and do likewise. Discover the joy running brings while you work to transform your body in a mere 30 days.
How 30 Day Breakaway Program Works
30 Day Breakaway is a Beachbody program that's available on the Beachbody On Demand app. With Idalis acting as your personal trainer via video or audio, you undertake fast and effective resistance workouts closely followed by interval runs. The workouts are available in both English and Spanish.
The running training pushes you hard for short bursts at a level appropriate for you, whether you take a brisk walk, do a slow jog, or a steady run. The program also incorporates low-impact strength training to help you build stamina and lean muscle.
This dynamic running and resistance training combination helps you burn fat while building speed, strength, endurance, and overall body power. You can run outdoors or indoors on the treadmill. If the weather turns foul, you can do the Rainy Day Cardio workout instead, a 20-minute ultimate calorie burner.
30 Day Breakaway Workouts
As mentioned earlier, 30 Day Breakaway workouts entail both running and resistance training. You do the workouts 6 days per week, with each lasting 20–30 minutes. The exercises are progressive; you begin with 3 walks or runs per week and build this to 5.
Following your rate of perceived exertion, you engage your body in different running or walking workouts ranging from moderate, steady to speed work. This allows your body to adapt and progress quickly. Besides, the running workouts focus on time rather than distance.
Simultaneously, you lift weights on specific days, targeting particular areas or the entire body, helping to build lean muscle power for your runs.
Alternatively, you can follow either of the below options:
The Advanced Runners Calendar. If you love running or desire to step it up a notch by pairing runs with lifting, this is for you. You do the workout routine 5 days per week for 30 days.
The Time Crunch Calendar. This is for runners with a tight schedule. Each day, you can choose between a run or lifting. Either routine lasts for 30 minutes.
After 30 days, you'll be ready to put your progress to the test by completing a 5K race. What's more, you even receive a 30 Day Breakaway race medal if you track your run and submit your results.
SEE THE 30 DAY BREAKAWAY CALENDAR & PROGRAM MATERIALS HERE
What You Need To Take Part in 30 Day Breakaway Workouts
Your Equipment
To get the most out of the 30 Day Breakaway program, you need to buy appropriate gear and equipment. You'll use some of it during your resistance training, while the rest will come in handy in relaxing your tired muscles after your workouts. As such, you'll require the following :
A pair of good running shoes
A foam roller
Beachbody Resistance Loops
A set of dumbbells, each in light, medium, and heavy weight (or adjustable ones)
Your Nutrition
To perform the rigorous daily workouts, your body will require proper nutrition. A healthy diet builds a solid foundation for your day, and there's no better way to do this than using Shakeology, a tasty superfood shake. Shakeology helps you eat better and equips you to take on your run each day.
The superfood provides your body with premium proteins, essential vitamins, and minerals. Each scoop comes loaded with pre- and probiotics, antioxidants, phytonutrients, adaptogens, fiber, and digestive enzymes.
For your nutrition, Beachbody recommends 2B Mindset and Portion Fix. The nutrition programs are unique in that they allow you to lose weight while eating what you love. With 2B Mindset, you eat proper foods in larger quantities to keep you satiated, whereas Portion Fix guides your eating with perfectly portioned meals in color-coded containers.
You get both nutrition programs free on buying the Total Solution Pack plus a 7-day sample meal plan to start you off.
Idalis is also a fan of Beachbody Performance Energize and Recover. Energize contains quercetin, beta-alanine, and caffeine, a powerful trio that helps enhance your energy and endurance, enabling you to get the most out of your runs. On the other hand, Recover comprises crucial proteins, BCAAs and pomegranate extract, to support muscle recovery.
LEARN MORE ABOUT 30 DAY BREAK AWAY HERE
The next workouts are most suitable for experienced runners looking to improve their runs by incorporating strength training in their running plans.
21 Day Fix
21 Day Fix is a Beachbody nutrition and fitness program designed to help you lose up to 7 kgs (15 pounds) in only 3 weeks. It comprises guided workouts and healthy, portion-controlled meals. But more than that, if you're not new to running, 21 Day Fix offers a superb way to build strength into your workouts.
The great thing about the program is that it consists of short but extremely efficient workouts. Strength training workouts help build strong muscles, making you look better, feel better, and burn more calories — even when you're not working out.
So, if time is an issue but you still wish to prioritize your running, 21 Day Fix is ideal since you only need to invest 30 minutes.
The 21 Day Fix program contains two DVDs with 6 30-minute workouts covering resistance training, cardio with weights, Pilates, and yoga. Resistance training (Upper Fix) targets the upper body with an emphasis on the back, chest, abs, arms, and shoulders, while the cardiovascular Fix is a full-body workout using weights.
Each exercise targets specific body parts, and the goal is to complete a workout every day.
SEE THE 21 DAY FIX CALENDAR & PROGRAM MATERIALS HERE
How To Incorporate 21 Day Fix Into Your Running Plan
To incorporate the 21 Day Fix into your running routine, complete a strength training workout with your daily run. Also, make the strength training work for your running schedule by carefully choosing your workout. For instance, avoid doing a lower body workout on the eve of a tempo run or the same day.
Because the workouts vary, you're unlikely to get bored. You also get to focus on practically every part of your body and can use dumbbells for your strength training or a resistance band.
Apart from helping you gain strength, lifting weights reduces your chances of getting an injury and might help prevent osteoporosis. Also, it strengthens your connective tissues, thereby boosting cardiovascular function.
LEARN MORE ABOUT THE 21 DAY FIX HERE
P90X3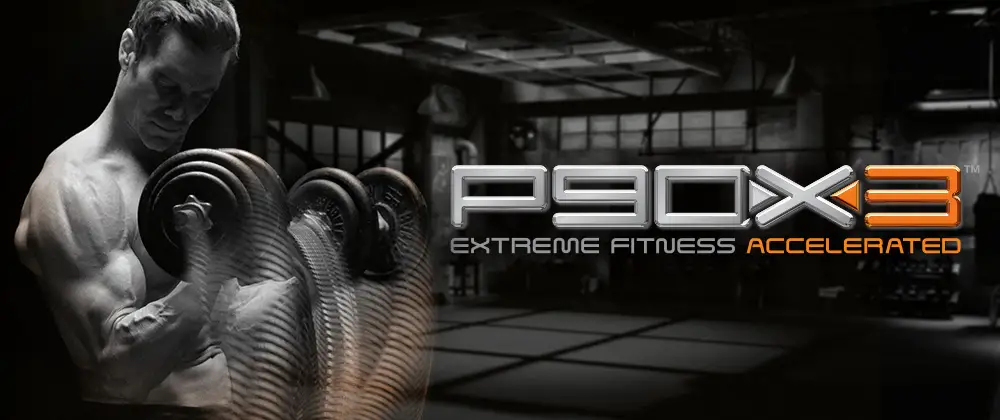 Beachbody's P90X3 combines a highly structured strength training schedule with varied moves that challenge practically every muscle. The variation keeps you on your toes, as you need to move quickly from one activity to the next and prevents boredom from creeping in. Tony Horton designed this extreme home fitness program to run for 90 days, 6 days a week, with each of the 21 workouts lasting 30 minutes.
P90X3 program contains 4 calendar options, namely, Classic, Lean, Mass, and Doubles, and includes cardio, agility, mixed martial arts, and yoga. To perform them, you require minimal equipment — just weights and resistance bands. You might also need a yoga mat and a pull-up bar, though, for the latter, you can modify the moves.
SEE THE P90X3 CALENDAR & PROGRAM MATERIALS HERE
Combining P90X3 with Running
P90X3 has a new workout each day, which helps to keep your routine fresh and exciting. To combine the intense workouts with your running, you can either perform the workouts and run simultaneously or alternate between them and running.
Since the workouts are short, you can easily combine a workout with your daily run. You can also mix and match the exercises to work with your schedule and improve your running efficiency. For instance, incorporating Pilates and yoga enhances your flexibility as they build core strength and loosen the hamstrings, hips, and calves.
The great thing about P90X3 is that it's suitable for runners at all fitness levels. If you find the moves a little too advanced, you can modify them to suit your tastes. However, shift to heavier weights if you find them to be a bit on the easy side.
LIIFT4
LIIFT4 is yet another Beachbody program designed for seasoned runners who lack time to do a workout each day of the week. Created by Joel Freeman, the program has only four 30 to 40-minute strength training and high-intensity interval training (HIIT) workouts every week and runs for 8 weeks.
The workouts vary, but each includes a mix of strength, core, and HIIT. For runners looking to build strength, these workouts are remarkably efficient. What's more, you build muscle during the strength portion and burn fat during HIIT.
LIIFT4 workouts are intensely targeted. This ensures you work specific body areas with each workout, ending with a core routine in the final phase for a full-body workout. During HIIT, you get to work your legs, too, though not to the point of exhaustion since the sessions are short.
The best thing about the program is that each workout is unique, which works to keep you motivated.
SEE THE LIIFT 4 CALENDAR & PROGRAM MATERIALS HERE
How To Combine LIIFT4 Strength Training With Running
To incorporate LIIFT4 into your running plan, you'll want to select your workouts carefully. You can choose to run 3-5 times a week while focusing on LIIFT4 upper body workouts so as not to wear out your legs.
For instance, it's best to have a rest day between the legs workout and a long run, hill work, or speed work. This is because the lifting would tire out your legs, or you might be too sore to run.
These workouts are suitable for any fitness level, plus you can repeat multiple sets.
Morning Meltdown 100
As the name suggests, Morning Meltdown 100 is a Beachbody program designed to start your morning on the right note. Boasting 100 20–30-minute unique workouts guaranteed to fire up your body and build your most robust frame, Morning Meltdown 100 is incredibly fun and exciting. It'll have you moving along to a live DJ, motivating you to keep up with Super Trainer Jericho McMatthews.
Ideal for seasoned runners with intermediate-advanced fitness levels, Morning Meltdown 100 splits into 5 phases, each with 20 workouts. In each stage, you perform a 20 to 30 minutes' series of 10s workout followed by a repeat of the same, but with additional challenges. The exercises focus on resistance training and high-intensity cardio and increase intensity as you go up the phases.
Morning Meltdown 100 strength training helps you build a strong upper and lower body focusing on the chest, back, arms, shoulders, glutes, hamstrings, and quads. In addition, there are core strengthening exercises and a full-body strength workout using light weights and vigorous plyometric exercises.
SEE THE MORNING MELTDOWN 100 CALENDAR & PROGRAM MATERISAL HERE
Incorporating Morning Meltdown 100 Into Your Running Schedule
While the Morning Meltdown 100 workouts run for 100 days, you can take longer or do it in less time. Work with your running schedule and adjust the workouts to suit what feels most comfortable for you. For example, you can do one or two activities a day with your run or alternate between a run day and a workout day.
Avoid scheduling lower body workouts on the same day as your speed runs or long runs. Instead, plan to do them earlier in the week. What's more, if you find a workout somewhat advanced, you can modify it. For equipment, you only need dumbbells of varied weights.
LEARN MORE ABOUT MORNING MELTDOWN 100 HERE
Final Thoughts
Beachbody programs enable both beginners and experienced runners to achieve the perfect balance while training. If you're looking to achieve the best shape you can, get stronger, improve endurance and run faster, try incorporating some of the Beachbody programs recommended here.