Meal replacement shakes are more mainstream now than ever before. As our lives become busier and more hectic, people are eating on the go, rushing from one place to another. Having the ability to grab something quickly can eliminate the need to grab unhealthy foods on the road. There are significant differences to the many meal replacement shakes in the market today that we will expand in detail.
The benefits of meal replacement shakes can help people of all ages and activity levels. Designed to replace an entire meal, they include essential vitamins, minerals, fiber, and protein in only one serving. If you need a convenient, low-cost, healthy choice, meal replacement shakes are the answer.
There are notable differences between meal replacement shakes and protein shakes.
Alternatively, protein shakes can quickly add extra protein to your diet in a simple drink. Comparing the two products benefits will be dependent on what your nutritional needs are. With a little bit of homework on your part, you could see how beneficial meal replacement shakes can be for you.
1. They're Convenient
One of the most popular benefits of using meal replacement shakes is the convenience of them. Saving you precious time in meal prep and are easy to take with you anytime.
They come from a wide variety of sources to fit any busy lifestyle and yet continue to give your body the nourishment it needs. There are two forms of meal replacements shakes that you will find in the market today.
2. They Come in Pre-Mixed Bottles
Pre-mixed shakes are the ultimate convenience since you have absolutely nothing to do but grab one and go. These ready-to-drink shakes can be either stored on a shelf or refrigerated depending on the brand and ingredients.
Although they are cheaper than the price of a full meal, pre-mixed shakes tend to be more expensive than their counterparts, the dry-mix powders.
This type of product has an expiry date, so you should be careful not to store them for too long. You should avoid extreme temperatures when storing cans or bottles of pre-mixed meal replacement shakes.
Available in a wide variety of popular flavors, they can be a tasty way to replace an entire meal, like breakfast or lunch.
Some Come in Powder Form to Mix With Milk or Water
Dry powder mixes are fantastic for those who need to store products for a longer time, or do not have the refrigerator space for pre-mixed cans or bottles.
Dry-mix powders are somewhat cheaper than the ready-to-drink products since they do require a small amount of prep. The ability to mix a quick meal replacement drink is essential for many people on the go.
Dry mix powders can be used with your choice of either milk or water, depending on your preference. For individuals looking for alternatives to milk-based shakes, dry powder mixes are great to add to water and avoid dairy.
The choice of water or dairy-based shakes can give you an option of consistency and let you have control of your ingredients.
Both options for meal replacement shakes will give you the convenience you are looking for in a quick and easy meal.
The simplicity of grabbing a can or mixing a scoop of dry powder into a water bottle takes no time. These options are exceptionally portable and do not take up a great deal of space in your lunch bag or vehicle.
3. They're Inexpensive
Over the years, the nutrition industry has evolved significantly, to help give meal replacement shakes the edge they need to be competitive.
Gone are the days where there are only two or three choices for meal replacement shakes. As the market becomes more saturated with companies manufacturing meal replacement options, pricing becomes more inexpensive.
You do not have to pay extreme prices to get an outstanding quality product, although numerous options come with a higher price tag. There can be some blatant price differences between the pre-made meal replacement shakes and the dry powders.
If cost is a factor for you, opting for a dry mix powder could align more to your budget.
When you compare a full, healthy meal to a meal replacement shake, the difference is striking. In either case of ready-to-drink or dry mix powders, the price tag on both options is relatively cheaper than what you would spend on a complete healthy meal.
Fresh fruits and vegetables can have a high price tag, depending on where you live and what is in season. Meal replacement shakes can deliver substantial nutrition at a lower price.
4. They're a Healthy Alternative to Snacks
Meal replacement shakes are available to sustain your nutritional needs. Packed full of essential vitamins, minerals, protein, and even amino acids, they are superb healthy alternatives.
Meal replacement shakes are trouble-free alternatives and are ideal for different individuals due to numerous reasons.
Weight loss by restricting calorie intake
Keeping healthy options available and staying away from unhealthy choices
Adding additional vitamins, minerals, and protein to a diet
For people looking to restrict their daily calories to lose weight, meal replacement shakes are healthy alternatives. Replacing one meal a day, usually breakfast or lunch, with a shake can still provide your body with the nutritional fuel it needs without empty calories.
Condensed into a small option, you are still receiving healthy vitamins and minerals in a lower calorie choice.
If you are always on the go and find yourself grabbing unhealthy foods while you are out, meal replacement shakes can keep your diet in line. It can be hard to find healthy meal choices that are quick to grab.
Often healthier meal choices are available in sit-down restaurants, but not in fast-food establishments. By having a meal replacement shake, you can curb your appetite and keep you from purchasing unhealthy meals or fatty snacks.
If you are finding it hard to get all of the essential vitamins and minerals you need each day, a meal replacement shake could help.
Those individuals looking to add extra calories or nutrients will opt to drink a meal replacement shake as an additional meal instead of replacing one.
Typically, very active people require more calories and nutrients, which can be easily achieved with a meal replacement shake.
Alternatively, senior citizens will require an increase in nutrients, so meal replacement shakes are an exceptional alternative to fulfill this need.
5. They Help You Lose Weight
One main reason an individual will turn to meal replacement shakes is to aid in their weight loss journey. It provides a host of nutritional benefits while restricting the daily calorie intake, optimizing weight loss.
When individuals try to restrict calories for weight loss, they inadvertently also restrict essential vitamins and nutrients needed to stay healthy. Meal replacement shakes help fill the gap of missing nutrients while cutting calories.
Meal replacement shakes can also help curb your food cravings to keep you from eating large portions or eating too often. They are there to replace an entire meal, so for this reason, they help you feel full longer to control your appetite.
Typically, meal replacement shakes come in tasty flavors like chocolate or vanilla to help satisfy your sweet tooth and keep you from wanting a high-calorie dessert treat.
If you are purchasing meal replacement shakes to help with weight loss, be careful of the ingredients list and which products you choose.
Not every created product in the market is there for optimal health benefits. Some meal replacement shakes contain a high amount of added sugars, fillers, or even ingredients you can't pronounce or understand what they are or do.
Try to compare the labels instead of the marketing logos to find the best meal replacement shakes for your dietary needs.
You should read online reviews, talk to friends or family members who have tried different brands, and get a feel for which products you feel would align best with your weight loss goals.
6. Meal Replacement Shake Benefits Compared to Protein Shakes
Things can get confusing when you first look at meal replacement shakes and protein shakes, but they are two entirely different products.
Each one has its distinct advantages that will help you reach a set goal, including weight loss or muscle gain. You need to know the differences so you can make the correct choice for your dietary needs.
Often it can be confusing, and some individuals think they are interchangeable, but they are not.
Each product is for a specific reason, and if you are looking to replace an entire meal, protein shakes are not the solution for you.
Attributes of Meal Replacement Shakes
Fortified with various vitamins and minerals
Include a substantial amount of fiber and carbohydrates
Contains protein, but not a large amount
Can replace an entire meal
Lower in calories than a full meal, but higher in calories than a protein shake
Attributes of Protein Shakes
Includes an increased amount of protein compared to meal replacement shakes
Designed to add extra protein to your daily intake only
Taken either before or after a workout
Do not contain a substantial number of vitamins or minerals
Low in calories
Knowing the significant differences between these two products will help you make the right decision when choosing your meal replacement option.
Why Are More People Turning to Meal Replacement Shakes?
It seems that everywhere you search, there is an advertisement for meal replacement shakes. With so many brands to choose from, why would the market be full of different options?
The higher the demand for a product, the more these companies will produce solutions for consumers. There could be an increase of need for meal replacement shakes for a variety of reasons, including:
People have less time to sit down and eat or create healthy meals at home
An increase of portion sizes is creating a weight control problem for some individuals
Busy schedules force people to eat on the go, outside of the home
Readily available fast foods are not healthy, creating a need for better options
Meal replacement shakes are an attractive way to get essential nutrients in a compact, low-calorie, and inexpensive package.
All of these benefits give the consumer everything they are looking for in one place. Many companies do provide meal replacement shakes, each with slight differences, so it's important to explore which options suit your diet preferences.
More people are becoming conscious of their health and want to ensure they live a long and healthy life.
Incorporating meal replacement shakes in their everyday routine can help them lose weight or obtain missing vitamins and nutrients they aren't getting elsewhere.
Sorting Through the Many Benefits
How does someone sort through all of the many brands and types of meal replacement shakes to find the most beneficial one?
It can be overwhelming at first if you are new to the product benefits. By taking a little time to explore each of the benefits, you can find the one that will suit your dietary needs best.
You should read the ingredients carefully on each package and compare them. By doing this, you will get an indication of which ones have higher quality ingredients and are there with your health in mind.
In no time at all, you will be able to quickly skim through a label and know which brand will precisely give you the most nutrition for your dollar.
Some significant differences between meal replacement shakes are not as noticeable. Although meal replacement shakes do contain protein, it is a smaller amount than protein shakes. Protein can come from 3 different sources:
Your preference of where you get your protein from in a meal replacement shake will help you determine the product type for you.
Your Best Choices for Meal Replacement Shakes Today
Examining the numerous meal replacement shakes you can purchase today can be a daunting task.
We have compiled a shortlist of some of the highest-ranking products available today based on their customer ratings, price, and product quality.
1. Beachbody Shakeology Shake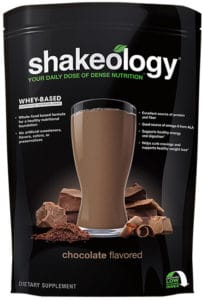 Shakeology was created back in 2009 by Bechbody LLC. Since then, other meal replacement shakes have come and gone in attempt to replicate what Shakeology has to offer.
Shakeology is my #1 meal replacement shake for several reasons. Like other meal replacement shakes, it offers a fair amount of protein, vitamins & minerals, fiber, and is low on calories.
However, unlike other meal replacement shakes, Shakeology is made with several different whole food superfoods that includes the following the nutrition groups:
Protein
Superfruits & Antioxidants
Prebiotics & Probiotics
Adaptogens
Supergreens & Phytonutrients
Vitamins & Minerals
These superfoods are sourced from around the world and Beachbody ensures to only use the most potent ingredients possible.
Due to the amount of nutrition in Shakeology, you're going to feel full for hours and you'll cover several different nutrition gaps that the majority of meal replacement shakes will never help you with.
Shakeology is a powerful meal replacement that also acts as a super supplement. Plus, it comes in nine delicious flavors and there are even vegan options. Click for my Shakeology review
With the help of Shakeology, people have turbo charge their weight loss efforts, gain more energy, sleep better, and even improved their overall health.
Shakeology even comes with a 30 Day Bottom of the Bag Guarantee. Meaning you can send back your empty Shakeology bag for a refund if your truly believe that Shakeology did not help improve your health.
Click to Order Shakeology and Learn More About It
2. MacroMeal-The Ultimate Superfood Meal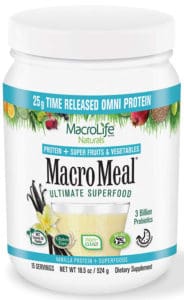 MacroMeal is similar to Shakeology in that it offers more than your standard protein, fiber, and vitamins & minerals like the most basic meal replacement shakes.
MacroMeal offers the following additional nutrient groups:
"OMNI" Protein – a MacroLife created protein made from plants that is a time released protein. Offering a fast, medium, and slow release protein to help you sustain energy and satiety.
Coconut Oil Powder – naturally contains MCT (Medium Chain Triglycerides) that sustains energy and satisfies hunger.
Antioxidants
Probiotics
Digestive Enzymes
Although limited in flavors, MacroMeal does have Vegan options.
Price was, it's similar to Shakeology as it's a premium shake. However, MacroMeal is offered in 15 Serving Size tubs that make it seem to cost less as Shakeology is offered in 30 serving bags.
Although offering less a few less nutrients than Shakeology, MacroMeal is a great premium shake that will keep you feeling full and provide several nutrients.
Click Here to Order and Learn More About MacroMeal
3. Garden of Life Raw Organic Meal Replacement Shake
Garden of Life Raw Organic is a close competitor to the two above. Like the previous nutritional shakes, Raw Organic offers plant-based protein, superfoods, greens, probiotics, digestive enzymes, and vitamins & minerals.
Although having comparable ingredients, several reviews have stated that it is a bit grainy and the taste is not as good as a previous formula.
Even Raw Organic comes recommended because of it being high in nutrition.
Click Here to Order and Learn More About Garden of Life Raw Organic
4. Vega One All-In-One Shake
Finally, Vega One is our last recommendation and was once the only competition that Shakeology had. It's good to see that both shakes have stood the test of time and have evolved over time as well to be even more beneficial.
Vega One includes the following:
20g Plant Based Protein
Organic Veggies & Greens
Vitamins & Minerals
Antioxidants
Probiotics
Fiber
Vega's main goal was to make something healthy and it does provide a good number of superfoods.
However, Vega One has a terrible taste and few people can really stomach. This meal replacement shake is listed for those interested in a slightly cheap meal replacement that offers a good amount of nutrition and don't mind the taste.
Click Here to Order and Learn More About Vega One All-In-One Shake
There are numerous additional meal replacement shakes available in the market that are not listed here. If you conduct an Internet search, you will find numerous options that all claim to have a multitude of benefits and advantages.
The meal replacement shake industry is a large one, so research will be essential in finding the brand that suits your needs and wants.
Conclusion
Meal replacement shakes have a multitude of benefits for individuals of all ages and activity levels. There can be many reasons for incorporating a shake into your daily routine:
Jumpstart your weight loss
Added nutrition in the form of many vitamins and minerals
A healthy alternative to other quick meal choices.
If you need to make the switch to a meal replacement shake as an alternative, some research is required. Be sure to examine the many protein choices available and which product you prefer between ready-to-drink or dry mix options.
In time, you will find that using meal replacement shakes can help you reach your nutrition goals successfully.
Sources