Both Beachbody's P90X and P90X3 programs have helped millions of people get in shape and transform their lives. And since both these workout programs were created by Beachbody's renowned fitness trainer, Tony Horton, it's easy to think they're built on the same principles. However, the two Beachbody programs differ in more ways than one.
The P90X and P90X3 were both designed to help people lose weight and build and tone new muscles. However, they still have their differences. For instance, the P90X workouts last longer than the P90X3, which lasts for 30 minutes per workout. You're also likely to burn more fat with P90X3 than P90X.
In this read, we'll pit the P90X against the P90X3, analyzing the different routines, the results they achieve, and who they're best suited for.
What Is the Beachbody P90X Workout?
The P90X is a fitness program that comes with 12 DVDs featuring highly diverse workouts that incorporate cardio, strength training, core work, flexibility, and yoga.
The blend of different exercises leads to muscle confusion, which helps you overcome plateaus that tend to occur at some point during workout regimens.
Consistent P90X training promotes muscle development, flexibility, stamina, and cardiovascular enhancement, making it an ideal program for people looking to maintain great shape and improve their overall health.
The rigorous demands of the P90X regimen make it less suitable for people in poor shape. Put simply, the P90X can lead to serious injuries if you're obese or completely out of shape due to lifestyle choices.
Therefore, you must first prepare your body and get into good enough shape before taking up this tried, tested, and proven workout routine.
Check out the Best Beginner Workouts Here
What To Expect From the P90X Program
The goal of the P90X program is to keep your body from entering the plateau phase that hinders muscle development, hence its division into training blocks. Below are outcomes to expect once you're done with the P90X program.
Puffed Chest and Muscular Back
The P90X program is heavy on back and chest workouts as you'll be doing push-ups and pull-ups. Throughout the routine, you'll be performing different variations of chest and back exercises, which will lead to significant muscle growth in the areas, especially if you back up the workouts with protein-filled diets.
Weight Loss and Increased Flexibility
You can expect to lose a considerable amount of weight upon completing the P90X program, as the jumping exercises will help you burn calories. Besides burning calories, plyometrics will also improve your muscle flexibility and overall stamina, allowing you to feel like an active athlete.
Ripped Shoulders and Arms
If you're after that ripped but lean physique, then you'll enjoy the P90X and all its variations. The program allows you to integrate dumbbells into your routine in a variety of combinations, from the dumbbell fly to the dumbbell press and even the biceps curl.
The results? You'll be flaunting wide shoulders and ripped arms at the end of the program, depending on the types of weight used.
Improved Coordination and Balance
P90X is all about switching things up to keep the training program interesting. For instance, Kenpo X, a version of martial arts, will have you punching and kicking into the air, which not only helps burn calories but also improves your coordination and overall balance.
What Workouts Are Included in the P90X?
The workouts included in the P90X include plyometrics, yoga, and even workouts for your chest, shoulders, and triceps. The first workout is a 13-minute prep that is more of an introduction to the program than a muscle-busting workout.
You'll also learn all about the nutrition plan, the workout schedules, and the workouts themselves. Below are the main types of workouts integrated into the P90X program.
Chest and Back
The chest and back workout requires either resistance bands or dumbbells and lasts for about 54 minutes, including warm-up and cool down. You'll work on a variety of chest and back exercises, varying the range of motion and tempo for each rep.
Plyometrics
Dubbed the hardest workout in the P90X program, plyometrics always follows chest day. You'll be jumping, throwing, kicking, and even doing push-ups to boost your heart rate and overall power.
In case you're having difficulties keeping up with Tony, don't hesitate to follow the modifier as you'll still get similar results.
Shoulders and Arms
The shoulders and arms workout will take an average of 60 minutes, including warm-up and cool down. You'll be working on biceps, triceps, and shoulders exercise, doing around 8-15 reps. Try checking on your form when working on the reps to reduce the chances of injury.
Yoga
The yoga in the P90X program takes approximately 1.5 hours and works on your flexibility, breathing, and balance, which allows you to perform well in other P90X workouts.
Besides improving your breathing and balance, yoga also gives your body the opportunity to recover before you tackle the other more demanding exercise.
Legs and Back
The P90X workout gets users to work on the legs and back for an hour, including both warm-up and cool-down stretches. Because you'll be working with dumbbells, the routines are more challenging than weightless workouts. Working with weights encourages muscle gain.
Kenpo X
Kenpo X resembles MMA workouts in more ways than one and is a vital cog in the P90X program that helps improve your coordination and flexibility. You won't need any equipment for Kenpo X, but you'll require large enough space to move around.
X Stretch
There's no need to fear the X stretch routine as it's more of an active recovery workout that helps stretch out your muscles, prevent injury and improve your overall mobility. The X stretch should help you transition to the more demanding exercises like core synergistics.
Core Synergistics
This particular session comes immediately after the X stretch, which allows your body to relax and recover before Core Synergistics. This is a plus because this is a demanding full-body conditioning routine that includes flexibility, strength, and balance exercises that'll leave you catching your breath.
Chest, Shoulders, and Triceps
For this particular workout, Tony uses power stands to add a bit of spice to the push-up routines. You'll be doing fixed rep and maximum rep sets to ensure your muscles don't plateau. This workout stimulates further muscle growth and will have you feeling drained once done.
Back and Biceps
Tony tweaks the P90X training a bit to add additional dimension to the workout routine. While you're still dealing with small weights, the grip changes, ensuring that different muscle groups are stimulated. This encourages muscle growth and nearly guarantees that you'll get the gains you're looking for.
Cardio X
The cardio x workout will leave you catching your breath, desperate not to fall on the ground. This routine is completely different from Kenpo or plyometrics but is demanding enough to challenge your entire body and boost your overall stamina.
Ab Ripper X
It sounds intense because it is! The Ab Ripper X is designed to improve core strength and work out the abdominal muscles. You'll do this routine for 16 minutes using a yoga mat. As you workout, you'll "rip" your tummy fat away, creating room for some decently defined ab muscles.
How P90X Gets Results
The P90X pushes your body to the limit by burning calories, building muscles, and boosting your fitness level. The combination and alternation of different workout routines prevent your body from plateauing, ensuring you make noticeable gains throughout the program.
The circuit format of the exercises means you'll be moving from workout to workout with little rest, which will keep your heart rate up and promote the burning of calories.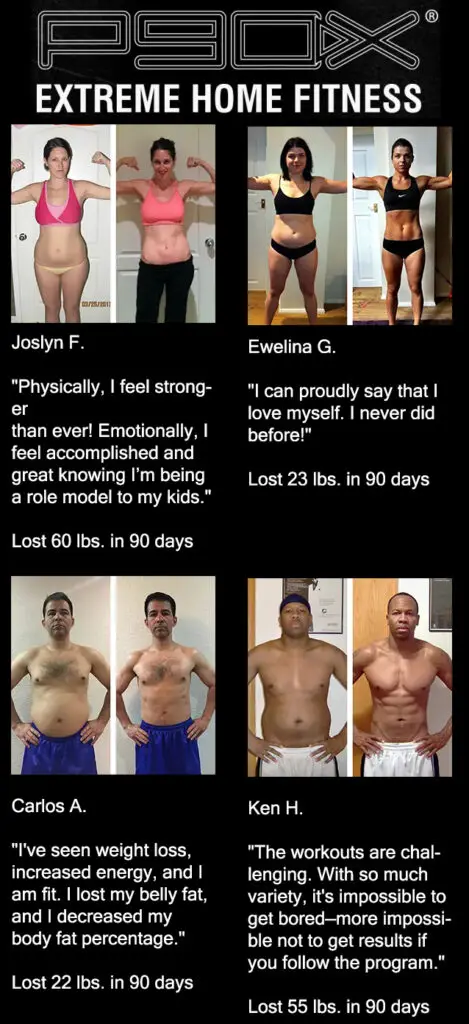 Time Commitment/Schedule/Calendar
The P90X program takes 90 days, roughly 13 weeks. Most of the workouts last between 45 minutes to one hour, and you'll be working out approximately 6 days a week.
There are three main P90X schedules:
Classic: The classic routine combines three days of resistance (where you'll use resistance bands or weights) and three days of yoga and cardio.
Lean: The lean routine combines four days of yoga and cardio with two days of resistance.
Doubles: The doubles routine is more intensive and requires you to do a regular workout in the morning and cardio (and yoga) in the evening. This routine is recommended if you're into serious athlete-like strength training.
CHECK OUT THE P90X CALENDAR & PROGRAM MATERIALS HERE
Who Is the P90X Workout Best For?
If you want to lose weight: The P90X is a great workout routine if you want to shred a significant amount of body fat. This program has been around for quite a while and has helped many people get in shape. Alternating between strength and cardio exercises will push your body to the limit, allowing you to lose a considerable amount of weight.
If you want to improve your fitness levels: Remaining consistent for the entire duration of the P90X routine will allow you to improve your overall fitness as your flexibility, core strength, and stamina will increase significantly over the course of the 90 days.
If you want to gain muscles: Although not the best program for gaining muscles, the P90X is a great way to stimulate muscle growth, especially as you keep alternating between the different types of workout routines. The use of dumbbells or resistance bands helps to stress targeted muscle groups, which should help develop muscles.
What Comes Included and What Equipment Is Required?
The P90X workout kit comes with 12 sweat-inducing workouts, a nutritional plan, a fitness guide, and a workout calendar. Weights and resistance bands are some of the equipment you'll need.
You'll also need door attachments or a pull-up bar for your bands and a good-quality yoga mat for your yoga routines. Yoga blocks, push-up stands, and a plyo mat are also excellent options to have on standby.
What Is the Beachbody P90X3 Workout?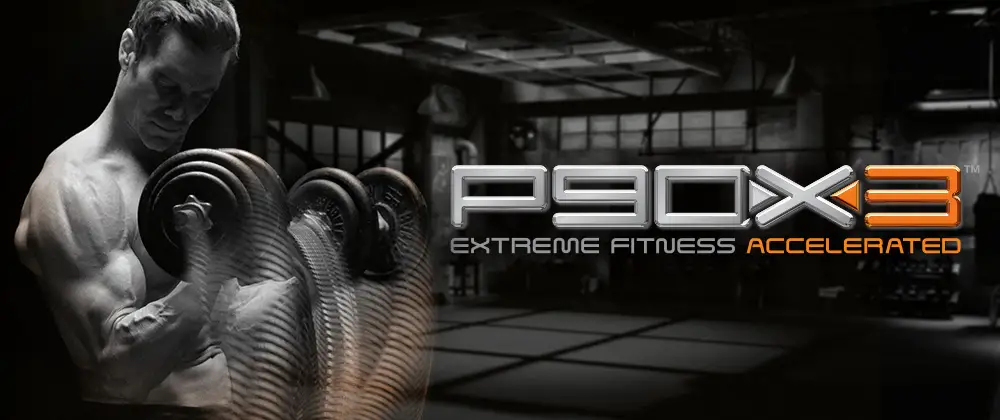 The P90X3 is a popular fitness program developed by Beachbody's renowned fitness trainer Tony Horton. Dubbed the extreme fitness program, the P90X3 combines a highly structured schedule with a variety of workout routines to bust the plateau phase and keep every single muscle challenged.
With the P90X3, you'll be performing 30-minute exercises 6 days a week for a period of 90 days. Weights or resistance bands will be required to execute some of the moves, hence the need to be mentally and physically prepared for the rigorous routine.
What To Expect From the P90X3 Program
Here are what you can expect from doing the P90X3 program:
Weight Loss
You can expect to lose a considerable amount of weight by the time you're done with the P90X3 program. The combination of different routines and the use of weights and/or resistance bands will help you shred up to 10% (or more) body fat, making it one of the best programs for rapid weight loss.
Increased Strength
You'll be stacking pull-ups and push-ups while also doing triometrics. The use of weights also means you'll have more resistance during workouts, which plays a massive role in boosting your overall strength. You'll feel much stronger from your upper body to the lower body and even core once you are done with the P90X3 program.
Increased Flexibility
You'll be performing dynamix, isometrix, pilates, and yoga, exercises that not only help stabilize joints and power the core but also improve your musculoskeletal flexibility, stamina, and balance. Put simply, you'll be feeling like a different person once you're done with the program.
Abs
Yes, after the grueling and highly demanding exercises, you'll end up with well-chiseled sets of abs as proof of your relentlessness and commitment to see the program to the end. The X3 Ab ripper exercise will leave you feeling exhausted, but the results will be worth the effort.
What Workouts Are Included in the P90X3?
Here are the various workouts included in the P90X3:
Total Synergetics
This thirty-minute set of resistance workouts will trigger fast changes to your body's composition. Some of the routines you'll be working on include push-ups, side arm balance, pull knee pull, flip flop crunch, crawly plyo push-ups, and the weighted releve-plie.
The Challenge
The Challenge will get you sweating and dreading the routine. This killer 30-minute exercise aims to strengthen your upper body by stacking pull-ups and push-ups. As you switch between these two routines, be sure to start push-up moves on your toes and not knees.
Incinerator
The Incinerator is all about using weights and your body weight as resistance, which should give your body proper thrashing. The routine is slow and controlled as you'll be switching from a dumbbell/ band for one set and your body for the next.
Eccentric Upper
This set of exercises aims to create tension in your upper body, which in turn promotes muscle growth. You'll be lowering yourself gently from the chin-up bar, looking to maintain a high level of control to capitalize on eccentric movements that improve strength and hypertrophy.
Eccentric Lower
The Eccentric Lower is a strength-training routine using dumbbells. You'll be changing your tempo to stimulate and work your various muscles differently. The change of tempo should help promote the growth of different muscles in your lower body.
The Warrior
The Warrior routine implements a bit of everything to keep the body moving and in tip-top shape. From your upper body to the core and lower body, these four rounds of exercises will have you feeling like a champion. You'll only need a yoga mat to get started with the Warrior.
Agility X
The Agility X routine combines cardiovascular exercises with creative moves that are fun and relatively easy to execute. Tony will be leading you in performing scissor-kick jumps, sprints, lunges, push-ups, and jump knee jump, among other exercises. While this is a "fun" exercise, it's still intense, so be prepared!
Triometrics
Triometrics is all about alternating non-explosive and explosive moves. You'll be performing a total of 18 moves, changing the intensity as you progress. Some of the moves Tony will be leading include warrior squats, frog jumps, the duper skater, speed skater, superman lunge, and calf raise squats, among others.
Decelerator
The Decelerator is a collection of multi-angle exercises that work on both the upper and lower body. You'll be performing the routine in 30-60 second intervals for a total of 30 minutes. Expect to perform a total of 21 exercises like crane cracker push-ups, squats, elevator pull-ups, chin pulls, and starfish push-ups, among many others.
CVX
The CVX routine is designed to burn the body and power up the core using fast-paced intervals to keep you on your toes. There are extremely short rest periods in between sets which burn a significant number of calories and keep your body moving. CVX is intense, so be prepared for a lot of sweating.
MMX
For some people, the MMX is the best part of the P9X3 program. You'll be doing a lot of punching, twisting, and kicking for a proper martial arts type workout—no need for equipment, just a comfortable training mat for this set of exercises.
Accelerator
The Accelerator is exactly what it sounds like—it accelerates fat burning. This metabolic training helps you burn plenty of calories. Tony changes tempo and adjusts his workout style throughout the routine, encouraging the body to burn fat. You'll need enough space for this one as you'll be doing 360 spins as part of the routines.
X3 Yoga
The X3 Yoga is a flow-style routine aimed at improving balance, musculoskeletal flexibility, core strength, and stamina. This should be one of the easy routines in the P90X3 program and will leave you feeling refreshed, and well, a bit stretched out.
Pilates X
These sets of exercises help stabilize joints, improve muscle elasticity and strengthen the core. You'll be doing a combination of several exercises from the scissor side plan to the swimmer, floating cobra, hip circles, saw, scissor ball, single leg stretch, and double leg stretch.
Isometrix
Isometrix utilizes isometric training to get your body in the best shape possible. As a part of Isometrix, you'll be doing planks, low squats, split squats, leg extensions, calf raise hold, wall sits, isometric push-ups, and static lunges. This exercise will improve your balance and physical endurance.
Dynamix
The Dynamix routine is mostly about stabilization of the body and dynamic stretching, which helps your body recover and improves your range of motion. The focus of this routine is on hips, glutes, and legs, with limited upper body stretches. It's guaranteed to get your lower body burning.
Complex Upper
Complex Upper is an upper body routine that Tony utilizes to help build upper-body power and strength. Some of the moves performed during this routine include X plyo push-ups, W pull-ups, lunge thrust press, and slow-motion chin-ups. This intense upper-body workout isn't for the faint-hearted.
Complex Lower
Complex Lower exercises are designed to make your lower body muscles as dynamic and athletic as possible. You'll be combining powerful movements with explosive, heavy-resistance exercises to improve the overall performance of your muscles. This routine is similar to the Complex Upper, but it works the lower part of the body.
How P90X3 Gets Results
The P90X3 uses a wide range of exercises to stimulate muscle development. You'll be switching between different exercises to prevent your body from plateauing. The use of weights, coupled with eccentric upper and lower movements, will help build your muscular strength.
The complex lower and upper exercises, isometrix, dynamix, and pilates exercises will push your muscles to the limit, allowing you to improve your range of motion, develop muscle elasticity, boost your overall strength and have a stronger body in general.
Time Commitment/Schedule/Calendar
The P90X3 is a 90-day fitness program designed to get you ripped through a variety of intense 30-minute programs every day. Throughout the 90 days, you'll be alternating between exercises and working out 6 days a week, which should be enough to get your body toned and ripped.
The program has four main schedules, classic, doubles, lean, and mass. The lean schedule is best if you're after a less bulky look, while the doubles program is high intensity and ideal for getting big and totally ripped. The mass program is recommended if you want to get huge without lifting large weights.
SEE THE P90X3 CALENDAR & PROGRAM MATERIALS HERE
Who Is the P90X3 Best For?
People looking to get strong and ripped: The P90X3 is a great exercise if you're looking to get ripped and improve your overall strength. You'll be working with weights and blending a variety of exercises that'll help you shred fat and define nearly all muscles in your body.
Everyone: The good thing about the P90X3 is it comes with different schedules, classic, doubles, lean, and mass. All of these schedules are tailored to serve the unique workout needs of every client. The doubles schedule is arguably the most demanding and will have you push your body to its maximum limits.
People with tight schedules: Another advantage of the P90X3 is its time friendliness. All the routines take only 30 minutes, which should be enough to get you in good shape without taking too much of your time. You can choose to either workout in the morning, evening, or any time of the day, provided you maintain good form.
Those needing a modifier: Most moves in P90X3 will offer a modifier in case you're not ready to take on the more difficult move. This is great for those looking to start slightly easier before taking on more of a challenge. Also helps those who may be limited with certain moves.
What Comes Included and What Equipment Is Required?
Some of what you'll get with the P90X3 include an elite workout calendar, digital fitness guide, digital worksheet, a guide to nutrition, and a quick start guide. P90X3 isn't too equipment-reliant as all you'll need is resistance bands or weights, a yoga block, chin-up max, and a chin-up bar.
P90X vs. P90X3: Which Is Best for You?
Schedule
The P90X lasts for 90 days, which translates to around 13 weeks of grueling workouts. You'll be working out 6 days a week, resting on your preferred day. Most of the workouts last 45 to 60 minutes and should be fairly straightforward to complete.
P90X3 is a lot more flexible compared to the P90X, as all workouts last for 30 minutes. You'll still be working out 6 days a week for 90 days, but the good news is you won't be spending too much time on routines. This makes the P90X3 ideal if you have a busy schedule or don't want to spend much time working out.
Outcomes
The P90X combines different sets of exercises to prevent your body from plateauing, which ensures you keep making noticeable gains. Expect to feel fitter and stronger, and more flexible upon completing the P90X program.
The P90X3 has similar outcomes to the P90X. You'll be feeling a lot stronger and flexible.
However, the P90X3 is a lot more demanding due to reduced rest and recovery time, as you'll be pushing your body to its limits. You can expect to take a bit more time to adjust to the P90X3 schedule compared to the P90X due to its demanding, high-intensity workouts.
Difficulty
The P90X program is widely viewed as one of the toughest workouts ever created as it relies on high-intensity training to push your body, allowing you to cut weight and define your muscles better. The routine isn't ideal if you're not in good shape, but it can still work if you take things slow and give your body enough time to adjust.
Compared to the P90X, the P90X3 appears to be more challenging and demanding on the body. You'll only have 30 minutes to complete your exercises, meaning your body will be drained by the time you're done with the routines.
It's also advisable to give your body enough time to adjust to the P90X3 schedule.
Plans
The P90X program has three schedules or plans that you can choose from, the classic, lean, and doubles programs. The classic program is standard and the easiest of them all, while the doubles are the most demanding.
The lean program is ideal if you prefer yoga and cardio over dealing with many weights.
The P90X3 program has four main plans: mass, classic, lean, and doubles. The classic is the standard workout program, while the mass program works best if you don't want to use weights too much in your workout.
The doubles plan is the hardest of all plans but also the one that'll transform your body the fastest.
Wrapping Up
Both the P90X and P90X3 programs have been tried, tested, and proven. They're great programs if you don't mind using weights in your workout.
If you're short on time and want a program that doesn't affect your schedule, then you might want to try out the P90X3 program.
You'll be doing a lot more routines when on the P90X3 compared to the P90X; however, both will get you results if you remain consistent enough and therefore how much time you want to devote to your workout will be the biggest question.
… OR …
Other Resources:
Is Beachbody on Demand Better Than a Gym?
Still debating on a Gym Membership or Beachbody on Demand Membership? Find out which one is really worth the money. We'll go over the pros and cons of each. Plus, what is really possible with Beachbody on Demand.
Best Beachbody Workouts for Beginners
Are you just deciding to start working out? This article will help you find the best beginning workout that you can easily do at home and get amazing results. Beachbody offers a lot of different workout programs, however are the ones that the majority of people have enjoyed the most.
Shakeology is a nutrient dense shake that gives you more nutrients than a meal replacement and protein shake combined. Shakeology contains: Protein, Superfruits & Antioxidants, Prebiotics & Probiotics, Adaptogens, Supergreens & Phytonutrients, and Vitamins & Minerals. Learn more from the review above to see if it's shake you should add to your daily life.
Sources