Although created by the same individual – renowned fitness trainer, Shaun T – Insanity vs. Insanity Max 30 are entirely different workouts. Granted, there might be some similarities in workout duration (2 months), but everything else is different, exactly why the Insanity Max 30 cannot be viewed as a continuation or upgrade of the popular Insanity. So what are some of the main differences between the two workouts?
Beachbody Insanity relies primarily on maximum interval training, which pushes the body to its limit without increasing the rest period. Insanity Max 30 takes a different approach – train-till-failure – that gets you outside your comfort zone until you can train for 30 solid minutes as you progress.
If you're still reading, chances are you want to know a thing or two about the two workout programs by Beachbody. If so, then you couldn't be in a better place. Read on for an in-depth review of the main features and pros and cons of Beachbody's Insanity and Insanity Max 30.
What Is the Beachbody Insanity?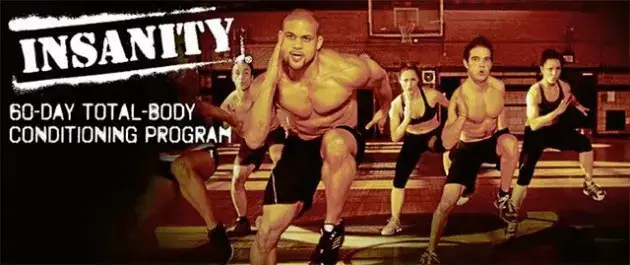 The Beachbody Insanity is a workout program designed to get you in great shape, both in physical appearance and overall performance. And as the creator of the program, asserts, you'll be feeling like a well-drilled athlete by the end of the program, provided you observe the guidelines put in place.
The aim of the Insanity workout is to bring your heart rate to its maximum level, maintain it there, and slow it down through a 30-sec rest. Put simply, you push your limits without giving yourself too much rest time.
Not a gym rat? No problem! The Insanity workout requires no equipment, meaning you'll be working out using your body weight. The diverse routines will stretch and work out all muscles from your head to your toe, leaving you looking and feeling fit.
What Are The Beachbody Insanity Workout Results
Here are some outcomes to expect after using insanity workouts to get in shape.
Decreased Body Fat
For some people, the Beachbody Insanity workout is the perfect weight loss regimen, especially if you can keep up with the 'insane' workout demands.
The movements and high-intensity interval training will start melting your body fat, ensuring you spot significant changes within the first weeks of the program.
Expect to reduce your overall body fat as you'll use so much energy to complete the workouts. And while it might be hard to keep up as you get started on the program, you'll soon get the hang of everything, more so if you follow Shaun T's instructions to the letter.
Muscle Definition
Beachbody Insanity isn't your typical muscle mass program. Instead, it's more suitable for defining your muscles, giving you that lean, beach body look.
Not to say that you won't add some muscles, as you might, especially if you observe a good, protein-based diet. However, the workout program is better at defining muscles than building muscles.
You'll notice significant changes in your chest and thighs as the excess fat continues to burn out. At the end of the program, you'll feel leaner and a lot fitter.
Sweat, Sweat, Sweat
Don't expect to get to the end of the line without sweating profusely. The intensity and energy levels of each workout will leave you sweating like never before.
As a result, you should always increase your water consumption if you choose to take up this regimen.
Chances are, you'll be holding your breath after every break. So be prepared to dress light and have a towel on standby as you'll be sweating like an athlete working out on a hot summer afternoon.
LEARN MORE ABOUT BEACHBODY INSANITY WORKOUT HERE
What Workouts Are Included in the Beachbody Insanity Program?
As already mentioned, Beachbody Insanity is a high-intensity, total body workout program that requires no equipment or gym. You get to exercise in the comfort of your home, using your body weight to provide resistance.
The workouts included in the Beachbody Insanity program are the fit test, cardio recovery, core cardio and balance, plyometric cardio circuit, max interval plyo and more.
According to Beachbody On Demand, the Insanity program allows you to burn an impressive 1,000 calories an hour, a true indication of the program's 'insane' nature. Each routine will take you 30-60 minutes to complete, and you only get one rest day a week!
To paint a clearer picture, let's look at some of the workouts you'll be performing when on the Insanity workout program.
Fit Test
The first step of your workout program is a fit test that gauges your body's potential and preparedness to take on the regimen. The fit test isn't as straightforward as you might perceive at first, as you'll still need to push your body to know its limits. It should take you around 30 minutes to complete.
Plyometric Cardio Circuit
Next up is the plyometric cardio circuit, which is a set of total-body exercises (cardio) that work out your body in a short time. These exercises build your endurance, strength, and speed. They'll also improve your agility, coordination, and balance and should take around 42 minutes.
Cardio Power and Resistance
These sets of exercises help build lean muscles and define your upper body. They are characterized by power moves and strength training routines that Shaun and the team will walk you through. Be prepared to spend about 40 minutes on this routine.
Cardio Recovery
Cardio recovery is a set of recovery workouts that prepare your body for the next grueling round. It might look easy on the eye, but you'll still need to put your best foot forward as it is demanding. The good news is cardio recovery takes an average of 33 minutes.
Pure Cardio and Cardio Abs
This exercise routine marks the end of month 1 workouts. But you'll need to be prepared to push your body to the max as it is 55 minutes of non-interval cardio workout. You'll need to be well-adapted to the Insane workout program to complete 80% of this routine.
Core Cardio and Balance
After a hard month of grueling, body-breaking exercises, the core cardio and balance
routines will allow your body to recover as you prepare for the even tougher second month. Ideally, you'll do core cardio and balance for a week, working out for around 37 minutes a day.
Maximum Interval Circuit and Fit Test
Thought month one was tough? Brace up for an even more demanding second phase by getting started with the max interval circuit and fit test.
The circuits are highly demanding and will truly test your body's perseverance, agility, and strength, which should help you know whether you've been making steps in the right direction. Expect Shaun T and his team to keep you engaged for over an hour with this routine.
Max Interval Plyo
Get ready for intense plyo workouts to take your muscle power to the next level. Shaun will have you performing different sets of exercises like running, pushups, kicking, and jumping during these 55-minute workouts. The combination of the exercises is the foundation of the workouts.
Max Cardio Conditioning and Cardio Abs
This set of extreme cardio workouts will work your entire body and burn extra fat to bring out your abs. Beachbody recommends taking 65 minutes to perform this extreme cardio workout, but you shouldn't find it impossible as you'll be at your fittest towards the tail end of the program.
Max Recovery
Allow your body to recover from the intense routines by performing intense stretches and slightly less demanding workouts. This should help your body rest and build strength. After the end of the recovery phase, you ought to feel like an athlete ready to break records since, after all, you broke your own self-imposed records.
How Does the Beachbody Insanity Get Results?
The Beachbody Insanity is an advanced exercise routine that relies on your body weight and a set of high-intensity interval training routines to push your body to its limits.
By performing most of these workouts for around 20-60 minutes at a time, for 6 days a week, you'll work up a sweat and break almost every muscle in your body, allowing you to get that lean, well-chiseled physique you so badly desire.
Time Commitment/Schedule/Calendar
You'll need to set aside approximately 30- 60 minutes every day to complete each routine. For the 60-day program to have its desired effect, you'll need to work out six days a week. The good news is you'll be changing your workout schedule weekly, which should help keep it fun and enjoyable.
SEE THE INSANITY CALENDAR & PROGRAM DETAILS HERE
Who Is Beachbody Insanity Best For
The Beachbody Insanity program isn't for everyone. Here are factors to consider before purchasing the program.
People Without Major Health Concerns
As the name suggests, the Insanity program is 'insane' and will push your body to the limits. This makes the routine less ideal for people with underlying medical problems, more specifically heart conditions and other potentially chronic illnesses. Therefore, if you have health concerns, it's best to consult with your doctor before purchasing the program.
People With Basic Fitness Levels
You don't need to be fit like an athlete or have your muscles popping out like a gym rat. But you should be able to do a couple of pushups and run a mile (1.60 km) at the very least before starting this insanely demanding program.
Healthy Joints
Be warned that this demanding routine will work out both your upper and lower body parts. As such, you'll need healthy joints to jump up and down, throw punches and kicks, among a host of other routines. The Beachbody Insanity probably isn't for you if you have weak joints that are constantly aching.
Lifestyle
This calorie-burning routine won't work if you don't take up a suitable lifestyle that supports weight loss and recovery. Therefore, if you're still keen on junking limitlessly and staying up all night, chances are you won't find this program to be useful.
Dedication
After everything is said and done, you'll need a high level of discipline and dedication to complete the program. If your only motivation is a colleague or a friend who got great results after completing the project, you're likely to quit the program sooner rather than later.
That said, the Beachbody Insanity workout is only for people who are determined and disciplined enough to remain consistent until the completion of the program.
What Comes Included and What Equipment Is Required
The good thing with the Beachbody Insane workout is it doesn't require any training equipment or a gym. A good training mat is recommended.
The program comes with a schedule and meal plan that will help boost the chances of achieving your set goals. You might want to buy light training clothes, though, as you'll be sweating profusely throughout the course of the program.
ORDER BEACHBODY INSANITY WORKOUT HERE
What Is the Insanity Max 30
The Insanity Max 30 is a no-equipment, home workout program designed to push people to their personal maximum in 30 minutes a day. The whole idea is to push your maximum to the point where you begin to lose a good form or can't go further.
The program recommends that you record your max levels (when you take a rest during workouts) after every failure and aim to push it further every day.
You'll take note of your MAX OUT time, recover as needed, and continue with your workout.
As you get started, chances are you won't make it through the four, or five-minute mark on most routines. If you take your first rest at 3 minutes, then your MAX OUT time for the routine will be 3 minutes, which you should aim to improve.
Increasing your MAX OUT time by 30 seconds every day will be enough to get you to MAX 30 after 60 days, so you shouldn't worry too much about not hitting or even getting close to the 30-minute target as you get started.
What Are the Insanity Max 30 Results to Expect?
Below are expected outcomes after starting and completing the Insanity Max 30.
Weight Loss
The Insanity Max 30 is a great weight loss exercise as it relies heavily on cardio to get you in shape. As you move closer to the target MAX OUT time of 30 minutes, your body will continue losing excess body fat. You can expect to lose up to 20 pounds if you're consistent with the program.
Muscle Definition
As you reach the halfway point of the program, your muscles will become increasingly defined. Towards the end, you will have a dramatically improved lean muscle definition, which should make you feel like a world-class athlete.
You're also likely to gain some extra muscle, especially if you go hard and switch to a high protein diet. You'll also improve your agility, overall strength, speed, and balance through the Max 30 program.
Abs
You should definitely expect to get some neat sets of abs as a reward for your commitment to high-intensity workouts.
Of course, the definition of your abs will largely depend on the initial level of fat you had before the program and the intensity of your workouts. But as long as you keep improving on a daily basis, chances are you'll have appealing abs to flaunt at the end of the program.
LEARN MORE ABOUT INSANITY MAX 30 HERE
What Workouts Are Included in the Insanity Max 30
The Insanity Max 30 workouts are divided into two -workouts for the first month (phase 1) and month two (final phase). Below is a brief explanation of the Insanity Max 30 workouts.
Cardio Challenge
Shaun welcomes you to the program with the relatively easy but still demanding cardio challenge. While these routines won't require much resistance, they'll test your cardio endurance. So expect to lose your breath quickly, especially if you're relatively unfit at the start of the program.
Tabata Power
The true test of your resolve begins with Tabata resistance moves where your body weight supplies the needed resistance. You'll be doing Tabata-style routines for 20 seconds and taking 10 seconds off to target your muscles. It's a routine that can tone your muscles.
Sweat Intervals
Sweat intervals training will stress your body immensely, which allows you to burn a high amount of calories. You'll find the sequences engaging as they target the entire body while also activating your core. Burning calories is important for anyone looking to lose weight.
Tabata Strength
Shaun T and the gang take things up a notch by bringing the big guns, literally! You'll be doing a variation of Tabata-style workouts for 30 straight minutes with no rest. Be sure to record your MAX OUT time as you almost certainly won't complete the entire thirty minutes.
Friday Fight: Round 1
Friday Fight Round 1 exercises will test your endurance, agility, and strength. This routine tests whether you've gained enough strength to transition to phase two and the even more demanding workout routines. Try your best to push beyond your limits and improve your MAX OUT time to set up a good finale.
Max Out Cardio
Shaun kicks off phase two with a bang, and the buckets of sweat will tell it all. Be ready to be pushed to your absolute limit. Your challenge should be to increase your MAX OUT time, even if by a mere ten seconds. However, only go at your own pace to avoid potential injuries.
Max Out Power
Max out power is all about intense Tabata-style plyometric workouts. You'll be pushing for 45 seconds and taking a break for 15 seconds. This is a great challenge to prove to yourself you've got the mettle to go all the way. Once at this level, you should have no problems completing the rest of the workout.
Max Out Sweat
Prepare your towel well in advance, for it's about to get messy. Shaun pushes your limit for more minutes, looking to burn those extra calories and leave you feeling done for the week! Remember to check your form and to update your MAX OUT time.
Max Out Strength
This Tabata-style routine targets your upper body, meaning your chest, core, shoulders will be toast once done with this 45 seconds on and 15 seconds off routine. You'll feel overwhelmed and exhausted, but the exercise should do you more good than harm.
Friday Fight Round 2
It's time to test your progress again. Friday Fight Round 2 will push your limits to determine if you've reached the elite level and can keep up with the best.
You also get two extra workouts, the Pulse and Ab Attack. The Pulse is a low-impact recovery workout that stretches your muscles while the ab attack focuses on your lower and upper tummy.
How Does the Insanity MAX 30 Get Results?
The Insanity Max 30 takes a different approach to the Insanity workout as it pushes your body to the limit through 30-minute routines. By doing a series of high-intensity cardio and strength workouts for 60-days, you'll have a leaner, stronger, and more capable body.
The Tabata power, sweat intervals, Tabata strength, max out cardio, max out sweat, and max out power routines will burn an insane amount of calories and activate all muscle groups, thus leaving you fitter and stronger.
Time Commitment/Schedule/Calendar
Insanity Max 30 is the ideal workout routine if you don't have much time to dedicate to daily routines. You'll only need to set aside just 30 minutes every day for 60-days, and you'll be good to go. However, as Shaun T asserts, these will be the hardest 30 minutes of your life.
FIND THE INSANITY MAX 30 CALENDAR & PROGRAM DETAILS HERE
Who Is the Insanity Max 30 Best For?
People Who Are Short on Time
The Insanity Max 30 is a great program for people with busy lifestyles looking to shred some fat and chisel out their physiques. The routines take 30 minutes and last for 60 days, making the Insanity Max 30 great if time is a luxury you can't afford.
People Who Don't Prefer Using Training Equipment
Prefer working out without gym equipment? No worries, Insanity Max 30's got you! This intense workout routine relies solely on cardio routines. Your body will replace weights and provide the resistance needed to build those muscles in every part of your body.
People Who Love Pushing Their Limits
The Insanity Max 30 will only work if you don't give up and remain firmly dedicated to pushing your MAX OUT limits. The idea of this intense routine is to improve your strength, agility, stamina, and endurance every day. So you'll need to be highly committed, competitive, and focused on completing this demanding program.
People Who Need to Follow a Modifier
Ready to follow an intense workout but know that you may need to modify some moves? Insanity Max 30 makes it easy by allowing a split screen so that you can always see what the modifier is doing. Thus, taking away the guess work in how to make a move slightly easier.
What Comes Included and What Equipment Is Required
Similar to the Beachbody Insanity, you won't need any equipment to complete the Insanity Max 30.
You'll get 12 workouts, a nutrition guide (not too detailed), a MAX OUT calendar, and a MAX OUT tracker to guide you on your daily workouts. The tracker allows you to record your daily MAX OUT time.
The package also comes with a 'no time to cook guide' that advises on how to make good choices even when you don't have the time to prepare healthy meals.
Beachbody Insanity vs. Insanity Max 30 Compared
Time Commitment
The Beachbody Insanity is a bit more demanding in terms of time, as most workouts last between 30-50 minutes. You'll need to try as much as possible to complete the high-interval routines as consistently as possible to achieve desired results.
On the other hand, the Insanity Max 30 is friendlier when it comes to time, as all workouts take thirty minutes. This allows you to dedicate just thirty minutes of your day to extreme workouts, making the program ideal for people with tight schedules.
Difficulty
The Beachbody Insanity isn't recommended if you're completely out of shape due to its intense and highly demanding routines. Shaun T goes extra hard in the routine, so you might want to achieve a basic level of fitness before starting the program.
The Insanity Max 30 isn't easy as well. You'll still need to be at a basic level of fitness to thrive in the program. The good thing with the Insanity Max 30 is the presence of modifiers, a cast member who performs easier moves that you can try out if you're struggling to keep up with Shaun T.
Schedule
The Beachbody Insanity is a 60-day high-intensity workout program that targets both upper and lower body muscle groups. The routines come in two phases, for the first month and the second month. You'll also get a more laid-back week with easier routines to help you transition to the next level.
Insanity Max 30 has a similar schedule to the Beachbody Insanity as it lasts for 60-days. You'll also get a week of simplified routines to help in your recovery. The recovery week will come with its own challenging routines that will help your body recover as it prepares for the more grueling second phase.
Concept
Beachbody Insanity relies on the high-intensity interval training method to initiate muscle development and stimulate the burning of calories. But the training routines are longer and a little less stressful to the muscles compared to the Insanity Max 30 program.
The Insanity Max 30 relies on the MAX OUT concept, where you're expected to train-till failure to wear down your muscles and lose a large number of calories in the process. With this program, you work out with more intensity in a significantly shortened time frame, which allows you to see results at a faster rate.
Wrapping Up
Both the Beachbody Insanity and the Insanity Max 30 are high-intensity workouts that'll leave you sweatier than a pro athlete on a summer afternoon.
The main difference between the two is the concept as Insanity Max 30 pushes you to the limit, allowing you to improve on your MAX OUT time on every routine.
However, both routines rely heavily on cardio and don't require weights to execute. They also last for 60-days, which should be enough time to notice significant changes.
Overall, I would recommend Insanity MAX 30 over Insanity because it's only 30 minutes for every workout and a modifier is available if you need to back down a little.
… OR …
Other Resources:
Looking for a workout program that will help you gain lean muscles and get stronger? P90X and P90X3 are great for weight loss but have also helped people get better defined muscles than any other workout because of the great use of free weights and pull up bar. Check out which workout may be best for you.
Is Beachbody on Demand Better Than a Gym?
Still debating on a Gym Membership or Beachbody on Demand Membership? Find out which one is really worth the money. We'll go over the pros and cons of each. Plus, what is really possible with Beachbody on Demand.
Best Beachbody Workouts for Beginners
Are you just deciding to start working out? This article will help you find the best beginning workout that you can easily do at home and get amazing results. Beachbody offers a lot of different workout programs, however are the ones that the majority of people have enjoyed the most.
Shakeology is a nutrient dense shake that gives you more nutrients than a meal replacement and protein shake combined. Shakeology contains: Protein, Superfruits & Antioxidants, Prebiotics & Probiotics, Adaptogens, Supergreens & Phytonutrients, and Vitamins & Minerals. Learn more from the review above to see if it's shake you should add to your daily life.
Sources